20140309
06

:

32

:

10

local time CAMBODIA
* Photographs Of How Intl. Women's Day Should Not Look Like:
Louis Aragon: "Women are the future of men"…
That's maybe why, in Cambodia, men shut them up, lock them up, beat them up…
Hopefully, and unlike in these photographs, Cambodian women will enjoy a peaceful day tomorrow for International Women's Day…
Honouring the Cambodian women who struggle to be heard…
read & see more.

20140308

*

Cambodian union activists banned from entering Freedom Park:

Hundreds of opposition-aligned trade union activists and workers terminated their outlawed rally on Saturday after heavy security forces had been deployed in and around the capital's Freedom Park to prevent them from entering the Park to hold a forum on the International Women's Day.

"Those activists ended the rally peacefully after having gathered for about two hours on a street near the Freedom Park because the authorities did not let them enter the Park to hold the forum," said Am Sam Ath, a senior investigator for a rights group. "There had been no any clash at the rally."

Pav Sina, president of the Collective Union of Movement of Workers, one of the 18 opposition-aligned trade unions and associations, said at the event that the rally was to call for a wage increase for garment workers and the release of 21 protesters detained since January.
read more.

20140308

* Roundup: Cambodian union activists end rally after banned from entering Freedom Park:

Hundreds of opposition-aligned trade union activists and workers terminated their outlawed rally on Saturday after heavy security forces had been deployed in and around the capital's Freedom Park to prevent them from entering the Park to hold a forum on the International Women's Day.

"Those activists ended the rally peacefully after having gathered for about two hours on a street near the Freedom Park because the authorities did not let them enter the Park to hold the forum," said Am Sam Ath, a senior investigator for a rights group. "There had been no any clash at the rally."

Pav Sina, president of the Collective Union of Movement of Workers, one of the 18 opposition-aligned trade unions and associations, said at the event that the rally was to call for a wage increase for garment workers and the release of 21 protesters detained since January.
read more.

05

:

32

:

10

local time BANGLADESH
* Accord-Alliance inspection team cites three concerns with workers safety:
They include exceeding the load-bearing of floors, flawed electrical wires and piling of finished goods in the stairs and floors
Accord and Alliance have identified three concerns related with workers' safety in the Bangladesh apparel factories.
They include exceeding the load-bearing of floors, flawed electrical wires and piling of finished goods in the stairs and floors.
Accord and Alliance, two groups of ready-made garment retailers, found it during their recent inspection of factories.
A press conference will be held on Tuesday in the city to present the inspection findings, a source concerned told the Dhaka Tribune.
"They (the factories) have too much weight (placed on floors), too much stock of machinery and too muck stock of finished goods on the floors and in the passages," Rob Wayss, executive director (Bangladesh operations) of Accord, told the Dhaka Tribune.
The common fault with the power lines was the weakly placed wires on the walls and mess in switch boards, he said.
Piling of finished goods on the staircases and lack of fire exits were the common findings about fire safety.
"All factories must have fire doors so smokes and flames cannot come out to the stairs from the floors during fire incidents," said Rob Wayss.
read more.

* Demanding Due Wages – RMG workers clash with cops in Mirpur:
20 including 5 cops injured; five vehicles vandalised; traffic blocked for 3 hours
Around 20 persons, including five policemen, were injured, five vehicles vandalised and traffic movement halted for nearly three hours in the capital's Mirpur 12 yesterday during a clash between police and garment workers demanding due salaries.
As news spread, authorities of several garment factories in the area suspended production for the day to avert possible violence.
Police charged baton and lobbed teargas canisters to disperse the agitators who retaliated with brickbats during the clash erupting around 11:30am, creating panic among the locals.
Witnesses said the workers had blocked the road before Softex Cotton Private Limited till around 12 noon.
Workers said they found a notice hanging on the closed factory gate on Friday morning reading "the factory will remain closed as the seven-storey building has been identified as a risky one by engineers".
When they contacted the factory owners and demanded their due salary and other compensations, they were not given any certain date, claimed the workers.
read more.

* RMG workers block road at Pallabi for dues:
Apparel workers blocked road and clashed with the police pressing for their arrears and wages and protesting against the closure of the factory at Pallabi in the city on Saturday.
The workers alleged that the management of Pioneer Garments at Pallabi shut down the factory on Friday without any notice to avoid the payment of arrears and wages.
Several hundred workers of the factory took to the street at 9:00am and blocked the road as the found the factory closed, said Pallabi police officer-in-charge Ziauzzaman.
The workers clashed with the police at about 10:00am, when the law enforcers went to disperse the demonstrating workers, witnesses said.
read more.

* RMG makers unwilling to pay for plots in garment village:
Tk 8.0b needed to acquire 500 acres of land
The government's move to establish a garment palli (village) now hangs in the balance as manufacturers are not willing to bear the cost for acquisition of the required lands for the project, sources said.
According to them, about Tk 8.0 billion is required for acquiring nearly 500 acres of land for the proposed garment industrial park at Bausia in Munshiganj.
Readymade garment (RMG) manufacturers, however, have expressed their inability to pay such a huge amount of money as they are facing some challenges. The challenges include uncertainty over requirement of funds for remediation or retrofitting purposes against the backdrop of the ongoing factory inspection programme.
"It is difficult for the entrepreneurs to bear the huge land acquisition cost for the proposed garment palli," Md Shahidullah Azim, vice president of the Bangladesh Garment Manufacturers and Exporters Association (BGMEA) told the FE.
read more. & read more.

* Manufacturing need-based jute products:
The closure of 19 jute and spinning mills in the country in the last eight months, as reported by the FE, comes as a shock to the cause of the golden fibre. 
This is attributed to falling demand overseas for its products.
So far 16 jute spinning mills, out of a total of 95, and three jute mills, out of a total of 130, were forced to stop their production because of financial difficulties caused by a sharp drop in sales.
The news comes when Bangladesh continues to make headway in its exports despite various domestic shocks.  Happily, many countries of the world have continued to provide duty-and quota-free access to many items for Bangladesh to seize the marketing opportunities.
But sadly, there has not yet been any concerted effort to diversify the export products as per the duty-and quota-free lists. That is exactly why the country has not succeeded much in tapping the export potential of duty-free market access that has been made available to it by many bigger economies.
The European Union (EU) member-states, Australia and Canada are among them.
read more.

* Ready-made: Roles for engineering and business graduates in the garments industry:
Graduates need to remember the importance of foreign languages
As I entered into the state-of-the-art facility of HR Textile Mills Ltd, whose local brands include Pride Group and Urban Truth and whose global export revenue amounts to 50 million dollars, my preconceived notions about the industry that serves as the blood and health-line of the country's economy were shattered.
Walking in, to my surprise, I was greeted with courtesy from around fifteen children of ages three to six, all of whose mothers worked in the cutting and sewing lines of the factory. These kids were looked after by the attendants at the Daycare Center, which has been set up as a joint collaboration between the factory and Fulki, a local NGO working for the welfare of garment workers in the country. It was a sign of how much corporate social responsibility has progressed in Bangladesh.
read more.

* Tears In The Fabric:
A Documentary Film and Resource Website by The Rainbow Collective and Openvizor
In Savar, Bangladesh, Razia struggles to raise her 2 grandchildren after losing her daughters in the Rana Plaza factory collapse which claimed the lives of over 1000 garment workers.
1 year after the disaster, TEARS IN THE FABRIC follows Razia as she searches for resolution and answers through protest on the streets of Dhaka, in the education of her grandsons and amongst the rubble and torn fabrics of Rana Plaza. Tears in the Fabric offers a starkly honest and deeply moving view of the human cost of high street fashion.
Production Background
In February of 2014 acclaimed documentary film makers, The Rainbow Collective, visited Savar in Bangladesh to shoot a documentary looking at the aftermath of the Rana Plaza disaster, focusing on the struggles of a single family.
The resulting film, Tears in the Fabric, is a follow up of sorts to The Rainbow Collective's 2010 film 'The Machinists' (produced for AL Jazeera) which featured the National Garments Workers Federation and it's leader, Amiral al Haq Amin.
Since the release and subsequent success of The Machinists, The Rainbow Collective has built strong ties with the NGWF, who were instrumental in securing the access and characters for the film.
read more.

   THE RANA PLAZA BUILDING COLLAPSE
* IndustriALL asks retailers to pay compensation by April 24:
IndustriALL Global Union, a federation of trade unions, yesterday asked all related clothing retailers and brands to deposit money to the Rana Plaza compensation fund within April 24, the first anniversary of the nation's deadliest industrial disaster.
A fund of $40 million is needed to make appropriate payments to the families of those crushed at their workstations in the Rana Plaza building and also to the survivors, hundreds of whom lost limbs and their ability to work, IndustriALL said in a statement.
So far, four or five retailers and brands have agreed to contribute to the fund. IndustriALL in December last year called upon 29 retailers and brands, who used to buy garments from the ill-fated factories in Rana Plaza, to build the compensation fund.
A government committee on the Rana Plaza building collapse has also recommended compensation for the victims, but IndustriALL wants the victims to be paid under the 'ILO Convention 121'.
read more.

* Rana Plaza brands must pay compensation by 9am on 24 April:
It is crunch time now for the Rana Plaza compensation fund. The one-year anniversary of the mass industrial homicide is fast approaching. IndustriALL, UNI, Clean Clothes Campaign and LabourStart have launched an online petition calling on brands to pay now.
The total fund needed is US$40 million for correct levels of payments to be made to the families of those 1,138 workers crushed to death at their workstations in Rana Plaza, and also to the survivors, hundreds of whom lost limbs and their ability to work when the factory fell.
An inclusive process has been conducted under the stewardship of the ILO during the second half of 2013, achieving a final agreement in December 2013 with the signed commitment from all parties. The Arrangement set out to build the Donor Trust Fund Cosigning partners of the Rana Plaza Coordination Committee and the Arrangement framework include the Bangladeshi government, Bangladeshi unions, Bangladeshi manufacturers, IndustriALL Global Union and the Clean Clothes Campaign, as well as four key brands.
The Fund is open for anyone to make a humanitarian contribution, and all clothing brands sourcing Bangladesh are encouraged to do so.
However this long list of brands connected with Rana Plaza MUST pay their share as a matter of urgency.
read more.


* Two members named for Rana Plaza commission:
A coordination panel on Rana Plaza compensations has proposed to appoint former chief justice ABM Khairul Haque and Advocate Sultana Kamal as members of a commission for disbursement of the fund among the victims.
Mojtaba Kazazi, a United Nations expert on compensation, has already been appointed as the commissioner of the three-member commission formed by the panel, said Roy Ramesh, general secretary to the IndustriALL Bangladesh Council.
The appointment of two commissioners might be finalised by Monday, as the disbursement of the compensation will have to be completed by April 24, the first anniversary of the nation's deadliest industrial disaster.
The Bangladesh Legal Aid and Services Trust will fix the claims according to the international and local laws.
read more.

* Ten months after Rana Plaza tragedy, it's time for clothing brands to Pay Up:
On Feb 24th, in Dhaka, 11 major garment trade unions affiliated with IndustriALL joined with orphans of those killed in the Rana Plaza collapse to form a human chain and call on all brands to pay up!
On February 24, 10 months after the Rana Plaza building collapse in Bangladesh killed over 1,100 garment workers and injured over 2,000 more, 70 trade unions and other civil society organizations released a joint statement calling on all companies whose products are made in Bangladesh to Pay Up by contributing to the Donor Trust Fund for the Rana Plaza victims.
Signatories to the joint statement include 22 Canadian organizations, 30 Bangladeshi groups, the Global Unions IndustriALL and UNI, and organizations from across Asia, Europe and in the United States.
read more.

05

:

02

:

10

local time INDIA
* A call for workers' right to sit:

Writer Sara Joseph releases a leaflet, prepared by a collective of women in the unorganised sector to campaign for the woman labourers' right to sit during their long hours of work in textile shops, at a function held at the Sports Council Hall in Kozhikode on Saturday. Photo: K. Ragesh
to read.

* Welcome measure:
The Cotton Textiles Export Promotion Council has welcomed the additional benefit of two per cent recently announcement by the Union Government under the market-linked focus product scheme for export of cotton textiles.
The council chairman Manikam Ramaswami has said in a press release that export of cotton textiles to the European Union has been declining because of the benefits given to Pakistan by the EU.
The additional export benefit given by the Government recently will not be enough as the difference on account of the tariff concessions given to Pakistan by the EU is 10 per cent. The Government should consider an additional three per cent to the home textile sector, he said.
to read.

04

:

32

:

10

local time PAKISTAN
* Higher cost, taxation, Indian counter main hurdles : Country likely not to get full benefit of GSP Plus status:
Due to more than one hurdles Pakistan would likely not able to capitalise benefits of Generalised System of Preferences (GSP) plus status by European Union (EU).
Extensive materialisation in orders, expected General Sales Tax (GST) on textile exports by government, US dollar appreciation against rupee and last but not the least Indian counter strategy against GSP plus status to Pakistan were the major hurdles that would hamper in the pace of export growth.
GSP plus status to Pakistan, which has been anticipated as biggest achievement for economic revival in Pakistan, has not been bode well for Pakistan yet as the new purchasing orders from EU were expected to materialise around the start of second quarter of 2013.
Given the fact GSP plus status was awarded to Pakistan only towards the end of December 2013, "We might not see any significant volumetric uptick in sales in third quarter of Fiscal Year 2013-14 (FY14)", said an analyst of BMA Capital Management Jehanzaib Zafar.
read more.

* GSP+ alone may not do the trick:
A study on enhancing Pakistan's trading benefits from the GSP+ scheme has suggested that Pakistan "must take advantage of the tariff preferences under the scheme, but this preferential duty regime will not suffice alone to secure sustainable market access to EU".
They are merely a catalyst. Pakistan must take concerted action and adopt dedicated policies to address its comparative shortcomings vis-a-vis its direct competitors; the cost factor, production constraints, quality and delivery inefficiencies, lack of demand-driven export strategies, compliance with EU regulatory framework and private standards.
(…)
For obtaining maximum benefits from GSP+, Pakistan's greatest strength is exports to the EU, its textiles and clothing sectors are also its biggest problem in benefiting from GSP+, says the report.
Textiles and clothing are the backbone of Pakistan's exports to the EU, comprising 75 per cent of the value, but these have the least tariff relief under GSP+, as a consequence of which only 20 per cent of Pakistan's GSP exports enter the EU duty free and will continue to do so unless new products lines are developed in textiles, clothing and leather made-ups and the quality of products in other sectors elevated to international standards.
read more.

* Listed textile companies excited over prospects:
The recently released financial figures by the textile companies are unimpressive. Yet, going forward, investors in stocks of listed textile companies expect stellar growth in earnings as they start to realise and incorporate the benefits of the GSP+ status.
The development has given a new lease of life to the sector, which lists the largest number of companies and an aggregate market capitalisation of Rs274 billion. After remaining listless for years, the companies on the spinning, weaving and composite segments, stirred to show signs of life a year ago.
read more.

* 15 million cotton bales: US Consular assures PCGA of cooperation in achieving target:
Agricultural Consular of US Embassy Clay Hamilton assured that America would cooperate with Pakistan in up-gradation of ginning machinery, modernisation and cotton standardisation besides supply of certified well germinated cotton-seed to growers to achieve the target of 15 million bales.
He was exchanging views with the Vice Chairman of Pakistan Cotton Ginners Association (PCGA) Aasim Saeed Sheikh.
He said the United States wanted to see Pakistan strong and prosperous in all sectors so that it could meet the future challenges. He said USAID was assisting Pakistan in energy, livestock and agriculture sectors and positive results are emerging.
read more.

GLOBAL
* International Women's Day: It's About Women's Wages & Women's Voices:
By Judy Gearhart, International Labor Rights Forum
Many versions abound about how International Women's Day came to be, but all stories lead back to 1908 when 15,000 women marched through New York City protesting violence against garment workers and demanding better pay, better working conditions and voting rights. 
Their slogan was Bread and Roses – signifying the need for better wages and a better quality of life.  In 1909 women workers marched again in Chicago, officially kick-starting a National Women's Day.  The next year, European women proposed building on the US idea and agreed to make March 8th International Women's Day.  This is one of the great manifestations of international solidarity among workers and women in particular.
Today, International Women's Day is celebrated all over the world, but its popularization has left many unclear about its origins and significance.
We need to reclaim the meaning of this day to help change the fact that: women in the US earn 77 cents to the dollar compared to men; women in Bangladesh make up 85% of the workforce for an apparel industry, which is quite literally killing them; and malnourished and underpaid garment workers in Cambodia who faint from exhaustion on the job are accused of "women's hysteria".
Women need equal pay for equal work and the ability to bargain for better wages.  Too many women have to endure violence or risk their lives just to make a living.
More than 100 years later, garment workers continue to suffer attack when they raise their voices at work and far too many have died in this past year simply trying to make a living.
Today we remember our sisters in Pakistan and Bangladesh who were lost, or survived with debilitating injuries, the horrendous fires that ripped through apparel factories in 2012 and the gut-wrenching collapse of Rana Plaza in Bangladesh in 2013.
We remember our friend Reba who survived the Rana Plaza factory collapse and traveled throughout the US, despite her injuries, to help educate US students, activists and policymakers.
Reba told us that her co-worker was slapped when she objected to the manager telling them they had to go into the factory that day, despite the visible crack in the building.  These deaths are unacceptable and this abject disregard for women's voices – for any worker's voice – is appalling.
We need to reclaim International Women's Day for its original purpose: to advance women's wages and working conditions and to give us all a voice in society.
read more.

20140308
06

:

32

:

10

local time CAMBODIA
* Women's day forum blocked:
A show of force by authorities today at Freedom Park suppressed a planned public forum on garment industry issues, causing union leaders to cancel the event timed to International Women's Day.
The leaders of 18 union confederations had planned to discuss issues including the continued push for a $160 minimum monthly wage and the release of 21 activists and workers detained during a January crackdown – despite City Hall and the Ministry of Interior forbidding the gathering in decisions earlier this week.
"I'm disappointed that the government didn't allow it and that the authorities blocked Freedom Park," Ath Thorn, president of the Coalition of Cambodian Apparel Workers' Democratic Union (C.CAWDU), said after the incident. "Freedom Park [should allow] for freedom of the workers."
As early as 7am police manned barricades blocking off the park and side streets leading there. By 8am, black-helmeted Daun Penh district security guards wielding batons stormed through a crowd of about 50 gathered near the blockade, blowing whistles, shouting and herding the group toward the Naga Bridge.
read & see more. (video report.)

*

12:21h (loc.time)  LICADHO Livestream:
The workers' forum at Freedom Park has now come to a close as has the event at Boeung Kak Lake marking International Women's Day.
(…)

* 11.07h 
Today's events have been reported by independent Khmer language media outlet, Voice of Democracy. Read the full article here:
Post by VodHotNews.com.
Here's a summary in English:
This morning, at 9am, leaders of unions and associations including Ath Thun from the Coalition of Cambodian Apparel Workers' Democratic Union (CCAWDU) arrived at Freedom Park in order to lead a public forum. Security guards had a verbal conflict with people which led to people throwing bottles of water at each other while security guards tried to prevent them entering Freedom Park.
During the public forum Ath Thun condemned the government for the ban on public gatherings and the crackdown by the authorities on workers' gatherings.
09:53H
On Monivong Boulevard, the marchers have given up their attempts to proceed and are turning round and going back to their villages to celebrate International Women's Day there.
They have been unable to deliver their petition which called for justice for the 21 men who remain in detention after their arrests in early January. Among the 21 is Chan Puthisak whose wife was marching with the group today.
The petition asked the Ministry of Women's Affairs to:
intervene with the court in the case of arrested land rights activist, Chan Puthisak and open the hearing immediately for the 20 other arrested people in order to provide justice and to release the 21 without condition so that they can meet with their families.
(…)
09:27H


Union leaders have managed to move to the edge of Freedom Park where they are addressing the public and the media.
Meanwhile, at Freedom Park, the standoff continues. Cambodia Daily Editor-in-Chief is reporting from the site.
Two trucks carrying police armed with tear gas launchers pass near standoff between 100+ riot police & Women's Day Marchers #Phnom Penh— Kevin Doyle (@doyle_kevin)
(…)
08:29H  Crowds Gather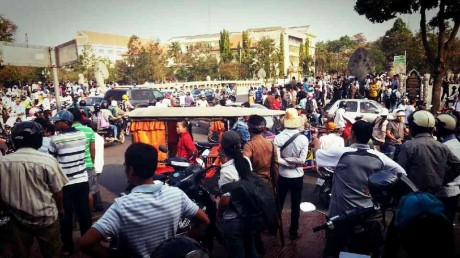 Having been blocked from entering Freedom Park, a small crowd of about 250 people have gathered at the Dragon Bridge on Norodom Boulevard to the side of Freedom Park. Some union leaders have begun to arrive and security guards are standing close by.
read more.

* Free The 23:
In January 2014, 20 garment workers and 3 prominent human rights activists were targeted and arrested by the Cambodian military and police for striking and organising for a minimum wage of USD160 per month.
This movie is for their release.
to see here.

* Sar Kheng Bans Rally, Gives Police $54K in Bonuses:
Interior Minister Sar Kheng on Friday warned that a union-led public forum scheduled for Freedom Park on Saturday morning would not be allowed to proceed, adding that a fresh wave of union marches next week are also banned.
The security minister's comments came during a talk he gave to more than 3,100 police officers at the Interior Ministry compound, during which he lauded the security forces' response to strikes and protests—which have left at least seven civilians dead and dozens wounded since September.
Mr. Kheng also handed each officer present 70,000 riel ($17.50) in cash, amounting to a total of $54,477, as a gesture of his thanks for their work in suppressing protests.
"We have to avoid this problem [protests] from happening again, so we have to gather to protect our national security, stability and protect our election result, the government and National Assembly," Mr. Kheng told the officers.
read more.

* GMAC welcomes government commitment to labor law:
The Garment Manufacturers Association of Cambodia says it appreciates and supports government action to enforce the union registration provision of the Cambodian Labor Law.
In a statement released Friday, GMAC noted that Article 269 of the law stipulated that administrators and managers of professional organizations had to be at least 25 years old and be able to read and write Khmer.
The article also requires that administrators and managers have not been convicted of a crime and have been engaged in the job for at least a year.
read more.

* British institute preparing report on garment factory safety:
Britain's Royal Institute of Chartered Surveyors says it is preparing a report for the Cambodian government on possible steps to reassure garment buyers about factory safety.
The report by the institute, which investigated the Rana Plaza garment factory collapse in Bangladesh last year, will also include possible steps to improve building standards and fire safety across Cambodia.
"Like Bangladesh, garment manufacturing is a very large part of the Cambodian economy," special projects and sustainability director Martin Russell-Croucher said in a posting on the institute's website Thursday.
Russell-Croucher said the institute's team had already interviewed officials from the Cambodian government and Phnom Penh Municipality as well as building contractors and garment manufacturers.
read more.

20140307

*

World is watching as women workers protest in Cambodia:
The predominantly female garment workers of Cambodia will be protesting in Freedom park, Phnom Penh on Saturday, International Women's Day. Their main concern is low wages, but they are also protesting about the restrictions on freedom of association and assembly. Their rally is billed as a 'Forum on Labour Rights'.
Global unions are worried that the Cambodian government will respond violently, as they were over Christmas when at least 5 protesters were killed. All week the Cambodian government has been moving police and troops into position, preparing for what is designed to be a peaceful protest.
Knowing that the world is watching might just give the Cambodian government second thoughts. So TUC General Secretary Frances O'Grady wrote to the Cambodian Prime Minister on Friday, and global union IndustriALL has set up an online action so that you can add your voice to those calling for restraint. Frances' letter says:
"I am deeply concerned at reports that roughly 2,000 police officers in riot gear recently carried out crowd-control drills at Olympic Stadium. Together with the recent decision of the government to appoint the heads of the armed forces to the Committee to Solve Strikes and Demonstrations, this makes us fearful about the safety of participants in tomorrow's protest."
read more.

20140307

* Cambodia bans public forum planned by opposition-aligned trade unions on Women's Day:

Cambodian authorities have refused to give permission to the opposition-aligned trade unions and associations to hold a public forum at the capital's Freedom Park on Saturday.

"The Phnom Penh Municipality does not allow the 18 trade unions and associations to hold the public forum on March 8 at the Freedom Park or other public places because this forum's purpose has mixed with political characteristics," said a letter signed by Phnom Penh Vice-Governor Khuong Sreng and sent to those trade unions and associations late Thursday.

"In the meantime, the ruling Cambodian People's Party (CPP) and the opposition Cambodia National Rescue Party (CNRP) have subsequently met and discussed electoral reforms, so the ban is to give time to the two political parties to continue their negotiations in a better atmosphere, especially to avoid affecting security, safety and public order for the people," the letter said.
read more. & to read.

07

:

32

:

10

local time PHILIPPINES
* Women's Day:
Today is International Women's Day and there will be marches and demonstrations nationwide led by Gabriela, the country's biggest and most influential national alliance of women's organizations, to demand greater equality, especially the improvement of the working conditions of women workers and women.
In doing so, Gabriela is carrying the torch forward.
The first International Women's Day held in the first decade of the last century was a day of and for working-class women who at the time did not have equal rights with men, did not have the right to vote and together with other workers still had to fight for and win the eight-hour working day. Socialists and communists, who bannered equality at work, home, and society, led the campaign to introduce and win the idea of the equality of people, regardless of sex.
Theresa Malkiel, one of the early women activists, highlighted the crisis that gripped even democracies at the time, vis-a-vis the treatment of women:
"Though doing a man's work in the shop and the woman's in the home, her compensation amounts to but half of the man's wage.
Though being the bearer, educator, and often supporter of the future generation, she remains still powerless to have a say regarding its welfare."
Women have always had to fight for their rightful place in society. Take women's suffrage, for example.
read more.

06

:

32

:

10

local time VIET NAM
* Gender Equality at the Workplace- Baseline Findings from Better Work Vietnam:
Evidence from Better Work surveys shows that much like patterns across the global garment industry, the majority of workers (about 80%) in the factories
where Better Work operates are women.
Women in developing countries have rapidly entered the apparel labour force since the mid 1970's. This has generated debate on whether these paid jobs
result in female empowerment. Many scholars have highlighted that factory work for global markets can open up new avenues, for example by increasing their financial independence, but it can also create new forms of gender subordination, such as when women are exposed to unfair labour practices.
In this context, how can gender equality at the workplace be promoted?
Findings from a gender analysis of baseline data  show that at the time that the garment factories  joined Better Work Vietnam differences between male and female workers were marked.
Women were  positioned in different roles within factories and were less likely than men to receive training or to be  promoted.
Differences between women workers with  varying levels of education were also significant,  in particular with regard to awareness of their entitlements and their likelihood of speaking up.
read more and download the report here.

* Women are the nation's backbone:
Saturday, March 8 in case you did not notice is International Women's Day and is the perfect occasion to take your wife, mother or daughter out for a meal to thank them for being such an important part of your life.
But the day is so much more than that. I would hope that when this occasion comes along, it encourages more people to learn more about why this day has become so important, rather than just an excuse for a night out on the town.
International Women's Day was born out of the fight for women's rights in 1908 which continues to this day in some countries around the world. In comparison, men have it easy but women have to battle their whole lives just to be on a level playing field. In some nations they do not even have that chance.
In Vietnam, the government has launched a strategy on gender equality with the aim of raising awareness, narrowing the gender gap and enhancing women's position in society. Recently released figures are also very encouraging for Vietnamese women.
Last year, the National Assembly extended the Labor Law to increase maternity leave from four to six months.
Apparently 78 percent of Vietnamese women are now in the labor force and account for 48 percent of the nation's workers with numbers on the rise. The literacy rate for women and girls is 92 percent with female students making up more than 50 percent of the total enrollments in higher education.
read more.

07

:

32

:

10

local time MALAYSIA
* Top 5 countries with the highest minimum wage:
Here we take a look at the list of top countries in the world with the highest minimum wage, just to give the rest of you out there the motivation to keep on looking for that 'perfect job'!
Now how many people can actually say that they are willing to work for free, or would not mind being paid peanuts?
Yes, there are many kind-hearted souls out there who take up a cause to help others in need which do not command a high salary, and we must commend them for their actions.
However, for the rest of us who toil and slug away at regular jobs, the amount of wages earned is an important factor that is taken into serious consideration before accepting any job.
This SaveMoney.my writer also went through the initiation of feverishly running through all the different types of jobs in the market, considering the wage, the benefits, the location etc before finally settling on one. It isn't an easy task and I must admit I got a little side-tracked every once in a while during the application processes (hey look, an opening for a position to be a babysitter for a wealthy family!) but in the end, it was quite an experience in itself.
Out of curiosity, I wondered how much other employees in countries all over the world earned. Here we take a look at the list of top countries in the world with the highest minimum wage, just to give the rest of you out there the motivation to keep on looking for that "perfect job"!
How does Malaysia compare with the rest of the world?
According to the Malaysian Minimum Wages Order that was decreed to begin on 1 January 2013, the monthly rate for employees in Peninsular Malaysia would be RM900 whereas the hourly rate would be RM4.33. As for Sabah and Sarawak as well as Labuan, the monthly rate for employees would be RM800 whereas the hourly rate would be RM3.85. So how do we fare when compared with the other countries?
read more.

06

:

02

:

10

local time BURMA/MYANMAR
* Working Conditions in Burma Much Improved but 'Still an Investor Risk':
Labor laws and protection in Burma have improved significantly since 2011 but the country still presents serious workforce problems for foreign investors, a new assessment said.
"Notwithstanding the historical significance of the political and legal reforms, [Burma] continues to pose some of the highest labor risks in the world," said a labor standards report by Maplecroft, the British business risk assessors.
"As a result of incredibly poor working conditions, severe deficiencies in workplace inspections, and high rates of forced and child labor, risks abound for investors," the report said.
Allied to this warning, a separate study by Maplecroft on risks in general in Burma notes: "Businesses will need to monitor operations, work conditions and sub-contractors closely in order to effectively mitigate reputational and operational risks originating with the practices of military-owned entities."
But, more encouragingly, it adds: "Meanwhile, [Burma's] sizeable workforce and relatively cheap labor rates are likely to be tapped by manufacturing and consumer goods companies in the coming years."
to read in The Irrawaddy Business Roundup (March 8, 2014). (3th item).

05

:

32

:

10

local time BANGLADESH
* RMG workers' demo halts traffic at Mirpur for 1 hr:
Traffic movement at Mirpur (Section 10 to Section 12) in the city was disrupted for an hour as the workers of a readymade garment factory (RMG) staged a demonstration over payment of their dues on Saturday.
Ziauzzaman, officer-in-charge of Pallabi Police Station, said the workers of Softex Garment Factory staged a demonstration after seeing a notice hung at the factory gate declaring the RMG unit closed on the ground of the shaky state of its building.
The workers later took to the street in front of the factory and staged a sit-in there at about 9:00 am.
As the news spread, the authorities of several other garment factories in the area suspended their production to avert possible violence.
read more. & read more. & read more. & read more. & read more.

* Garments workers clash with police at Mirpur:
Chases and counter chases take place between the police and workers amid the exchange of brickbats
Several thousand garments workers have locked into clashes with police following their agitation demanding their dues and salaries in Section-12 of the capital's Mirpur under Pallabi police station since Saturday morning.
The workers of Softex Garments launched their angry demonstrations putting blockades on the roads and halting transport movements since the morning and locked into clashes with the police at around 11:00am.
(..)
Police and worker said two units of Softex Garments located on the third to sixth floor of Haji Kudrat Ali Super Market have around 8000 workers.
The workers alleged that the authorities shut down the factories on Friday without any earlier notice.
Solaiman Munsi, one of the agitating workers, said: "If the factory is supposed to be closed, the authorities will have to pay us with salaries for three months, unless our agitation will remain continued."
read more.

* Accord team, review body declare two RMG units shut:
Workers' wage payment remains undecided

The Accord's inspection team and an official review committee have declared two ready-made garment (RMG) factories temporarily shut on grounds of their structural flaws, amid uncertainty over the workers' wage benefits during the period, sources said.
Following the decision, one of the factories-Softex Cotton Pvt Ltd-has to keep its production suspended for more than a couple of months, while the other-Fame Sweater, would be able to resume production in a few days after reducing the factory load, they added.
The Accord team has detected problems with concrete columns of Softex Cotton.
Both the factories are located in an eight-storey shared building at Mirpur in Dhaka.
The review committee, comprising representatives from the government, the Accord, the Alliance, BUET, BGMEA and BKMEA, issued the instruction on suspension of both the factories after reviewing the Accord inspection team's call for immediate evacuation of the units as it had found some structural faults there.
(…)
He said he would pay the workers the current month's salary, but could not make any commitment on the wages when the factory remains suspended until its repair.
President of Bangladesh Garment Manufacturers and Exporters Association (BGMEA) Md Atiqul Islam said, "The inspection programme has been taken to ensure a safe workplace for the workers, but if the workers become jobless due to this initiative, it will be disastrous for the sector."
The Accord should come up with a financial mechanism to provide funds either by the lead buyer or through other sources so that a remedial plan could be in place and workers do not lose their earning source.
read more.

* Production at two RMG factories halted as Accord finds faults:
Production at the two garment factories where Accord, the EU retailers' platform, found severe faults, have been suspended.
Structural inspectors of the Accord detected major structural faults in the building of Hazi Kujrat Ali Mollah Super Market at Pallabi in the city that housed the garment factories — Softex and Fame Sweater.
After finding out the faults the Accord on Wednesday expressed its concern for the safety of the workers and asked the factory owners to evacuate the building immediately.
At the same time the Accord placed its inspection reports to the review panel of factory inspections.
(…)
A member of the review panel told New Age that the committee asked the authorities of Softex and Fame Sweater to minimise the load of their floor within four days.
After minimising load the Fame Sweater could run its operation, but to run Softex long-term corrective action plan will have to implemented, he said.
The operation of Softex will remain closed up to retrofitting and the process might take time for three months, meeting source said.
The factory owners requested the Accord to arrange the retrofitting cost and the workers wages for an interim period.
read more. & read more.

* Say no to discrimination at workplace:
Just close your eyes or sit in a noiseless place with a cup of coffee or tea and spend some time to think: If you are not selected for a position; getting promotion; your salary is not increasing and so on so forth because of your race, colour, religion, sex, political opinion, national extraction, social origin or any other attribute, how you will feel?
These are all part of discrimination. Employment discrimination is illegal according to the labour law of Bangladesh. Discriminatory practices can be direct or indirect.
A job advertisement for "Male/Female only" would constitute direct discrimination according to ILO (International Labour Organisation) but this job advertisement might be valid for some conditions, person and positions.
For example; hiring males for lifting heavy stuffs and hiring a female to take care at a baby care centre or related task is not discriminatory.
What does discrimination stand for?
According to ILO "Discrimination in employment and occupation" refers to practices that have the effect of placing certain individuals in a position of subordination or disadvantage in the labour market or at the workplace because of their race, colour, religion, sex, political opinion, national extraction, social origin or any other attribute which bears no relation to the job to be performed."
Let's talk about a practical life example about discrimination; a male employee and a female employee at a particular project have the same job responsibilities, though the workload is different from person to person.
However, when it comes to performance appraisal, both of them should not be treated equally.
It is better to take a proper investigation without considering a good set of connections between top level management and individual employees. Rather, it should be treated according to performance.
Everyone should be treated in the same way.
read more.

* Garments Shramik Oikya Forum:
Garments Shramik Oikya Forum will hold a working women's rally in front of Rana Plaza in Savar marking the International Women's Day at 11.00 am today.
Garment workers' leaders of Rana Plaza and Tazrin Garment will address the rally with president of Garments Workers Oikya Forum Moshrefa Mishu in the chair.
to read.

* Message:
INTERNATIONAL WOMEN'S DAY
Today we join the people of the world in celebration of the progress made for women's rights, women's empowerment and gender equality. We also acknowledge that progress has been slow, uneven and in some cases women and girls face new and more complex challenges.
International Women's Day is therefore also a day to recommit ourselves to working harder for gender equality, together  as  women, men, youth and leaders  of nations, communities, religion  and commerce.
If we act decisively, with the knowledge that empowering women and girls and supporting their full participation can help solve the greatest challenges of the 21st century, we will find lasting solutions to many of the problems we face in our world. Major challenges such as poverty, inequality, violence against women and girls, and insecurity will be addressed substantially.
Women spend the majority of their income on the well-being of their children and family.  Raising women's labour force participation increases economic growth. By ending women's poverty, we will sustainably and significantly reduce extreme poverty worldwide.
read more.

* Value of women's unpaid work equivalent to 10.75pc of GDP:
Unnayan Onneshan survey estimates
The total unpaid work carried out by women per year is worth Tk 111.59 billion or USD 14.45 billion in Bangladesh which is 10.75 per cent of the country's gross domestic product (GDP), a survey of an independent think-tank has estimated.
According to the survey conducted by Unnayan Onneshan, the total engagement of women in domestic work in Bangladesh might be equivalent to 9.3 million full employments per year.
Besides, women who are employed in different types of professional services spend on an average 3.69, 5.2, 4.8, and 4.3 hours per day respectively for household work, it said.
The nation-wide survey based on estimate of women's domestic work in Bangladesh, first of its kind in the country, has been released in connection with the International Women's Day.
read more.

* Int'l Women's Day today:
International Women's Day will be observed in Bangladesh as elsewhere today with a fresh vow to ensure equality of the sexes.
This year's theme for Women's Day, celebrated on March 8 every year, is: 'Equality for women means progress for all.'
In a statement, the president, Mohammad Abdul Hamid, said that women's overall equality would be ensured in Bangladesh by effective implementation of the National Women Development Policy 2011, work plan and the relevant laws and rules.
read more. & read more.  & read more.

* Rights activists for gender-sensitive workplace:
Rights activists today stressed the need for a gender-sensitive environment for ensuring better output and highest services from organizations in the country.
"Gender-sensitive workplace can help safeguard dignity of both men and women and eventually uphold dignity of organizations," Salma Ali, executive director of Bangladesh Jatiya Mohila Ainjibi Samity (BJMAS), told BSS today.
Shipa Hafiza, director of Gender Justice and Diversity Department of BRAC, said gender policy could be an important mechanism to make sure better services of organizations.
read more.

*  Govt high-ups, others to review RMG compliance Tuesday:
Several ministers and secretaries of the government will review the compliance situation in the readymade garment (RMG) industry next week aiming at revival of the GSP (generalised system of preferences) facility in the US market, officials said.
They will evaluate the progresses made in the implementation of compliance requirements in line with the buyers' demand, and work out the possible measures to successfully handle the situation after fire and other incidents that might take place at the garment factories.
"Our main target is to fulfil the compliance requirements so that the United States administration agrees to revive the GSP facility for Bangladeshi products in its market.  We are doing all they want," a senior commerce ministry official told the FE.
read more.

* Chile may allow duty free access of BD RMG items from next yr:
Country's export of ready-made garment (RMG) items to Chile will increase as the latter is considering duty free market access from next year, industry insiders said.
Earlier, Ambassador of Chile in Bangladesh resident in New Delhi Cristian Barros during his meeting with the country's businessmen and government high ups last month in the capital assured that his country is actively considering  providing duty free market access of Bangladeshi RMG items to his country from next year.
The RMG exporters said that if the country gets duty free market access then the volume of export will rise significantly.
read more.

* American Apparel releases controversial Bangladesh ad:
An apparel company in the United States has released an advertisement with words "Made in Bangladesh" that "guarantees" to stir some controversy.
The advertisement, by the American Apparel (AA), features "Made in Bangladesh" across a model's bare chest, reports the Elle magazine.
The world famous fashion magazine reports: According to the information under the image, the model's name is Maks.
Maks is a Bangladesh-born merchandiser who's been with American Apparel since 2010, writes the Elle. Maks family moved to California when she was four.
The AA is a Los Angeles based clothes manufacturer.
read more. & read more.

* GAP expo fails to attract buyers:
Poor presence of visitors-cum-buyers has utterly frustrated the participants of GAP Expo-2014, a four-day exhibition of garments accessories and packaging materials that began at Bangabandhu International Conference Centre (BICC)  in Dhaka on Thursday.
The fair that attracted huge visitors last year has so far failed to draw attention of even local visitors, let alone the foreigners, said an organiser while talking to this correspondent who visited the fair on Friday.
Participating manufacturers have expressed their frustrations and feared getting less spot orders this year, as the fair has so far witnessed fewer foreign visitors. Expressing disappointment over the poor performance of the fair, Norman Lau, chief operating officer of Benison of HongKong said, "Although this is a trade fair but peoples treat it as simply a fair, and we have some visitors but not the buyers."
read more.

* Country's jute, jute goods export earning falls by 30pc this fiscal:
Country's jute and jute goods export decreased dramatically in the current fiscal year (FY) 2013-14 following depreciation of Indian rupee and sluggish demand in the world market, industry insiders said.
According to data available with the Export Promotion Bureau (EPB), the export earning declined by more than 30 per cent during the period. The country earned nearly US$592 million in July-January period of the current fiscals against US$646 million in the corresponding period of the last fiscal year.
Millers and exporters said the neighbouring India, that used to buy about 55-60 per cent of the total raw jute exports of Bangladesh, has cut the level of its imports from the country in the last few months, which accelerated the fall in jute exports.
read more.

       THE RANA PLAZA BUILDING COLLAPSE
* Statement from the Accord on Fire and Building Safety in Bangladesh (Accord) regarding the Rana Plaza Arrangement:
"The Accord welcomes and supports the Rana Plaza Arrangement, a comprehensive and independent framework, consistent with international labour standards, which will provide the much-needed support for loss of income and medical expenses to the victims and dependents of the tragic collapse of the Rana Plaza building.
Compensation falls out of the scope of the Accord, which is why we are very pleased that a common framework, the "Rana Plaza Arrangement", has been agreed by all relevant stakeholders nationally and internationally, with the ILO acting as a neutral chair.
The Arrangement provides a single approach for covering the losses of Rana Plaza victims, and their families and dependents consistent with the ILO international standards, and in a manner that is predictable, transparent and consistent.
An international Rana Plaza Donors Trust Fund has now been set up to receive voluntary donations from all companies and organisations that wish to contribute.
read more.

05

:

02

:

10

local time INDIA
* 13 minors rescued from shoe factories:
Thirteen children allegedly employed in various shoe factories in West Delhi's Tikri Kalan were rescued in a joint operation conducted by the Delhi Police, some government departments and an NGO on Thursday. The factory owner has been arrested.
A joint operation
It was conducted by the police along with officials of the Revenue Department, the South Delhi Municipal Corporation, the Labour Department and NGO Bachpan Bachao Andolan.
Shoe factories sealed
"On Thursday, we raided four factories situated in Tikri Kalan village and rescued 13 children. They were employed as labourers in the shoe factories owned by Rohit Gupta, Satender Kumar, Ajay Kumar Pandey and Pradeep Kumar Acharjee. The children were produced before the Child Welfare Committee and on its direction, they have been handed over to Mukti Ashram in Keshav Nagar.
read more.

* Silk twisters want Rs. 43 a kg as wages:
Art silk yarn twisters here opened gruel sheds at S. Natamangalam, and Chinna Kondalampatti in the city on Friday, to draw the attention of officials concerned to their plight.
They said the officials should hold talks with employers to revise wages.
Thousands of labourers in the district have stopped work from February 1, seeking higher wages. The weavers and labourers said that they would boycott the Lok Sabha elections if a solution was not found to wage row.
"Our job has a tradition of close to six decades, for which wage is revised once in three years," they said.
"Three years ago our wages for twisting silk was fixed at Rs. 27 a kg. With electricity usage charges going up, and considering other factors, the wage was revised to Rs. 33," said S. Shankar of Kondalampatti.
read more.

* We the successful women:
Five women from different walks of life talk about their ventures. On International Women's Day,they share with Neeraja Murthy the challenges they face while working towards their goal
Sarvamangala
Owner, Anagha
How it started: Starting a handloom store was never in her scheme of things. "I started Anagha purely for financial reasons. I walked out of a bad marriage and had left my children behind as I couldn't afford them," recalls Sarvamangala. With no big ambitions, she launched her store in 2008. "The initial scepticism was there but I had faith in myself. I worked hard and there's no denying about it. I wanted to bring back my children and that was my driving force," she asserts.
read more.

* World of Women:
Event On International Women's Day, Nivedita Ganguly speaks to three women about their experiences and what it means to be a woman today
There has, perhaps, never been a greater awareness and discussions on women's issues than today. The dignity of women, their rights and security concerns have become burning issues taking centre stage in the public discourse.
On International Women's Day, we speak to three women hailing from diverse backgrounds and professions to understand the challenges, dreams and experiences of being a woman.
Sandeepa Veeramachaneni, a professional photographer with over seven years of industry experience across Indian markets
On being a women
Women are rising up to be a new force and we are taking the country ahead with us. But yes, there are still many dark areas. But I see it as the birth of a new age for India and it will come with its labour pains. I see it as a world of possibility and potential for women if we choose not to let go of our calling in life or have our dreams silenced by challenges we face.
The professional and personal journey
I have always felt that growing up in a city like Vizag was a great advantage – we are definitely urban in our outlook but also not too separate from the rural. It's a nice balance – I am sure that my photographic eye is influenced by this combination. My professional journey has been exciting due to a wide variety of assignments – from social documentary to commercial and advertising photography and many worlds in between. It's true that most of the well known photographers in India are men. But, this is not a measure of one's success or contribution. There are many female photographers who've done significant work in India.
On workplace challenges
Workplace challenges I face differ on the basis of the assignment I'm working on. For instance, if I am covering a wedding, it is the weight of two cameras and lenses on my shoulders for prolonged hours, sometimes even 11 to 14 hours. I make it a point to stay fit and invest in equipment that eases the pressure on my neck. Challenges covering a major political event for instance are different – that's where I have to brush shoulders with the public. Often, the mood is aggressive and everyone is working from the pressure to get the perfect shot.
read more.

05

:

02

:

10

local time SRI LANKA
* Today is International Women's Day What women do and can do: Entrepreneurship, gender equality in SL:
The United Nations celebrates the 2014 International Women's Day under the theme of 'Equality for women is progress for all'.
Ensuring gender equality matters in many ways to the development process of a country. Gender equality matters in its own right and has been recognized as 'smart economics'. Experiences from various countries confirm that gender equality enhances economic efficiency and improves other development outcomes.
What women do?
2012 data for Sri Lanka estimate that out of the total 'economically active population' (i.e. labour force) of the country, females account for only 33.4 percent and out of the total economically inactive population, 70.3 percent are women.
This implies that there is a large untapped reservoir of womanpower that could be utilized for the development of the country, while empowering the individuals (i.e., females) and benefitting the entire society as a whole.
On the other hand, attracting more women into the labour force is of utmost importance and of course a challenge, given the fact that the majority of the population in Sri Lanka is female.
read more.

04

:

32

:

10

local time PAKISTAN
* Cotton market devoid of buyers:
The cotton market remained in the doldrums on Friday as spinners and value-added textile sector differed over the issue of duty on cotton yarn imports from India.
The spinners are currently facing cotton yarn dumping from India and are urging the government to impose import duty. Textile ancillary industry, however, is opposing such a move.
Floor brokers said the proceeding on the cotton market remained devoid of activity as leading spinners were reluctant to enter into any deal at this juncture when they are holding huge stocks of unsold cotton yarn.
read more.

* Exports to EU to get a boost: fiscal year 2014 revised cotton target almost achieved:
Pakistan has almost achieved the revised estimated cotton production target of 12.33 million bales set for the current season 2013-14, which would positively affect the country's exports, especially to EU countries under the GSP Plus, official sources told Business Recorder.
The Cotton Crop Assessment Committee (CCAC) initially projected cotton production estimates at 13.22 million bales and later twice revised them downward to 11.95 million bales.
However, in the last meeting cotton production was estimated at 12.33 million bales according to which Punjab was expected to produce 8.7 million bales of cotton against the initial projection of 9.6 million bales, Sindh 3.15 million bales against 3.5 million bales, Balochistan 0.108 against 0.18 million bales and Khyber Pakhtunkhwa 0.00043 million bales.
read more.

* Women empowerment still huge challenge:
NGO Hands here on Friday said a challenge to the much-celebrated notion of women empowerment still remains in the provision of basic ownership rights, a sheltered roof, health and education to women.
In Pakistan, the notion of women empowerment can become a thronging reality only when the great challenge gathered up against the status quo for women equality and vigilance is channelised. The status quo in Pakistan sets rigid limits on women ownership of productive resources and rights to inherit property, said a Hands release on the eve of International Women Day.
read more.

* 'Weak unionisation reason for poor conditions for women':
Weak unionisation and poor participation in trade unions are the fundamental reasons behind the worsening working conditions and access to fair wages for women.
These views were expressed in a dialogue on the subject of "Labour Market Dualism in Pakistan" organised by the Pakistan Institute of Labour Education and Research (Piler) and the Wage Indicator Foundation at the PMA House in connection with the International Women's Day being observed today.
The speakers said that Pakistan had one of the poorest rates of participation of women in the labour force. Citing the Pakistan Economic Survey, they said that women workers comprised only 24 percent, as compared to men who made up 82 percent of total labour force of six million people in the country.
(…)
Besides participation in the labour force, speakers said that women also faced discrimination at their work places while only 24% of working women having access to proper wages.
read more.

* Pakistan like world observing Women's Day:
The International Women's Day on Saturday (today) marks another year of changing social trends and inclusion of more and more women in various fields in the country.
Women rights have been the buzzing tune in the country for a while now and the general psychology of society as a whole has transformed from a conservative approach to a more moderate concept where women are not seen as just a household commodity.
The government departments working for protection of women rights, legislation to provide women with a more secure working environment and some 101 NGOs working in the country to voice women issues have contributed towards creating opportunities for women to contribute towards the national objectives.
read more.

GLOBAL
* Migrant women to work in freedom:
For the past three years, I've been preoccupied with the question of how to achieve safe migration into decent jobs for poor women. My answer? Collaboration and clarity about who and what enables or blocks change.
Before joining ETI, I led the design and development of a £10.5m programme called Work in Freedom. It's an ambitious and exciting collaboration between the UK's Department for International Development (DFID), the International Labour Organisation (ILO) and the London School of Hygiene & Tropical Medicine (LSHTM) that aims to prevent trafficking of 100,000 women and girls from South Asia, and to support them to migrate safely into decent jobs in the Middle East or within the region. It focuses on the garment sector and domestic work since these are the sectors that involve most migrant women workers.
It's a partnership of governments, recruitment companies, employers, trade unions, large and small NGOs – in labour sending and host countries.
read more.

* Women, Work & Development- Evidence from Better Work:
Women comprise 40% of the world's workforce.
In the apparel sector which has been a crucial engine of private sector growth for many developing countries.
The vast majority of its workers are female: as of June 2013, 80% of all workers in Better Work participating facilities were women, ranging from 53% in Nicaragua to
91% in Cambodia.
Research from the World Bank indicates that improvements in women's incomes can be transformative, often leading to greater investments in children's health and education that result in better overall human development
outcomes
At the same time, persistent gender inequality can hold back macro-economic growth: IMF research suggests that some countries miss out on up to 27% growth per capita due to gender gaps in the labour market.
However, at present the full potential for garment sector businesses to increase their productivity and profitability and assist in broader development gains by improving opportunities for women is not being fully realized.
CAN GARMENT JOBS BE 'GOOD JOBS' FOR WOMEN WORKERS?
read more and download the report here .