21

:

20

:

12

local time CHINA
* Rising wages reach a milestone:
China has reached its Lewis Turning Point. This is a critical milestone for a developing economy, when urban factories, restaurants and other businesses have to start raising wages faster than the inflation rate to attract rural workers.
Until that point, factory wages can remain flat and still attract farm workers living on subsistence incomes at home. It will take years for China to reach the end of the turning point, when urban and rural wages are equal. Until then, the increase in real wages for unskilled workers is here to stay.
(…)
Although the rise in remuneration may be partly driven by minimum wage increases and stricter enforcement of social insurance contributions, the majority of our clients believe that growing labor shortages are the main cause. Fortunately, most companies also say that output per worker has risen faster than wages, a sign that wage growth is backed up by productivity.
(…)
Moving production to cheaper locations is also an option, but a costly one. And such decisions are not driven purely by labor cost considerations. Relocation means losing proximity to suppliers and customers, dealing with new tax and regulatory regimes, and bearing higher transport costs. That said, our survey suggests that companies are increasingly willing to consider moving out of the PRD region or expanding to new locations.  read more.

* Strikes and worker protests in China's service sector on the increase:
More than half the strikes and worker protests recorded by CLB last month occurred in the service sector, with protests by transport workers being particularly prevalent.
A total of 45 protests were recorded on CLB's strike map in April, about the same level as in March. There were 27 incidents in the service sector and 17 of those were in transport, with taxi and bus drivers protesting against restrictive government policies, rising management charges, excessive work hours and poor remuneration.
read more.

* N. China's largest cotton storage base set up in Shandong:
China National Cotton Group, one of the leading players in the country's cotton industry, has set up North China's largest cotton storage base in Weifang city, Shandong province.
Warehouses at the base have a total storage capacity of 100,000 metric tons and to date have stored more than 20,000 tons of state reserve cotton, according to the company.
It said it plans to expand the base to double its storage capacity, with a commodity handling capacity as high as 500,000 tons, making it the largest cotton storage base in China.  to read.


22

:

20

:

12

local time NORTH KOREA
* Kaesong Workers Sent Far and Wide:
The 53,000 former Kaesong Industrial Complex workers from North Korea have been dispatched to a wide range of alternative workplaces in the North Hwanghae Province region, and are currently being given lectures and study sessions to eradicate the "capitalist ideas" they picked up while working in Kaesong, Daily NK has learned.
A source from Sariwon in North Hwanghae Province told Daily NK on the 3rd, "All the workers who used to be in Kaesong have been dispatched to factories, enterprises and cooperative farms in the North Hwanghae Province region. The workers are getting annoyed, because the authorities are forcing them to attend thought reform study sessions on Party policy for more than two hours a day."
read more.

* Kaesong companies trying to stay afloat while complex is closed:
Ongoing suspension of operations making business extremely difficult for firms with factories in Kaesong
"You need to keep watching the circuit board as you solder. It's not an easy job, is it?"
On May 3, the last seven South Koreans left who had been left at the Kaesong Industrial Complex returned to South Korea. On the same day, Koh Byeong-seon, president of Dongwoo Control, one of the companies operating at Kaesong, was at the company's headquarters in Incheon, watching the production line with eyes bleary from lack of sleep.
(…)
Most of the companies operating at Kaesong are involved in clothing and sewing. They have already incurred huge losses because they have missed the new product release season for spring and summer attire.
These losses are even more of a blow for companies that have to provide their employees with long periods of training. "For companies like S Pottery, it takes two years or more of training from the time they hire a new employee until that employee can actually work," Koh said.  read more.

20

:

20

:

12

local time VIET NAM
* Fourth Safety Fun Run boosts fire prevention in garment factories:
More than 3,600 garment workers participated in Better Work Viet Nam's annual Safety Fun Run in southern province of Binh Duong on Sunday.
This is the fourth time the programme has organised the event, this year's focus being "Putting Fire Safety First". The event aims to strengthen the connection between employees, employers, buyers and the community to raise awareness of how to prevent fires in garment factories in the country.
In Viet Nam, there are roughly 1,677 fires each year, causing deaths and injuries to workers and major structural damage to enterprises. The most recent fire accident at a garment factory in northern province of Bac Giang damaged the factory and thousands of workers' vehicles.  read more.

* Industrial production in recovery:

Workers produce shoes at Quang Nam Shoes and Leather Co. — VNA/VNS Photo Hong Ky
Viet Nam saw a slight recovery in industrial production with the return of a US$1 billion trade deficit in April, according to a report from the Ministry of Industry and Trade yesterday.
Statistics showed the industrial production index in April increased by 5.8 per cent over the same month last year and the index of the four-month period rose 5 per cent over the same period last year. read more.

*  ASEAN gender gap hurts working women: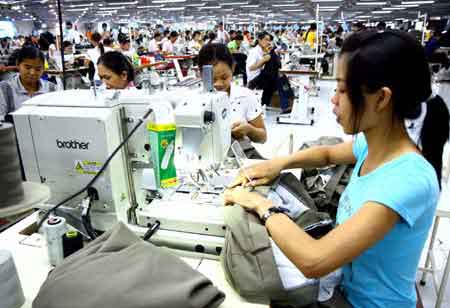 Women from ASEAN nations experience more difficulties at work than their male colleagues, including living on lower pay.
These difficulties involved maternal leave and caring for children, which required a better social security network, said participants at the meeting organised by the Ministry of Labour, Invalids and Social Affairs and Friedrich-Ebert-Stiftung (FES) in Singapore.
Delegates pressed for the equal integration of women into the workforce and social security system. They also discussed protection policies for female workers during pregnancy and maternal leave, including proper salaries, bonuses and reproductive health-care services.
Delegates said ASEAN nations should also promulgate policies to improve social security for female migrant workers.
Participants also exchanged experiences on issues relating to policies for ensuring social security and gender equity.  to read in SOCIETY IN BRIEF 7/5.

19

:

50

:

12

local time BURMA/MYANMAR
* Exports tied to labour standards:
The sustainability of the country's economic development depends on improving labour standards and ensuring that employers respect workers' rights, speakers told the "Building a New Myanmar" conference last week.
Investing in workers, ensuring freedom of assembly and improving working conditions will boost productivity and enhance access to western markets, they said at the two-day forum, which drew delegates from 500 labour organisations, as well as ministers, business leaders and ambassadors.
The forum was sponsored by the International Labour Organisation and funded by the US State Department.
(…)
"Myanmar must do more than pay lip service to workers' rights," he said. International trade unions use GSP privileges to press countries to conform to labour standards. They can petition for the privileges to be scrapped if labour standards are violated.  read more.

19

:

20

:

12

local time BANGLADESH
* 3 hurt in Gazipur RMG factory fire:
Three people suffered burn injuries as a fire broke out at the godown of a garment factory at Rajendrapur in Sadar upazila on Tuesday night.
The identities of the injured could not be known immediately.Fire Brigade sources said the fire originated at the storeroom on the ground floor of GM Garments Factory in Bangla Bazar area around 8:30pm, burning down huge fabrics.
The trio received the burn injuries when the garment workers and locals were trying to douse the flame.
The fire, however, were extinguished before the firefighters rushed in.
The injured were admitted to a local clinic.
to read . & read more.

* Cotton depot gutted in Narayanganj:
A fire broke out in a cotton depot at Fatullah in Narayanganj on Tuesday evening.
Seven units from Mandol Para, Hajiganj and Demra fire stations were trying to bring the blaze under control when this report was filed at 9:10pm, said our Narayanganj correspondent.
The cause of the fire at the depot filled with cotton and chemicals was not known immediately, Saiful Islam, deputy assistant director of Fire Service and Civil Defence, told The Daily Star.
Locals said the fire broke out around 7:30pm.
to read.

* Fire at Narayanganj storehouse:
A fire broke out at a storehouse of jhut (garment scraps) and dyeing chemicals at Ramarbagh in Sadar upazila on Tuesday evening.
Fire Service sources said the fire originated at the godown owned by Solaiman from an electrical short circuit.
On information, five firefighting units from Mandalpara, Hajiganj and Demra rushed to the spot and brought the fire under control around 9:30pm.
The extent of loss caused by the fire could not be known yet.
to read.

* Godown gutted in N'ganj fire:
A devastating fire gutted a chemical and Jhute (garment leftover) godown in Ramarbag area adjacent to Osmani Ali stadium Under Sadar Upazila on Wednesday night.
At least two children were injured in the fire and admitted to Khanpur 200-bed hospital in the district town.
On information, five units of fire fighters rushed to the spot and doused the fire after a nine-hour frantic effort.
In the meantime, the fire burnt down enormous Jhute, cotton, wax, chemical. There were also lots of corns. Go down roof was burnt and flame reached 30 to 40 feet high, a spot account said.  read more.

THE SAVAR BUILDING COLLAPSE
* Rana Plaza death toll hits 735:
The death toll from the disastrous Rana Plaza collapse reached 735 with the recovery of 45 more bodies on Tuesday.
Rescue workers retrieved the 45 bodies from the ruins of the collapsed building from 6am to 7pm today (Tuesday), said sources at the Army control room set up at Mansur Market in Savar Bus Stand area.
Of the recovered corpses, 560 were handed over to the families while 52 have been kept on the Savar Adhar Chandra Model High School ground while the rest at the morgues of Dhaka Medical College Hospital and Mitford Hospital and Jurain Graveyard, he said.
read more.
&
read more.
&
read more.
&
read more.
&
read more.
&
read more.
 * Procession of dead goes on:
The more rescuers remove rubble of the collapsed Rana Plaza, the more they find dead, decomposed bodies. Some 56 bodies were pulled out of the wreckage on the 14th day yesterday since the deadliest industrial disaster in the country.
Including these victims, the death toll reached 730, which is expected to go up when rescuers get deeper into the concrete mess. The nine-storey building at Savar outside Dhaka housed five garment factories and many shops.
Meanwhile, dillydalling throughout the day, Bangladesh Garment Manufacturers and Exporters Association (BGMEA) began giving wages and other benefits to the workers at around 9:00pm.
Hundreds of garment workers who survived the incident and relatives of the dead demonstrated near Savar bus stand, demanding wages and perks. They blocked the busy Dhaka-Aricha highway at about 10:15am for around two hours. They launched the protest in front of Razzak Plaza after they got to know that wages would not be given as per an earlier announcement by BGMEA. read more.

* No more tears left:
Relatives of Savar victims suffer in silence, wait
The tears in their eyes have almost dried up. Some even do not have the energy to wail or frantically rush here and there anymore. But still, they wait at Adhar Chandra High School playground in Savar to collect the bodies of their loved ones, lost in Rana Plaza collapse.
For the last 14 days since the worst factory disaster of the country, relatives of the victims have been rushing from one hospital to another in Savar and Dhaka with swinging between hope and despair.
As their frantic search turned futile, they returned to the school playground where the recovered bodies are brought for identification. The place is now a virtual home to around 100 people who have been waiting to collect the bodies of their near ones for a burial.
"My prayer is that the Almighty helps me find my daughter's body, so that her mother can see her and put to eternal rest," said Shamsul Alam of Naogaon, adding, "I don't know how long Allah will continue to put my faith to test.
read more.

* 16 unclaimed bodies from Rana Plaza buried:
Sixteen unclaimed dead bodies from Rana Plaza were buried on Tuesday at Jurain graveyard in the city.
The unidentified bodies were recovered from the debris of the collapsed multi-storied building Rana Plaza at Savar which killed hundreds of apparel factory workers after the mishap on May 24.
Additional district magistrate of Dhaka Abul Fazal Mir told New Age the recovered dead bodies were initially kept at Adhar Chandra School ground at Savar for identification by relatives and later taken to Mitford Hospital morgue. read more.

* RMG workers block Dhaka-Aricha highway:

Workers at five garment factories housed in the collapsed Rana Plaza block Dhaka-Aricha highway in Savar bazaar bus stand area Tuesday morning demanding their arrears. Photo: TV grab
Workers of the five garment factories, located on the collapsed Rana Plaza, on Tuesday blocked the Dhaka-Aricha highway in Savar Bus Stand area, demanding the payment of their arrear salaries in the last four months.
Four of the factories were identified as New Wave Limited, Phantom Apparels, Phantom Tek Limited and Ithar Tek Limited.
The workers said BGMEA was scheduled to pay their arrear salaries in the last four months today, but they were angered as they came to know that the BGMEA will pay the arrear salaries of only two months.
read more. & read more. & read more. & read more. & read more.

* RMG workers start getting salaries:
BGMEA on Tuesday started disbursing salaries to the workers of four garment factories housed at the collapsed Rana Plaza in Savar on behalf of the owners.
The workers will receive salaries of three months, Atiqul Islam, president of Bangladesh Garment Manufacturers and Exporters Association, told The Daily Star.
The four garment factories are New Wave Style, New Wave Bottoms, Phantom Apparels and Phantom Tac.
The list of workers of another Ether Tex will be prepared by Tuesday, said Islam.
"We are expecting salary disbursement to the workers of Ether Tex by tomorrow Wednesday."
BGMEA is disbursing salaries to the workers at local Adhar Chandra High School premises at Savar. to read. & read more.

* More donation to PM relief fund for Savar victims :
More organizations and individuals donated cheques of financial assistance to the Prime Minister's Relief and Welfare Fund for the families of Savar victims.
Prime Minister's press secretary Abul Kalam Azad said the Prime Minister received cheques of donation from eleven organizations and individuals at her office today.
Minister for Environment and Forests Dr Hasan Mahmud donated his one month salary to the fund while officials and employees donated their one day salary.
Officials and employees of the Ministry of Labour and Employment donated their tw0 day salary to the fund.
read more. & read more.

* 
BGMEA probe body starts functioning:
Identifying Rana Plaza Collapse Faults
The investigate committee formed by Bangladesh Garment Manufacturers and Exporters' Association (BGMEA) to look into the cause of Rana Plaza collapse, started to work.
The 9-member committee led by 2nd Vice-President of BGMEA S M Mannan Kochi visited the spot; the Rana Plaza collapsed area, and collected samples of rod and cement of the building.
The committee later sent the sample to Bangladesh University of Engineering Technology (BUET) laboratory to find out its strength.  read more.

MORE AND OTHER NEWS:
*  Hartal to hit hard apparel export: BGMEA, BKMEA:
Expressing serious concern over the call of hartal by the BNP-led 18 party alliance on Wednesday and Thursday, apparel exporters in a statement said the recurrent hartals would hit hard apparel export.
Bangladesh Garment Manufacturers and Exporter Association (BGMEA) and Bangladesh Knitwear Manufacturers and Exporter Association (BKMEA) in a joint statement today urged the opposition to call off their hartal to help save the country's garment industry, which is facing problem due to the Savar Building collapse.
Referring to the scheduled visit of a delegation of buyers from China on Thursday, the two major organisations of the country's readymade garment exporters apprehended that the hartal would disrupt the planned visit of the team and disappoint its members. The delegation includes representatives from 20 leading brands who run more than 100 stores in China alone.
read more. & read more. & read more. & read more. & read more.

* Chinese retailers want to source RMG products from Bangladesh:
Chinese retailers have shown keen interest to directly source apparel products from Bangladesh to sell those in their retail markets, officials linked to the US$ 19 billion industry said.
The sources said retailers as part of their fresh plan of sourcing readymade garment (RMG) products from Bangladesh will buy such items from Bangladeshi exporters if everything goes well as per plan to avoid the growing costs in China.
read more.

* Cabinet body meets today to discuss ways to overcome RMG crises:
The cabinet committee on readymade garment (RMG) industry will meets today (Wednesday) to discuss ways and means to tide over the present crises that the largest foreign currency earning sector is facing, officials said.
The meeting has been convened to review the overall impact of last month's collapse of Rana Plaza at Savar, which left over 700 garment workers killed.
read more.

* Fires, Savar tragedy, violence set to cost export sector heavily:
The country's earnings from exports grew by 10.14 per cent to US $21.78 billion during the July-April period of the current fiscal year (FY) 2012-13, official data revealed Tuesday.
Exporters, however, said though the earnings have been showing an upward trend, the country's exports might bear the brunt of industrial blazes at Tazreen, Smart, the Savar tragedy and ongoing political impasse in the next fiscal year.
Keeping these in view, they have urged the political parties to withdraw the hartals on Wednesday, Thursday and Sunday and find a solution to overcome the present crisis for the sake of the country's overseas trade and economic growth.
read more.

* Bangladesh illustrates real cost of sweatshops:
Consumers should demand decent working conditions, even if it means paying a little more, a report in Portland Press Herald, posted on its website on Tuesday, said.
The report said: "It's good that retailers like L.L. Bean are pledging to do more to ensure that working conditions at their overseas contractors' plants are better than those at the factory in Bangladesh that collapsed" on April 24 last, killing more than 650 workers.
"But it shouldn't end there. American consumers also should get involved. As long as the demand for low-price goods outweighs any concern for worker safety, unscrupulous manufacturers will consider disasters like this to be part of the cost of doing business," it added.
Mentioning that Bangladesh is one of the poorest countries in the world, as well as the second biggest exporter of clothing, after China, the report said its (Bangladesh's) "garment industry employs 3.6 million workers, but it doesn't pay them much at all. Many of the workers who died in the collapse of the eight-story Rana complex were earning only $40 a month."
Wages, the report noted, were not the only place the plant's owners scrimped.
read more.

* Secret cuts- Is the garment business jinxed, or is it made to look so? :

Fire a few days back, building collapse yesterday and workers' vandalism over poor wage today. These are the headlines the largest forex earning sector makes, for several years now.
Risky buildings can exist only when a government goes into hibernation and risky workplaces when an employer turns covertly criminal. As the government never wakes up to its task, tragedy revisits time and again. Culprit manufacturers enjoy the culture of impunity and workers continue to get killed. This sorry garment story is known to all. But stories that remain unknown are equally ominous, if not more. Syed Ashfaqul Haque with Inam Ahmed exposes the unethical face of leading garment buyers.
A good number of international buyers are raking in fortunes, investing virtually nothing for their orders in Bangladesh.With a clause of deferred payment in letter of credit (L/C) — the formal loan agreement for a purchase — they are literally fleecing the Bangladesh garment sector and contributing eventually to the misery of the workers.
With such L/Cs, these greed merchants get products shipped out and release payments to manufacturers after months of delay.
This means they virtually get their products on credit and pay manufacturers only after selling those.
The Daily Star has obtained four such L/Cs in one of which payment was disbursed six months after shipment.
With payment being deferred, Bangladeshi manufacturers are actually forced to subsidise the buyers. Garment-makers take loan, free of interest for 90 days, against the L/C in executing orders. So, for the period beyond 90 days, manufacturers have to fork out 15pc interest.  read more.

* Mid-level managers 'are behind all RMG troubles':
Unfair treatment that is meted out by mid-level managers to workers and their ignorance about safety measures have resulted in frequent instability and unabated accidents in readymade garment (RMG) factories, workers' leaders stated.
They said most of the mid-level managers keep their factories locked round the clock, ignore fire drill, force workers to work for 12 to 16 hours and often sack them without any reason.
This situation can be likened to that of servility, they observed.
Female workers who become pregnant are fired from service and often maltreated or misbehaved with, by such managers, as if the former are animals and their salaries and overtime allowances are kept pending for over two months to hold the RMG workers hostage, Nazma Akther, President of Sammilito Garments Sramik Federation (SGSF) and a member of the second minimum wage board told The FE.
read more.

* Delegation to visit Washington next week to retain GSP:
In a last ditch effort to retain GSP facility in the US market, a Bangladesh delegation will fly to Washington next week to hold talks with top officials there on the crucial issue.
Foreign Secretary M Shahidul Haque will lead the delegation during the
May 14-16 visit that will consist of members from the ministries concerned, sources at the Foreign Ministry said.
The Foreign Ministry took the decision today (Tuesday) to present latest progress and make commitment to the USA just before the outcome of the GSP hearing that will shortly come.
(…)
"It certainly makes the environment of the workplace safety questionable. I'm sure it'll have that impact," the US envoy said responding to a question whether the Savar incident will affect the continuation of GSP facility for Bangladesh.
read more. & read more.

* Govt inspection committee visits garment factories at Ashulia:
The government inspection committee formed to oversee building structure and environment of garment factories today visited different Ready Made Garment (RMG)factories in Ashulia.
The committee headed by Jute and Textile Minister Abdul Latif Siddiqui visited several garment factories, including two RMG units of Hameem Group.
The garment authorities focused on the fire fighting preparation, emergency exit and other environment of the factories.
The committee chief told journalists that they are verifying the emergency exit of the garment factories.
State Minister for Labour and Employment Begum Mannujan Sufian and local lawmaker Talukder Tawhid Jong Murad were accompanied the minister.
to read.  & read more.

* The Bangladeshi Garment Industry: Made for Exploitation? :
For over a week the world's attention has been focussed on the collapse of a garment factory in Bangladesh, in which hundreds of workers have been killed. This tragedy in a country far away has gripped our attention for the shocking and needless loss of human life, and causes us to face the human cost of the clothes we wear.
The outrage at such severe abuses mirrors responses to human trafficking and 'modern day slavery', as all agree that exploitation should not have a place in our supply chains. But whether low pay or excessive hours, bonded labour or human trafficking, the common thread is profits trumping rights and talk in place of action.
In recent years Bangladesh has been working hard on building its public image on human trafficking, including trafficking for labour exploitation. In 2011 the Government introduced a new Human Trafficking Law swiftly followed by a two-year national plan of action on trafficking.
As a result it has graduated a grade on the US government's annual Trafficking in Persons index. Despite these developments, Bangladesh's core industries remain largely unregulated and unaccountable to their workers.
The garment industry provides 76% of all export earnings and accounts for over 10% of GDP in Bangladesh and is a major supplier to European retailers.
Yet, major accountability deficits breed abuse and abuse has led to exploitation, on a scale ranging from low pay, to dangerous conditions right up to forced labour and slavery. read more.

* Association Blames Western Retailers for Bangladesh Factory Collapse:
Days after a deadly Bangladesh factory collapse, an association in the country is raising concerns about Western retailers. How have companies responded?
Plenty of blame has been assigned following the collapse of a garment factory in Bangladesh on April 24, but one association has a finger pointed firmly at Western retailers.
Shahidullah Azim, vice president of the Bangladesh Garment Manufacturers and Exporters Association, called for companies to improve safety conditions in overseas factories by reconsidering "cutthroat buying practices" and paying higher prices for particular garments to underwrite safety improvements.
"The retailers only talk about ethical sourcing," Azim said in a Huffington Post report. "I think this is the time we start talking about ethical buying."
The association's comments put even more pressure on Western companies to find ways to prevent future disasters.  read more.

* RMG tragedies risks to reputation:
Global clothing brands involved in country's troubled garment industry responded in starkly different ways to the building collapse that killed more than 700 people.
Some quickly acknowledged their links to the tragedy and promised compensation. Others denied they authorized work at factories in the building even when their labels were found in the rubble.
(…)
Such experts say that with several deadly disasters and fires in Bangladesh's $20 billion garment industry in the past six months, possibly the only way retailers and clothing brands can protect their reputations is to visibly and genuinely work to overhaul safety in Bangladesh's garment factories. A factory fire killed 112 workers in November and a January blaze killed seven.
(…)
Many clothing brands were quick to distance themselves from the five factories that were housed in Rana Plaza. The building, which was not designed for industrial use and had three illegally added levels, collapsed April 24.
Benetton said none of the factories were its authorized suppliers, although Benetton labels were found in the rubble. Spain's Mango said it hadn't bought clothing from Rana Plaza factories but acknowledged it had been in talks with one factory to produce a test batch of clothing.
German clothing company KiK said it was "surprised, shocked and appalled" to learn its T-shirts and tops were found in the rubble. The company said it stopped doing business with the Rana Plaza factories in 2008. It promised an investigation.
Wal-Mart said there was no authorized production of its clothing lines at Rana Plaza but it was investigating whether there was unapproved subcontracting. Swedish retailer H&M, the single largest customer of Bangladeshi garment factories, said none of its clothes were produced there.
The Walt Disney Co. in March responded to publicity from last year's fire at the Tazreen factory, where its branded clothing was found, by pulling out of Bangladesh production altogether.
read more. & read more. & read more.

* JC Penney, Gap & Co.: Put an end to the murders of garment workers in Bangladesh:
My name is Arif Ullah. My family moved from Bangladesh to the United States when I was 6 years old. I grew up in New York. I've shopped at JC Penney and Gap, and now I am outraged to learn that these companies and others have refused to adopt meaningful safety measures to protect the lives of the workers in my home country who sew their clothing.
This deliberate negligence has resulted in yet another tragic incident in the last week, which you've probably seen in the news: more than 400 people killed as a building in Bangladesh housing six garment factories crumbled to the ground. These factories were making clothes destined for dozens of US and European retailers, including JC Penney, Benetton, and Cato. There are at least 400 more people who are still unaccounted for, and within the last two days no person has been rescued alive. Even in Bangladesh, where horrific tragedies like these due to unsafe factories are all too common, this level of devastation is unprecedented.

These workers were denied their right to refuse dangerous work: they were told they would lose a month's pay if they didn't report to work the day after deep and alarming cracks appeared in the walls of the building. The disaster at Rana Plaza is now the deadliest incident in the garment industry in known history. That's why garment workers in Bangladesh are taking to the streets every day to call for accountability in huge numbers.
(…)
They must now make a legally binding commitment to keep workers safe: The Bangladesh Fire and Building Safety Agreement. If JCP had signed earlier, hundreds of workers could have been spared gruesome death. These companies have no choice anymore. They must be held legally accountable for their actions. These murders must not be allowed to continue. Read more and you can sign here.

18

:

50

:

12

local time INDIA
* Ahmedabad industries not serious about safety: Study:
A pilot survey on condition of workers and their safety at city-based industries have revealed and resulted in some shocking statistics.
Conducted by students of Gujarat University (GU) in association with Kamdar Swasthya Suraksha Mandal (KSSM), the survey covered industrial units in Naroda, Asarwa, Narol, Ramol, Vatva, Dholka, Bavla, Khoraj and Kalol.
The survey revealed that defective protection masks were provided to welders and fitters in the engineering industry, which increases chances of eye and face industries.
A more shocking revelation was that the workers were provided the safety equipment only during inspection. No earplugs were provided in industries with high noise levels. The safety masks were provided to workers, but they didn't use them as they were itchy. Also, 67% of the factories didn't have a safety committee and those that had, worked under the management's influence.
(…)
Being an industry-dominated state, it is high time that safety at the units got importance. "The cotton industries, too, lack earplugs and masks are not provided," said Mishra.  read more.


* Maharashtra to extend 12 per cent interest subsidy to textile units:
The Maharashtra government has decided to extend the benefit of the 12 per cent interest subsidy to existing textile units which would like to expand all over the state, officials said.
A government resolution (GR) to this effect will be issued in the coming days, in an effort to encourage investment in the textile sector, they said.
The textile policy unveiled in March last year, did not have any benefits for existing textile units.
Only new units set up in Vidarbha, Marathwada and North Maharashtra were to be given a 10 per cent capital subsidy under the Central government-sponsored technology upgradation fund (TUF) scheme.
So far, 326 new projects have been set up in the state which employ 21,000 people.
read more.

* Weaver ends life over Rs. 60,000 power bill:
Unable to pay huge power bills due to imposition of FSA, an ailing powerloom weaver committed suicide by hanging in Vemkampet locality of Sircilla textile town on Tuesday.
Reports reaching here said that weaver G. Prabhakar (42) was into production of polyester fabric on his own three pairs of powerlooms. He hired additional three pairs of powerlooms on rent to produce the cloth. Even before he could count his profits came the monthly power bill shocker of Rs. 60,000 which included the FSA.
He reportedly complained to his relatives and neighbours about the huge bill before resorting to the extreme step. He is survived by wife, a son and a daughter.
Protests by trade unions and leaders
The powerloom trade unions particularly, the CITU, which had been crusading against the imposition of FSA on powerlooms in Sircilla town, launched protests against the suicide of the weaver. Cutting across party lines, leaders of various political parties including the Congress, TDP, TRS, BJP joined the protest against the FSA on powerlooms. to read. & read more.