See special reports: The SAVAR building Collapse 24 April 2013. Daily Updates.
08

:

47

:

27

local time NORTH KOREA
* Seoul gives Pyongyang ultimatum on Gaeseong:
The government said Thursday that North Korea will face "grave measures,"
if it fails to respond to the proposal for working-level talks on the Gaesong Industrial Complex by the close of today.
The ultimatum came after Pyongyang stopped all access to Gaesong from the South on April 3, citing provocations by Seoul against its sovereign dignity, and subsequently withdrew all 53,000 North Korean workers employed by the 123 South Korean companies operating there on April 9.
"We are making an official offer to North Korea to discuss ways of normalizing operations at the Gaeseong Industrial Complex and want to hear their position on the matter before noon Friday," said Ministry of Unification spokesman Kim Hyung-suk.
read more. & read more.

07

:

47

:

27

local time PHILIPPINES
* Workers picket DOLE, hit 'no wage hike' announcement:
Workers led by national labor center Kilusang Mayo Uno picketed the Labor Department's main office in Intramuros, Manila this morning to condemn the agency's announcement that there will be no wage hike on this year's Labor Day.
KMU said the announcement, while not surprising, is still infuriating for the country's workers who have been suffering from meager wages and high prices for years now.
To show their anger, the workers threw paint bombs at a large image of the faces of Labor secretary Rosalinda Baldoz and Pres. Noynoy Aquino stating "No Wage Hike on Labor Day."  read more.

06

:

47

:

27

local time VIET NAM
* Is Vietnamese labor cost high or low?:
Office workers, unskilled laborers and state employees all complain that their salaries are so modest and cannot cover their basic needs.
Workers like… extra working hours
According to Oxfarm, the organization that strives for the poverty reduction and fight for equality, Vietnam is not the only country in the world which has the low minimum wage. The salaries far below the subsistence wages have been reportedly provided in many other developing countries.
However, the problem lies in the skills and productivity.
An Oxfarm's officer said that while in other countries, collective agreements are respected and workers can create value for their labor, Vietnamese workers only like working hard.
A survey conducted by Thoi bao Kinh te Vietnam in some industrial zones showed that Vietnamese workers at the factories would be willing to leave some factories for others which allow them to take extra working hours.  read more.

06

:

47

:

27

local time THAILAND
* Low pay 'causes unhappiness':
Low wages are the major cause of people being unhappy in their job, according to a survey released Wednesday.
The survey, conducted by job search site JobStreet.com between April 11-18, asked 4,621 blue- and white-collar workers across the country whether they were happy with their current job.
The survey found 62%, or 2,870 people, were not happy in their work. Being paid too little was the top reason for their unhappiness, followed by tasks that are not clearly defined and do not match their skills, and having a bad relationship with their bosses.
read more.

06

:

47

:

27

local time CAMBODIA
* Round 2 in Bandith case locked for May:
After weeks of delay, the Svay Rieng Provincial Court yesterday set a date for the hearing of Chhouk Bandith, the former Bavet governor, who stands accused of shooting three female factory workers in Bavet last year.
A hearing will be held starting on May 21, said Hing Bunchea, provincial prosecutor.
"We have already issued warrants to both sides to follow procedures," he said. Because of the case's expected complexity, he added, the case has been scheduled for three days.
On March 4, the Appeal Court re-charged Bandith with causing unintentional injury – a charge that had been quietly dropped three months earlier by the Svay Rieng Provincial Court – and ordered the lower body to re-hear the case.
The powerful former governor stands accused of shooting three women during a violent protest by some 6,000 workers at the Manhattan Special Economic Zone in February last year. Though there were perhaps dozens of witnesses, and he was implicated by none other than Minister of Interior Sar Kheng, Bandith wasn't charged until months after the shooting. The case then bounced back and forth between prosecutor and investigating judge until it was dropped in December.  read more.

* Garment workers strike to demand seniority pay:
More than 2,000 workers at the Hung Wah I garment factory protested outside the Por Sen Chey plant over allegations the company had refused to pay seniority bonuses to outgoing workers.
Touch Sar, the Free Trade Union president at Hung Wah I, said yester-day earlier negotiations between the union and the company, which had been co-ordinated by the Social Affairs Ministry, had proved fruitless.
"We protest to demand only one point: money for finishing the contract.
We demanded $150 a year for seniority, but the company agreed only to $20 a year," she said.  read more.

07

:

47

:

27

local time INDONESIA
* Indonesian textile workers reach agreement with Adidas:
 On 24 April 2013 Adidas and Indonesia Coordinating Committee of PT Kizone Workers and their union, DPC SPTSK-SPSI, announced an agreement potentially ending a 2 year long dispute.
The company and the union agreed not to disclose the details of the deal, however according to the preliminary reports the company agreed on severance pay for 2,700 workers who remain without jobs following the closure of PT Kizone apparel factory in April 2011.
The factory faced economic problems late in 2010 and failed to fulfill its obligations towards its workers regarding severance payments and compensation to families of the deceased workers. Later on the owner did not pay wages earned by workers till December 2010 and in January 2011 fled the country without any notice. Despite some efforts of Green Textile, the main buyer from the factory who took over the factory from February to March, in April 2011 the factory was closed and proclaimed bankrupt.  read more.


* Victory for workers: adidas agree to 'pay up':
Adidas have agreed to pay their former workers $1.8 million in legally-owed redundancy pay 'The former workers will receive a substantial sum from adidas.'
After a campaign spanning two years, we've won!
Students and workers have finally forced German sportswear giant adidas to compensate 2,700 former Indonesian garment workers who produced sports apparel at PT Kizone, an adidas supplier factory that closed down over two years ago.
While the contents of the agreement remain confidential, the PT Kizone workers' press release stated that
The settlement will resolve a powerful international campaign over adidas's prior refusal to pay $1.8 million in unpaid severance pay following the closure of PT Kizone. The announcement comes just days after students across the UK took to the high streets demanding that sportswear firm Footlocker to drop adidas over its failure to pay workers. read more.

* Tangerang workers 'warm up' for May Day:
Hundreds of factory workers grouped under the Alliance of Greater Tangerang Residents (Altar) rallied in Tangerang regency on Wednesday, calling for an end to "oppression" in the workplace.
They said the rally, which began in Curug district and ended in Cikupa, was a "warmup" ahead of the commemoration of May Day on May 1.
"We handed out a written statement to workers in seven industrial areas between Curug and Cikupa," said rally coordinator Koswara.
He said oppression by employers appeared in many forms, including underpayment, banning workers' unions and the dismissal of unionized employees, and added that things could get worse for workers if the government raised fuel prices. read more.

05

:

32

:

27

local time NEPAL
* Truck seized with smuggled garments worth Rs 10m:
A large scale smuggling of garments in collusion with Birgunj customs employees came to light on Tuesday when Narayani Zonal Police seized truck carrying the garments.
The truck with the registration number Na 3 Kha 4539 carrying garment worth Rs 10 million was allowed to leave the customs yard without going through the formal customs clearance process. The trucks exiting yard was failing to produce custom clearance documents.
(..)
The traders have to pay 18-33 percent of tax on garment imports. There are difference tax structures for synthetic sari, kurta salwar, shirting and suiting and cotton textiles, according to Customs Officer Guna Raj Luitel. No value added tax (VAT) is imposed on the import of cotton textiles.  read more.

05

:

47

:

27

local time BANGLA DESH
* So near yet so far:
Rescuers continue frantic effort to bring out those trapped inside the rubble of the Savar building that caved in Wednesday. Star photo.
While there are many survivors hurt or squeezed between wrecks of the nine-storey Rana Plaza in Savar, rescuers are unable to speed up their operation due to precarious situations of the survivors.
For instance and unnamed girl was rescued from the building at around 11:50 by cutting her hand that was trapped under the wreck. She was rushed to the hospital by rescue workers.
Survivors like her are still voicing out for help amid an unbreathable environment of stench of dead bodies, dust and darkness.
"My name is Aftab. A pillar has fallen over me. Please some one save me. Cut my hands to free me," said a survivor to The Daily Star correspondent at 11:10 am.
Aftab is an operator of New Wave Garments now trapped inside the meshed up seventh floor. His silhouette is visible through the wreckage. But it was very difficult to reach him. read more.

* RMG workers burst into protest in Dhaka:
Thousands of workers of many garment factories in different parts of the capital took to the streets Thursday to protest the deaths in Savar building collapse the previous day.
The aggrieved workers demonstrated in Karwan Bazar, Khilgaon, Rampura areas.
Around 100 workers of several garments factories including Cambridge, Alauddin and Goldstar garment factories on the Kazi Nazrul Islam Avenue suddenly rushed out to the VIP road before the noon, halting traffic on the busy road.
They chanted slogans blocking the road.
Arif-ur Rahman, merchandising manager of Alauddin garments, said they kept the operation running because they had no instruction to close the factory neither from BGMEA nor the owner.
Meantime, a group of aggrieved people entered the Karwan Bazar underpass and vandalised the television and some photo frames hung on the wall there.
On duty security guard told The Daily Star that the group rushed in, vandalised and ran away before police could reach the spot.  to read.

* RMG workers stage demo in city:
Workers of several garment factories on Thursday staged demonstration on different roads of the city demanding security of their lives and a holiday for the day as a mark of condolence for those who lost lives in Rana Plaza collapse.
Witnesses said several thousand workers from a few garment factories of Rampur brought out procession on the Rampura –Malibagh road at about 10.00 am, suspending traffic in the area for quite some time. 
read more.
&
read more.
* RMG workers clash with cops; cordon off BGMEA building:
Hundreds of readymade garment workers on Thursday cordoned off the BGMEA Bhaban in the city and clashed with cops apart from ransacking the windowpanes of a number of roadside buildings. 
The RMG workers from various factories took to the streets as the authorities did not suspend production in the factories today although Thursday was earlier announced as the national mourning day.
Hundreds of workers of Rampura and Badda areas marched towards the BGMEA Bhaban around 11:30 am with sticks and iron-rods and laid a siege to the BGMEA Bhaban.  
read more.
* All garments in Ashulia closed:
The authorities of the readymade garments in Ashulia, Savar closed their factories amid protest of the workers on Thursday.
The agitated workers staged demonstrations as Dhaka Export Processing Zone (DEPZ) was still on production.
Earlier in the day, thousands of workers came to the street from Ashulia to Bailpail demanding vacation to mourn the deaths of building collapse and arrest of the building owner Rana.  read more.

* Saving life top priority: PM:
Prime Minister Sheikh Hasina on Thursday said the government's top priority is to save lives trapped under the rubble of the shattered building in Savar rather than detaining those responsible for the tragedy.
She was talking to a delegation of Awami League Tangail district unit at her official residence Gono Bhaban in the capital around 11:15am.
The premier and the delegation members observed a one-minute silence in memory of those killed in the collapse.  read more.  & read more. & read more.

* 1500 rescued from Savar building debris:
Around 1500 people were rescued till 10:00am Thursday and hundreds others are still trapped under the Savar building`s debris.
Army, Navy, Fire Service, Ansar, RAB, Police and locals were conducting the rescue mission and it may need two or three more days to end, said sources.
read more.

* Produce Rana Plaza owner, MDs, chairmen of 6 factories on Apr 30: HC:
The High Court on Thursday directed the owner of Rana Plaza, Sohel Rana, and the managing directors and chairmen of six RMG factories housed in the building to appear before it on April 30.
A High Court Division Bench comprising Justice Mirza Husain Haidar and Justice Mohammad Khurshid Alam passed the order following a suo moto move.
The HC directed the officer-in-charge of Savar thana to produce them before the court on April 30 at 10:30 am and also directed the Superintendent of Police of Dhaka to ensure their presence.
The court also issued a rule upon the government to explain why those who were involved in the Savar tragedy would not be identified and why exemplary punishments against those would not be ensured.
read more.
&
read more.
&
read more.
&
read more.
* Bosses ignored building cracks in Bangladesh factory collapse:
At least 100 workers were killed and more than 600 people were injured when an eight-story commercial building collapsed in Bangladesh on Wednesday morning.


Photo caption: People and rescuers gather after an eight-story building housing several garment factories collapsed in Savar, near Dhaka, Bangladesh on Wednesday, 24 April (AP Photo/ AM Ahad)
Hundreds of people remain trapped in the rubble of the Rana Plaza building complex in the Dhaka suburb of Savar – 19 miles away from the Bangladeshi capital.
According to the Reuters news agency, the complex housed five garment factories employing as many as 5000 workers.
This includes the New Wave factory, which supplies clothes to major global retailers such as Mango, Primark and Canadian supermarket chain Loblaws.  read more.

* Rana Plaza Collapse: Death toll now stands at 218:
The death from the horrific building crash in Savar climbed to 218 with the recovery of more bodies on Thursday, as many more are still believed to have remained trapped.
Dhaka DB officer-in-charge Wahiduzzaman said the rescuers pulled out 218 bodies so far from the debris of the building that crashed on Wednesday morning.
Meanwhile, IGP Hasan Mahmud Khandker said two industrial police constables — Rafiq and ASI Mukul — remained missing since the tragic incident.
So far, 1,516 people were rescued from the rubbles of the building till filing of this report around 6pm.
Rescuers feared that the number of victims would go up further as many are still remained trapped under the debris. 
read more.
* 'Savar tragedy calls for politicians' attention':
Equity and Justice Working Group Bangladesh (EquityBD), an alliance comprising right based NGOs, labour and farmers organization, today expressed grave concern over the Savar building collapse.
In a statement, they termed the incident as a dreadful example of governance with little accountability which demanded immediate "attention of politicians" irrespective of parties to avoid such a tragic incident.
It said that it is the country's confrontational politics, in fact, which is paving the growth of some irresponsible bourgeois causing the death of innocent people.
read more.

* Those responsible for Savar tragedy to be brought to justice: MKA:
Home Minister Muhiuddin Khan Alamgir on Thursday categorically said those responsible for the Savar tragedy will be brought to justice.
"Those responsible will be put on trial, no matter which party they belong to or whose relatives they are. He may be Rana or any party member and anyone's relatives, stern legal action will be taken against those for their offences after arresting them on the basis of investigation report," he told a press briefing at his ministry.
The minister said a case was filed in this connection and the owner of the building, Rana, has been made an accused in it. 
read more.
* FBCCI for punishment to perpetrators of Savar tragedy:
The Federation of Bangladesh Chambers of Commerce and Industry (FBCCI) today called upon the government to give exemplary punishment to the persons responsible for the Savar building collapse tragedy.
The call came at an emergency board meeting of the apex trade body at the federation bhaban here, said a release.
During the meeting, the board members unanimously postponed tomorrow's (Friday) business conference in a show of sympathy to the victims of Savar building collapse.  read more.

* Rana Plaza Collapse: Citizens demand punishment of RMG factory owners:
Citizens on Thursday staged protests at different parts of the city demanding stern actions against the RMG factory owners and others for the killing of readymade workers in the Rana Plaza collapse incident.
Hundreds of citizens joined a protest rally arranged by Battala, a theatre organisation, at Manik Mian Avenue around 3:00pm.
After the rally, they marched towards BGMEA Bhaban and took position in front of it till 6:30pm.
Another rally was arranged under the banner of 'Students-Teachers-Professionals-Journalists' on the foot of Razu Monument at Dhaka University at about 4:30pm. This rally also marched towards the BGMEA Bhaban.
Organisers of both the platforms demanded immediate arrest of those responsible for the building collapse at Savar.  read more.

* Bangladesh building tragedy down to West's cost squeeze -NGOs:
Major western clothing retailers squeezing Asian suppliers and a flawed approach to ensuring even basic working standards are fuelling conditions for tragedies like the latest factory collapse in Bangladesh, NGOs said on Thursday.
At least 187, mainly female workers, were killed and over 1,000 injured when the eight-storey Rana Plaza factory building in Savar, 30 kilometres (20 miles) outside the capital Dhaka, collapsed on Wednesday.
"What we're saying is that bargain-basement (clothing) is automatically leading towards these types of disasters," John Hilary, executive director at British charity War on Want, told Reuters.  read more.

* 'Rescue work to continue for 72 hrs':
Rescue operation at the Rana Plaza collapse site in Savar will continue until Saturday before the process to remove the wreckage begins.

Fire Service and Civil Defence Director Mohammad Zahidul Islam said this on Thursday afternoon after over 33 hours since the rescue drive began as the commercial building came crushing down with heaps of concrete and steel on Wednesday.
He said at least 24 more people were rescued alive from the site in the noon.
read more.

* Hundreds of Bangladeshi garment workers die:
The worst ever industrial accident in Bangladesh has killed more than 200 garment workers with fears of a final death toll reaching 1,000 as hundreds remain injured and trapped in the debris.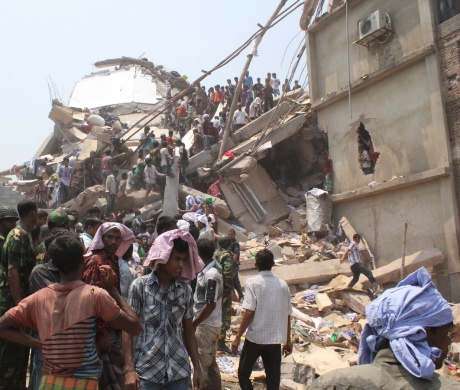 "Cut off my hand, save my life!" screams a woman trapped under the collapsed eight-story Rana Plaza building in Savar, 30 kilometres outside Dhaka.
The same request is shouted by trapped Aftab, while other screams in the rubble demand oxygen. 200,000 local people have assembled in Savar offering to donate blood to the rescue effort, as hospitals are gravely under supplied.
The mass industrial manslaughter occurred at 9am, 24 April. The collapsed building, illegally constructed, contained five garment factories with 2,500 workers.
Those five factories are Ether Tex, New Wave Bottoms, New Wave Style, Phantom Apparels and Phantom-TAC.
These factories are believed to have produced for several well-known western brands including Mango, Primark, C&A, KIK, Wal-Mart, Children's Place, Cato Fashions, Benetton, Matalan and Bon Marché.
read more.


* 24 rescued in a group:

Rescuers relentlessly look for survivors amidst the debris Thursday afternoon. At least 243 people have so far been found dead after a building collapsed in Savar on Wednesday. Photo: Anisur Rahman
Rescuers have brought out a group of 24 people from a place inside the debris around 35 hours after a building collapsed in Savar.
Rescuers found the people alive at a place in between the first and third floor and rescued them around 8:15pm, Brig Gen Ali Ahmed Khan, director general of Fire Service and Civil Defence, told The Daily Star.
At least 243 people have so far been found dead and over 1,500 others admitted to different hospitals with injuries.  to read.

* Savar deaths hit 255:
In the worst case of building collapse in the country, rescuers have so far pulled alive more than 2,000 people out of the debris of the Rana Plaza in Savar where the death toll has swelled to 255.

Fire Service and Civil Defence's Director General Ali Ahmed Khan said the nine-storey building near the Savar Bus Stand had more than 3,000 people working in five readymade garment factories on Wednesday morning when it came crushing down with heaps of concrete and steel.
Neither Khan nor other rescuers could confirm the number of people still trapped inside the building.
A temporary control room has been set up near the Savar Bus Stand to provide the distraught families with information. "Two-hundred and fifty dead bodies have been pulled out until 9:35pm (Thursday)," Savar district Superintendent of Police Faruk Khan said.  read more. & read more. & read more.  & read more.  & read more.

* Fire at wrecked Rana Plaza:
A fire broke out on the wreckage of the collapsed building– Rana Plaza, Savar, at 10:35pm on Thursday night.
Fire service director Major Mahbub confirmed the matter to banglanews.
Spot account said the fire originated at the sixth floor of the wrecked building when someone tried to pour petrol in a generator, used in rescue mission.
Three fire fighting units were trying to douse the fire.  to read.

_____
* Govt, BNP trade charges over Savar tragedy:
The government and opposition BNP on Thursday blamed each other for the building collapse in Savar on the outskirts of Dhaka a day earlier.
Home minister MK Alamgir claimed that a huge number of picketers had attacked the building during the opposition-called hartal, resulting in the collapse of the multi-storied building. "We are probing the matter and action would be taken after getting the investigation report," the home minister told reporters in the Secretariat.
BNP standing committee member MK Anwar, however, alleged that the tragedy was a government plot and Prime Minister Sheikh Hasina should be brought to book for the fatal incident. "Incidents of building collapse are frequently taking place in the country. This is because of the nexus between ruling party leaders and dubious construction firms. Sheikh Hasina must own up responsibility for these tragic incidents and she should be tried for the deaths," Anwar said.  read more.

* 40 found alive in single room:
In a dramatic rescue drive forty people have been found alive in a single room in the ruins of the Rana Plaza at Savar on Thursday.
It is thought many more people may still be unaccounted for and waiting for rescue. This find of the trapped persons have also encouraged the rescuers to continue the operations.
Rescue teams have been frantically searching for survivors as they
are aware that they are racing against time.
The heat and the dust could take its own toll. The broken concrete blocks are precariously placed and there are concerns for rescue workers as well.
When more people are pulled out alive, that gives lots of encouragement to the rescue workers, many of whom are local volunteers.
The collapse has already triggered anger among garment factory workers who were holding protests in some places in Dhaka. Garment factory owners and Western retailers are likely to face tough questions from labour rights campaigners in the coming weeks.  to read.

* Trapped victims still screaming:
265 bodies recovered: 170 handed over to relatives, 2000 found injured: Water, oxygen need of the hour: 1000 trained Armymen join rescue operation: says GOC
While many survivors either hurt or squeezed remained stuck up in the rubbles of the nine-storey Rana Plaza at Savar, rescuers are unable to speed up operation for safety of the survivors in trap.
So far 265 bodies have been recovered and over two thousand  injured removed from the rubbles to safety up to evening of Thursday while rescue efforts continued overnight to save the last surviving person or recover the body of the last fallen worker.
Rescuers said they hear screams of the trapped persons in the rubbles of the eight-story building. They were shouting for help, water and oxygen. Thousands of people thronged the scene after the disaster. Many of them were in tears without having any clue where to look for their loved ones.
Wali Ashraf Khan, an inspector of Detective Branch of police who is working in corpse management control room told The New Nation yesterday that a total of 126 bodies were pulled out of the debris alone yesterday.
So far 170 have been handed over to their relatives for burial.  read more.

* Hopes not over yet:
24 rescued together 34 hours into collapse; rescue goes on with no break
Around 34 hours after the collapse of Rana Plaza, 24 trapped people were rescued alive from the rubble of the nine-storey building yesterday evening, keeping alive the hope that more lives can be saved as the rescue operation continues.
The death toll in the tragic building collapse rose to 250 as of 10:00pm yesterday, as 108 more bodies were dug out throughout the day. Of the victims, 142 have been handed over to their relatives, police and district administration officials said.
So far some 1,400 survivors were pulled out with about 1,000 more are believed to be still trapped inside.
Rescue workers are making frantic efforts to save more lives. But they are facing difficulties to speed up the operation due to the precarious situation the survivors are in. Shortage of equipment is also slowing down their efforts.  read more.

* It breaks every heart:
The air of Savar Adharchandra High School is heavy with the stench of corpses and despair of family members searching for their loved ones from the row of decomposing bodies.
As an ambulance enters the school ground, everyone rushes towards it with photographs in their hands. Some make queries in hushed tones while others scream anticipating the worst.
After more than 30 hours of frantic searches, they desperately seek answers as to what happened to the workers who were inside the building when it collapsed.
Towards the afternoon, to control the chaos caused by anxious relatives, the authority urges them to form a line. One by one, they inch towards the corpses, some praying, some crying and some too traumatised to betray anything.
read more.

* Back from the death:
Sofura tells her harrowing ordeal of 27 hours
It was not pain but fear that was killing her during the time she was stuck in the mangled wreckage of the nine-storey Rana Plaza in Savar.
At the time of the collapse on Wednesday, Sofura Begum was working at Phantom Apparel on the third floor. All of a sudden the rooftop caved in, carrying her along to the second floor where she remained sandwiched for the next 27 hours in rubble.
Sofura, a divorcee and mother of two children, was speaking of her horrifying experience to The Daily Star as she lay on a bed at Enam Medical College Hospital, Savar, yesterday.
She had not blacked out even for a moment before she was rescued around 11:00am. Trapped under a sewing machine and pressed against a concrete wall on the other side, she could only move her eyelids in futile attempts to see in the dark.
read more.

MORE RELATED AND OTHER NEWS:
* RMG workers go berserk in Gazipur, Narayanganj:
Factory, vehicles vandalised; highways blocked; several units in Gazipur declared leave for today

The workers of ready made garment (RMG) factories in Gazipur and Narayanganj on Thursday blocked four highways and resorted to vandalism protesting the death of their fellows in Savar building collapse. to read.

* Cracks in RMG unit bldg prompt evacuation:
All the workers were evacuated from three garment factories after a six-storey building in the capital's Mohammadpur bus stand area developed cracks on Thursday.
Inspector (investigation) Mahbubur Rahman of Mohammadpur thana said workers of World Victory, Fashion Limited and Trade Sweater located in Sat Masjid Super Market at Block-D in Mohammadpur bus stand area spotted cracks on the 2nd floor of the building that houses the garment units when they were to attend work at about 7.15 am and informed police.
Law enforcers in consultation with the authorities evacuated the building at the earliest possible time.
Later, management of the garment factories announced holiday.
to read.
&
read more.
* Cracks in another commercial building in Mohammadpur:
Over 5,000 garment workers were evacuated from a six-storey building in Mohammadpur of the capital Thursday morning after cracks developed in it.
The evacuation comes a day after cracks led to the collapse of a nine-storey building in Savar, leaving at least 175 people were killed and over 1,200 injured. The building "Rana Plaza" housed five garment factories, a branch of Brac Bank and a shopping centre.
Panic griped the workers as they noticed cracks around 7:30am at a pillar on the second-floor of the building, housing three garment factories and several shops, said Azizul Haque, officer-in-charge (OC) of Mohammadpur Police Station.
On information police rushed to the spot and kept the building cordoning off.
Officials of Fire Service and Civil Defence and Dhaka City Corporation reached the scene and were scrutinising whether the building posed any risk when this report was filed around 11:30am, the OC added.  to read.

* Workers protest in Dhaka over factory deaths:
Thousands of garment factory workers have protested in the capital, Dhaka, over the death of about 200 workers in building collapse, as rescuers continued to hunt for survivors, local media have reported.
Al Jazeera's special correspondent, whom we are not naming for security reasons, said on Thursday that thousands of protesters took to the streets of Dhaka with sticks in their hands chanting slogans such as "we want execution of the garment factory owners".
The Bangladesh Garment Manufacturers and Exporters Association building office has been attacked, our correspondent said.   read & see more-Video.

* Savar tragedy to cast shadow on Bangladesh brand, GSP: Experts:
The deadly Savar building collapse, the worst-ever tragedy in the RMG sector, has put the industry at a fresh risk as it is likely to have a negative impact on the global market apart from tarnishing the image of Bangladesh brand. 
The apparel sector's leaders and experts think Bangladesh might face fresh questions on safety and security issues of the workers due to the recent incident that claimed 190 lives so far but still hopeful of retaining duty-free benefits under the Generalised System of Preferences (GSP) in the US market.
"Obviously, workplace security and safety is an important issue… there'll be a negative impact (on GSP retention)," Executive Director of the Centre for Policy Dialogue (CPD) Prof Mustafizur Rahman told UNB on Thursday.
read more.
  &
* Savar tragedy to have impact on GSP decision: Mozena:
US Ambassador Dan Mozena on Thursday said the incident of Savar building collapse will have an impact on the decision of GSP (Generalized System of Preferences) hearing.
"It certainly makes the environment of the workplace safety questionable. I'm sure it'll have that impact," the US envoy said responding to a question whether the Savar incident will affect the continuation of GSP facility for Bangladesh.
He was talking to journalists after a function on youth environmental initiatives in the city.
Mozena said the loss of lives in large numbers will raise new questions on safety measures in workplaces. "…but my efforts will be to convey that to those who are making this decisions of good understanding of the progress Bangladesh has made in addressing the issues raised in the GSP petition."
read more. & read more.  & read more.

 * 5 companies stripped of BGMEA membership:
Bangladesh Garment Manufacturers and Exporters Association (BGMEA) on Thursday suspended the membership of five companies located in Rana Plaza that collapsed Wednesday.
Suspension or cancellation of a membership means a garment factory would not do any kind of apparel export and import of raw materials, as the BGMEA would not provide any utilisation declaration (UD) to the company.
The garment manufacturers would not also receive any service from the BGMEA, a platform of the owners.The factories are: Ether Tex, New Wave Bottoms, New Wave Style, Phantom Apparels and Phantom Tac.
The BGMEA also announced to give Tk 1 lakh to each family of the victims who died in the building collapse. "We have suspended the membership and all activities of the factories, as these remained open despite a shutdown instruction from the BGMEA," said Reaz-Bin-Mahmood, vice-president (Finance) of the BGMEA.
read more. & read more. & read more. & read more.

* Savar UNO to face action: MKA:
Home Minister MK Alamgir has said legal action would be taken against the upazila nirbahi officer (UNO) of Savar for his unauthorised certification of building's position that collapsed Wednesday.
Addressing a press briefing at the ministry, he also said the name of the UNO — Kabir Hossain — had been dropped from the five-member probe committee formed to probe the collapse that killed 243 people and left many still trapped in the rubble.
The announcement came hot on the heels of the State Minister for Labour and Employment Begum Munnujan Sufian's demand for dropping Kabir's name from the committee.
During a visit to the building a day before it collapsed, Kabir told journalists there would be no hazard of collapse, reported Bangla daily Prothom Alo.  to read.

* Labels Unraveled From The Rubbles – Accountability Awaits:
As the number of death increase towards a harrowing 250 mark and moves above, the stench of rotting flesh and blood is filling the air, the wailing doesn't stop and stories of horror are echoing across Bangladesh and throughout the globe.
We at RISE Society have been busy in the site and the hospital distrubuting whatever help we can to the rescue effort, while standing beside our brothers and sisters to inform them to hold their identities together AS THEY MUST NOT LOOSE IT among the carnage as sadly often happens – leaving them lost in the aftermath of such tragedies, often even to save a little money from the rich or a load of guilt less for the guilty of such crimes.
Amidst this horror, within the rubble lay the labels of brands which had been getting their fashion outfits manufactured in a factory with cracks developing and 2 illegal stories rising on top. We feel its only fare that some of their labels be displayed to the people who are also their consumers.
While the collection from the rubble is not exhaustive, however they do show the diversity of buyers who had been sourcing from such crumbling towers of torture. We hope they come forward to help the victims within what is their supply chain as well. We hope to see solidarity!   read more.

* Deadly collapse renews 'sweatshop' safety woes:
The collapse of the eight-storey Rana Plaza that killed more than 240 people is prompting renewed calls for foreign retailers and clothing companies to ensure the safety of workers in Bangladesh.
The blame for the string of tragedies in the country's garment sector must be shared between 'ruthless' factory bosses, a 'negligent' government and Western retailers who place 'cost above safety', say activists.
'Labour rights groups around the world have been asking, indeed imploring, major retailers to address the grievous safety hazards in their Bangladesh factories and the response is always the same: vague promises and public relations dodges, while the pile of corpses grows ever higher,' Scott Nova, executive director of the Washington-based Worker Rights Consortium, said yesterday in a statement, reports Agence France-Presse.  read more.

* 100 RMG workers were injured in clashes in Savar:
About 100 readymade garment workers were injured in clashes with law enforcers and stampedes in Savar and Ashulia, outskirts of the capital, on Thursday.
Angered at delay over the rescue operation following the collapse of Rana Plaza, workers from different factories blocked different roads in Savar and Ashulia and vandalised about 40 vehicles in the morning.
They also vandalised 50 garment factories.
Witnesses said about 55 workers were injured in clashes with police as the law enforcers tried to bring the situation under control.
Meanwhile, all the garment factories in Savar, Ashulia and DEPZ were declared closed for the day by their authorities following the labour unrest. read more.

* RMG workers protest Savar tragedy:
Thousands of readymade garment (RMG) workers of different factories on Thursday took to the street, demanding punishment of those responsible for the collapse of Rana Plaza in Savar.
Workers of different factories in Tongi, Boarbazar, Konabari and Joydebpur Chowrasta blocked the Dhaka-Mymensingh highway, Dhaka-Tangail highway and Dhaka-Gazipur Road, reports our Gazipur correspondent. Thousands of workers from Diganta Sweater Factory, Star Light Sweaters Limited, Nexus Sweaters, Garib and Garib Sweaters and Maisha-Monisha Garment Factory brought out a procession in Joydebpur Chowrasta around 9.30 in the morning.
read more.

* Task Force must check fitness of RMG factories:
Labour leaders have said Savar and Ashulia area in the outskirt of the city has turned into a 'valley of death' for garment workers. It must be declared a 'danger zone' and quick initiative should be taken to check the fitness of all buildings housing the garment factories to stop recurrence of building collapse and further deaths.
The industry should also strengthen the fire fighting capacity and other compliance measures to save the industry; which is already poised to collapse from domestic and external pressures, the sources further said.
One labour leader taking part in a TV talk show said Savar and Ashulia has turned into an industrial zone from low land and much of it was marshy land under deep water. These were slowly developed and later buildings were constructed to house garment factories.
Most such buildings are properties built on land either snatched by the influential political persons party from the poor and the minority such as the land on which Rana Plaza was built by its owner. They wanted to become quick rich and hastily built multi-story building on such land without strong foundation.  read more.

* Garment units attacked:

Garment workers go berserk in front of BGMEA Bhaban in the capital, as the authorities did not declare yesterday a holiday to mourn the victims of the Savar tragedy. Yesterday was declared a day of national mourning. Photo: Star
Country's garment sector has been dealt yet another blow, as most factory owners suspended production yesterday fearing a massive labour unrest over the tragic deaths of more than 200 workers at Rana Plaza.
With the sector struggling to recover the losses owing to frequent hartals, a further suspension of production will put a huge pressure on the garment business, said industry insiders.
The sector loses around Tk 200 crore each hartal day owing to disruption in production, according to Bangladesh Garment Manufacturers and Exporters Association.  read more.

* Savar tragedy triggers outcry worldwide:
Collapse of the eight-storeyed Rana Plaza that housed five garment factories and other business outlets at Savar has again sparked uproar across the world bringing into sharp focus the safety measures for workers.
This is likely to affect exports of ready-made garments (RMG).
The American Center for International Labor Solidarity (ACILS) said the frequent disasters like fire incidents and building collapse in Bangladesh were due to institutional failures of the government.
ACILS Asia Department's Director Timothy Ryan told the Business Insider that the unsafe factory conditions in Bangladesh stem from an 'institutional failure of the government.'  read more.

* Savar tragedy set to create adverse impact on RMG, fear industry leaders:
The deadliest Savar tragedy will create an adverse impact afresh on the country's readymade garment (RMG) industry, insiders and experts have warned.
Wednesday's collapse of a multi-storeyed building at Savar that has already left more than 200 people most of them garment workers dead and several hundred others injured, has drawn extensive international media attention.
According to experts and the industry insiders, the building collapse took place at a time when the RMG industry is facing growing pressure for compliance of various safety-related issues and trade union facility following devastating Tazreen factory fire a few months back. read more.

* Lack of punishment blamed for such incidents:
Frequent incidents like Savar building collapse that so far claimed over two hundred lives of innocent people shocked the country in absence of any exemplary punishment against the people responsible for those deadly incidents.
Some ministers, Attorney General, veteran lawyers, human rights and labour groups made the observation while talking to the FE following the unprecedented Savar Tragedy, which has taken away more than two hundred lives and wounded over a thousand.
They have also said exemplary punishment should be ensured immediately along with the confiscation of assets owned by the owners the Rana Plaza and garments so that others do not dare to push the workers into danger.  read more.

* Rana Plaza death toll reaches 256; many 'still alive':
The human tragedy continued to unfold at the scene of the disaster at Rana Plaza as more bodies were recovered from the collapsed building on Thursday, raising the death toll to 256 while many more are still believed to have remained trapped alive in the rubble.
There are still several hundred people alive therein, but it is difficult to exactly say how many, survivors told reporters at the scene on Thursday night.
Officer-in-charge of Dhaka district Detective Branch of police Wahiduzzaman said 256 bodies were recovered so far from the debris of the building that crashed on Wednesday morning. Of the bodies, 206 were handed over to their families, he said.
Wahiduzzaman said more people might still be trapped alive inside the collapsed building. But, he did not give the exact figure of such victims.   read more.

* PM urges all to pray for Savar victims Friday:
Prime Minister Sheikh Hasina on Thursday urged the people of the country to pray after Jum'a prayers on Friday in all mosques for the Savar tragedy victims. 
The Prime Minister also called for similar prayers in other worship places seeking salvation of the departed souls and early recovery of those injured in the incident, PM's press secretary Abul Kalam Azad told UNB.
to read.
&
read more.
* 4 factories of top BGMEA leaders found structurally flawed:
A BGMEA task force has found that four factory buildings owned by top leaders of the association have flaws in their architectural designs and were constructed in deviations from their original plans and not in compliance with the building code and the labour law.

The Bangladesh Garment Manufacturers' and Exporters' Association formed the task force in early December last year to identify the safety risks at garment factories in the wake of the November 24 Tazreen Fashions inferno that left at least 112 workers dead and several hundreds injured. The task force was scheduled to turn in its report containing the findings and recommendations for correcting the identified flaws by February last.  read more.

* Strike in garment industries likely on Sunday:
A group organisations working in garment workers' rights are going to call a dawn-to-dusk strike at all apparel factories in the country for Sunday demanding arrest of the owner of Rana Plaza in Savar.
At least 230 people, mostly garment workers, were killed and several hundreds injured as Rana Plaza collapsed on Wednesday.
Garment Sramik Sangram Parishad, a combine of seven garment workers' rights bodies, Bangladesh Garment Workers' Trade Union Centre led by Mantu Ghosh, and Garment Sramik Oikya Forum led by Mushrefa Mishu have decided to call the strike.
Leaders of the organisations took the decision at a meeting on Thursday at the Garment Sramik Oikya Forum office.  read more.

* End killings of apparel workers:
Rights activists urge govt from demo
A group of rights activists on Thursday called on the government to take effective steps to put an end to repetitive fatal accidents at apparel factories.
'How many dead bodies will bring the factory owners to book,' one of them asked the government from a rally held in front of the National Press Club.
Karmojibi Nari organised the rally protesting the illegal and unethical acts leading to the still-rising number of heavy casualties in Wednesday's collapse of Rana Plaza at Savar.
'We have failed to learn anything from the Tazreen fire and that is why we are seeing the same misfortune visiting us again and again,' observed Karmojibi Nari adviser and Jatiya Sramik Jote, Bangladesh president Shirin Akhter in her address to the demonstration.
The owner of Rana Plaza neglected the cracks developed in the eight-storey building the day before the incident and even the authorities concerned ignored the risks, she mentioned. read more.

__
* Rana Plaza death toll reaches 272; Many still trapped inside:
The death from the horrific building crash in Savar climbed to 272 with the recovery of more bodies on Friday morning, as many more are still believed to have remained trapped.
Savar thana SI Saiful Islam said 272 bodies were recovered so far from the debris of the building that crashed on Wednesday morning.Of the bodies, 224 were handed over to their families, he said. Meanwhile, 26 bodies which remained unidentified were sent to Dhaka Medical College Hospital morgue early Friday. 
read more.
* RMG units at Rana Plaza listed global brands as buyers:
The five garment factories that were located at the non-compliant Rana Plaza used to manufacture apparel items for many leading global brands, including the Canadian arm of Wal-Mart.
Ether Tex Ltd, which had its factory on the fifth floor of the building, shows in its website that it produces clothes for Wal-mart and Atlantic Sportswear of Canada, C&A and Kik of Germany, and Libra of the Netherlands, to name a few.
The website of New Wave — whose units New Wave Bottoms and New Wave Style were operating on the second, sixth and seventh floors respectively — lists as its buyers UK's Matalan and Bon Marche, Italy's Benetton, Spain's Mango, and Ireland's Primark, among others.
Phantom-Tac, which was on the fourth floor, is a 50-50 joint venture with Spain's Textile Audit Company SL, according to its website. However, its buyers were not listed on the site.
Its sister concern, Phantom Apparels Ltd, too, was sited at the complex, on the third floor. The list of its buyers also could not be found.  read more.

* Playing with people's lives:
When the government administration fails continuously to act to establish the rule of law, the rule of crooked individuals starts consolidating.
Politicians belonging to the party in power and a section of government officials establish their own rule and play with people's lives to amass money and assets. And for their unbridled greed, people are to pay heavily; in many cases they are denied their right to life.
The Savar tragedy has been one of the glaring examples of it in recent history, demonstrating the very poor state of the rule of law in the country.
A ruling party man had built the nine-storied building without following building construction laws. Reportedly, he even grabbed the land on which he had built the Rana Plaza, which is now a mountain of debris, having killed more than 200 garment workers.  read more.

* Born under ravages! :
Two mothers have given birth to two babies on the 3rd floor of the collapsed 'Rana Plaza' of Savar, said one of the rescue workers Shujon.
Both the mothers and children are in safe condition.
Shujon told banglanews, "From 11 pm of Wednesday night to 7 am of Thursday morning, I have seen around 500 dead and alive persons.
Shujon came from Kamrangirchar, an adjacent area of Savar, to search one of his friends who used to work in a garments factory at the third floor of Rana Plaza after hearing the news of building collapse.  read more.

* Deadlines more valuable than a thousand lives – new labels excavated:
Can a deadline be more valuable than a thousand lives? The garment owners of the Rana Plaza building tried their best to cling on to their belief that deadlines are indeed more important in the corporate world than human lives are. However, these dead workers and their rotting corpses filling the air with the depressing news of rotting human dignity is creating an army of the awake to burn through this decadent system of oppression.
Below are some more labels found from the site, and beside it lay the dead bodies of those who were stitching it for a few dollars that would eventually not even buy them a full meal 30 days a month.

The early news today comes in the form of some steps taken by the BGMEA to inform the victims and give them initial aide. The nearby factories refused to supply with flash lights and support which has appalled the nation, they even tried to force their workers to work and not take part in the rescue effort which has been retaliated by the workers and strikes were held across the nation's several garments.
read more.

* RMG workers stage demonstration in city:
Several thousand garment workers stage demonstration in the capital Friday morning protesting the death of fellow workers in a disastrous building collapse and demanding punishment to the responsible garment factory owners.
Instead of joining their workplace hundreds of garment workers of Malibagh, Rampura, Mirpur, Sheorapara and Kazipara areas took to the streets and staged demonstrations at 8 am.
Vehicular movement from Mirpur 10 to Agargaon crossing was suspended in the morning due to their demonstration.
The agitated workers also vandalised a number of vehicles plying on the streets.
They also chanted slogans demanding safety in their workplace.
to read.  & read more.

* RMG workers go berserk in capital:
Thousands of workers of many garment factories in different parts of the capital took to the streets Friday morning to protest the deaths in Savar building collapse on Wednesday.
The aggrieved workers vandalised several vehicles including bus, taxi cab and CNG-run auto-rickshaws at Shewrapara in Mirpur, Pallabi, Malibagh and Gulshan in the capital.
They chanted slogans demanding punishment to the owners of Rana Plaza and also the factories housed in the building, said Abdul Latif Sheikh, officer-in-charge of Pallabi Police Station.
The agitating workers vandalised a number of factories at Shewrapara, Mirpur and Pallabi areas those were kept open on Friday instead of showing respect to the victims of the tragedy.
Following the vandalism, most of the factory authorities in the areas suspended their operation for day fearing further unrest, the police official said.
to read.

* RMG unrest flares up in Gazipur:
Labour flare-up erupted again in Gazipur readymade garments belt on Friday as several hundred workers staged demonstration demanding punishment of the owner of Rana Plaza that collapsed on Wednesday causing 282 so far reported deaths.
Traffic on the Dhaka-Mymensingh-Tangail highways came to a halt due to the demonstration of the RMG workers.
Sources said several hundred garment workers from Konabari, Bhogra, Borobari, Targanj, Chandona and other places took to the streets wielding sticks and staged demonstration demanding arrest and exemplary punishment of the owner of Rana Plaza.  read more.

* Savar Tragedy: rescuer in race against time; death toll 282:
Two days after the disastrous collapse of the 8-storey Rana Plaza here, hope fades for the rescue of the trapped people due to the slow pace in the rescue operation as death toll continues to go up raising it to 282 till Friday morning.
Savar thana officer-in-charge Asaduzzaman said 282 bodies were recovered so far from the debris of the building that crashed on Wednesday morning.
Of the bodies, 227 were handed over to their families, he said. Meanwhile, 26 bodies which remained unidentified were sent to Dhaka Medical College Hospital morgue early Friday.  read more.

OTHER NEWS:
* Govt starts registering TUs in RMG factories:
The government has again started registering trade unions (TUs) in readymade garment (RMG) factories, after years of suspension.
The process of registration has begun as part of efforts to help retain the Generalised System of Preferences (GSP) that the Bangladeshi products enjoy in the US market, official sources said.
The government is playing a pro-active role in allowing trade unionism before the office of United States Trade Representative (USTR) reviews the GSP facility for Bangladesh.  read more.

* Amendment to labour law:
On approval of the amendment to the Bangladesh Labour Law 2006 by the cabinet last Monday, an opportunity has been created for bringing about order in the country's manufacturing and industrial sector.
The amendment will now go to parliament to be enacted as a new piece of legislation. How much good a law may be, it is the implementation that matters. Granted that the earlier version of the law was defective, yet things could improve a lot if the provisions under it were allowed to take full effect.
For example, a provision meant for the readymade garments industry specifically mentioned sharing of 5.0 per cent profit with the workers working in the sector. Had this been complied with, garments workers would have been far better off than they were because of non-implementation of the law. Amendment to any law is sought or effected presumably to create a more enabling working environment and/or better management-labour relations.
But this time, there is a sense of compulsion arising out of factors beyond the confines of the industry at home. read more.
* Tanners, leather exporters want import duty cut on chemicals:
Leaders of the tanners association, leather goods exporters and chemical importers on Thursday demanded that the National Board of Revenue eliminates the disparity in duty structure on imports of chemicals for the leather sector under bond licence, without bond and commercial import category.
At a pre-budget discussion with the NBR, Bangladesh Tanners Association, Bangladesh Finished Leather, Leather Goods and Footwear Exporters and Bangladesh Chemical Importers and Merchants Association also demanded reduction of duty, VAT and other taxes on import of chemicals used in the sector ranging from 10 per cent to 20 per cent from the existing 25-61 per cent.
read more.

*       ASHULIA TAZREEN GARMENT FACTORY FIRE:
* Survivor of Bangladesh's Tazreen Factory Fire Urges U.S. Retailers to Stop Blocking Worker Safety:
This week's Bangladeshi factory disaster comes five months after a massive fire killed at least 112 garment workers at Bangladesh's Tazreen factory, which made clothing sold by Wal-Mart, among other companies.
Earlier this month, Wal-Mart refused to compensate victims and their families, even though it was apparently the factory's largest buyer. We're joined by Sumi Abedin, a worker who survived the Tazreen fire by jumping from the factory's third story, breaking both her arm and foot in the process.
She is currently touring the United States to call on retailers like Wal-Mart, The GAP and Disney to take the lead on improving working conditions in Bangladesh. We also speak with Kalpona Akter of the Bangladesh Center for Worker Solidarity and Charlie Kernaghan of the Institute for Global Labour and Human Rights.
read & see more -video-.

05

:

17

:

27

local time INDIA
* India's garment exports down nearly 5% in Feb:
India's apparel exports declined by 4.7 per cent to $1.22 billion in February this year on account of demand slowdown in western markets like the US and European Union.
During February 2012, these exports stood at $1.28 billion, according to the data provided by Apparel Export Promotion Council (AEPC).
"There has been virtually no demand in stores in European markets due to sluggish economic conditions," AEPC Chairman A Sakthivel said.  read more.

* Apparel industry upbeat on trade pact with EU:
The apparel industry is upbeat on talks for a free-trade agreement (FTA) between India and the European Union (EU). Reeling under competition from Bangladesh and China, the industry believes the FTA would give it price parity with its competitors and raise exports to Europe by 30-40 per cent.
Currently, Indian apparel exporters have to pay an 11 per cent duty to sell their products in EU; India charges 30 per cent import duty on garments from EU. If the EU FTA materialises, both regions would do away with the duties. Currently, EU does not charge any duty on garment imports from Bangladesh; for garment imports from China, it charges seven per cent duty.
"If the EU-FTA happens, it would be a major boon for the garment industry in India. It would provide a level playing field to India vis-a-vis other garment-exporting countries such as Bangladesh. Currently, we have to pay 11 per cent duty on garments exported from the country," said Naseer Ahmed, managing director of Scotts Garments.  read more.

* Weavers urge Centre to make technology upgradation fund scheme more viable:
Weavers in the powerloom industry have aired a series of demands to help consolidate their production units.
Just when the Union ministry of textiles has started formulation of expenditure plan for Technology Upgradation Fund Scheme (TUFS) for 2013-14, the Federation of Surat Art Silk Weaving Industry (FIASWI) has submitted suggestions to make the scheme more viable and productive for them while addressing their genuine concerns, especially of the weavers based in Surat and Ahmedabad.  read more.

04

:

47

:

27

local time PAKISTAN
*

FBR orders action against 143 textile tax defaulters:
The tax authorities have found that there are 143 textile giants who have not paid any penny against outstanding tax liabilities of billions of rupees and now the FBR ordered to initiate prosecution against them, official documents available with The News disclosed."We have found 143 potential defaulters and the law of the land will take its course," a senior FBR official confided to The News here on Wednesday.There are 143 textile giants falling into the category of defaulters' list by not availing the offered amnesty scheme for clearing their slate by just paying 2 percent of outstanding taxes.
read more.


* Garment's Rs60b refunds create liquidity crunch:
Reiterating its demand of withdrawal of 2-percent sales tax on export-oriented industry, the Pakistan Readymade Garments Manufacturers and Exporters Association (PRGMEA) pointed out that even today outstanding refunds of Rs. 60 billion are pending before different revenue collecting agencies at federal and provincial level for several years.
Referring to a scuffle of the Income Tax Department officials and office-bearers of the Lahore Tax Bar on the issue of refund claims of sales tax, PRGMEA Central Chairman Sajid Saleem Minhas questioned that how the FBR would handle the case after ending zero rating regime and piling up more cases of refund claims by imposing SRO 154(I) 2013.
read more. & read more.  & read more. & read more.