08

:

39

:

04

local time INDONESIA
* Foot Locker give adidas the boot:
"Today, people across the world are asking Footlocker to join the call on Adidas to pay their workers. Please Share! Here"
On 22nd April, join anti-sweatshop activists from around the world at Footlocker stores across Europe and the US to call on them to drop adidas from their stores until they pay ex-PT Kizone workers the $1.8million they are owed in unpaid severance. This will mark the beginning of a week of action in the UK that will ramp up the pressure on the UK's biggest retailer of adidas footwear.
We want adidas to know that wherever they try and push their brand name, we'll be there, telling the world about their failure to pay former workers $1.8 million in redundancy pay.
Want to get involved? Find your nearest Footlocker store here, and start planning an action. If you'd like some help, contact us (buyright@peopleandplanet.org) for a Footlocker action pack.
08

:

39

:

04

local time CHINA
* 'Footwear capital' adapts to changes:
Footwear enterprises in Jinjiang, a city in Fujian province which is famed as the country's "footwear capital", are tackling growing competition in the industry, rising inventories and market saturation.
Jinjiang, which makes 20 percent of the sports shoes sold globally and supplies 40 percent of the domestic market, is home to some of the country's top manufacturers, such as Anta Sports Products Ltd, 361 Degrees International Ltd and Peak Sport Products Co Ltd.
Recent financial figures reveal companies under pressure.
Anta recorded 1.36 billion yuan ($220.1 million) in net profit in 2012, a fall of 21.5 percent year-on-year, its first profit decline in five years. 361 Degrees also saw its net profits decline, by 37.6 percent to 715 million yuan in 2012.
In Anta's latest annual report, Chairman and CEO Ding Shizhong highlighted how some footwear enterprises have resorted to offering large discounts to clear their stocks, further intensifying competition in the market.  read more.


08

:

39

:

04

local time PHILIPPINES
* Workers' alliance bares Labor Day demands:
More than a week before International Labor Day, an alliance of the country's labor groups bared workers' demands at a press conference in Quezon City this morning.
The Action against Contractualization and Towards Significant Wage Increase Now! or ACT2WIN called for a significant wage increase, the junking of contractual employment, an end to trade-union repression, and a stop to the privatization of government hospitals.
"After years of meager wage adjustments, the country's workers need a significant wage hike now more than ever. Workers need a substantial wage hike in order to cope with the prices of basic goods and services which have soared through the years, especially power," said Sonny Matula, president of the Federation of Free Workers, an ACT2WIN member.
"Contractual employment continues to wreak havoc on the lives and livelihood of the country's workers. We are calling for the junking of contractual employment and the upholding of regular employment," he added. read more.

* Anti-labor practices should be addressed–Poe:
The great majority of our country's 39 million-strong work force is still subjected to union-busting, contractualization, collective-bargaining agreement violations, non-remittance of Social Security System contributions, non-payment of overtime, non-compliance with minimum-wage laws and numerous other forms of abuses by their employers.
Independent senatorial candidate Grace Poe underscored this as she urged the Department of Labor and Employment to intensify efforts to upgrade the safety and welfare of daily wage earners.
"In factories, offices, shopping mall, retail shops and construction site, the difficult condition of workers is made even harsher by poor or hazardous working conditions, paltry pay and absence of even the most basic benefits. These are the backbone of our economy so they deserve better," Poe said.  read more.

* Elle Girl eyeing Marikina shoe makers as local partners:
A French-inspired British luxury brand is eyeing local shoe makers in Marikina City as potential partners in supplying its high-end footwear for the Philippine market.
"You know, to be very honest their quality [Marikina shoe markers] is really good than China, its handmade eh so talagang matibay [really durable]. But all the materials are imported," said Joan Yao, executive vice president of Elle Girl Philippines.
"These [Marikina shoe makers] have so much local talent, we should have to support them. It's really a matter of finding right people to really support you," she added.
Elle Girl is a Paris-inspired brand that brings current styles from the City of Lights straight to the young Filipina.
"For my limited edition, I just tried and I found some Marikina suppliers, because I really believe we need to support our local markets. It's very important, and it works well, tsaka syempre [and of course] you really need to give back," Yao said.
read more.

* Bamboo project to employ 2,000:
A bamboo development and processing project in the Aurora Pacific Economic Zone and Freeport Authority (Apeco) will need some 2,000 workers for the planting, cultivation and harvesting of bamboo to meet the requirements of a foreign investor in the Casiguran ecozone.
This was disclosed by Apeco president Malcolm Sarmiento Jr. who said that the investor, which he identified as Futenco, requires a 200-hectare site which it will develop into a bamboo plantation. The company will need 10 persons per hectare for the project.
Sarmiento said the project is being pursued with the help of the Department of Environment and Natural Resources and the Department of Science and Technology. It will provide jobs and livelihood opportunities not just to residents of Casiguran but  to adjoining communities.
The harvested product will be used as raw materials to produce bamboo chips for biomass plants and bamboo cotton for garments.  read more.

07

:

39

:

04

local time VIET NAM
* Workers' minimal pay lagging far behind demands:
Workers' minimum salaries, which have been applied since Jan this year, meet only around 50% of their minimum living levels, according to a survey by the Vietnam Labor Federation reported at an Apr 12 workshop.
These subsistence minimal salaries, along with some meager extra pays, have left most workers in big cities destitute and physically wasted away.
With their minimum pay fluctuating from two million dong (US$97) to less than five million dong, the workers are always on a shoestring and work up to 12 hours a day to earn some more. They rent cheap, shabby rooms and cut daily expenses to the minium. read more.

07

:

39

:

04

local time THAILAND
* Amnesty proposal latest bill would cover lese majeste:
Pheu Thai MP's draft also includes those convicted of torching city halls
Pheu Thai MP for Samut Prakan Vorachai Haema has unveiled his own amnesty bill, which will be read by Parliament in August. It differs from existing amnesty bills in its proposal that those convicted of lese majeste offences from September 19, 2006 to May 2010 would be granted amnesty along with protesters jailed for burning down provincial halls in various provinces.
The proposed bill would affect at least seven major cases, including those of former Voice of Taksin magazine editor Somyos Prueksakasemsuk, who was sentenced to 10 years in prison last December for two articles allegedly written by someone else; and red-shirt Daranee Chancherngsilpapreechakul, aka "Da Torpedo", who was sentenced to 15 years in jail for comments she made at a rally at Sanam Luang in 2008. She is the only known female lese majeste detainee.
Somyos told the court at his trial that former Thai Rak Thai executive Jakrapob Penkae was the author of the two articles over which he has been jailed. He was nevertheless sentenced and is fighting his case in the Appeals Court. Somyos' requests for bail have been denied 13 times. read more.

* Ministry to seek 5 measures to help SMEs:
Proposals to Cabinet to ease impacts of higher minimum wage
The Industry Ministry will propose to the Cabinet on Tuesday additional measures to assist small and medium-sized enterprises that have been affected by the new minimum wage.
According to a report by the ministry on the existing and anticipated impacts of the rise in the minimum wage to Bt300 a day, it has resulted in the cost of labour increasing by between 35.75 and 88.68 per cent and caused the industrial sector's overall costs to surge by 5.25 per cent on average. Most affected is the garment industry, followed by foods and beverages, electronics, ceramics, cement, printing, wood and wood products, footwear and leather goods.
About 1,310 factories shut down last year, 4.1 per cent fewer than in 2011. According to information gathered by the ministry between April 2012, when the higher wage was introduced in seven major provinces with a large number of SMEs, and December, the number of factories closing down was 6 per cent lower than in the same period of 2011. The wage increase was imposed nationwide at the beginning of this year.  read more.

07

:

39

:

04

local time CAMBODIA
* Unions to stage massive 'May Day' wage rally:
On may 1, International Labour Day, four unions will lead about 20,000 garment workers in a rally to ask for a further minimum wage increase to $100 and other improvements in working conditions, Ath Thorn, president of the Cambodian Labour Confederation, said yesterday.
Workers will march from Olympic Stadium to the National Assembly, and unlike in past years, Thorn said, the Cambodian Confederation of Unions, National Independent Federation Textile Union of Cambodia and Collective Union of Movement of Workers were co-ordinating with the CLC to speak with "one voice".
The unions had informed the Phnom Penh Municipal Hall of their plans but had not yet received a response, he said, adding that the rally would take place whether or not city officials gave their permission. City hall officials could not be reached for comment.  to read.

* Groundbreaking held for Chea Vichea statue:
The stone effigy of a man holding a firm gaze, clutching a microphone in one hand and gesturing with the other is the first glimpse of what the statue of slain unionist Chea Vichea will look like.
It is not, however, the actual statue – the version pictured above, carved at a cost of $4,000 in tribute to the fallen Free Trade Union president, was rejected because sculptors had depicted Vichea's belt as being worn too low.
A second statue, chiselled by the same statue-makers in Siem Reap at a cost of $3,000, will be unveiled on May 3 in a garden close to the news stand where Vichea was shot dead, west of the Independence Monument, on January 22, 2004.
At a groundbreaking ceremony yesterday, Mann Senghak, president of the FTU commission, said the statue – carved out of expensive stone from Tbeng Meanchey mountain in Preah Vihear province – was 1.68 metres tall and would stand on a one-metre-high stone pedestal.  read more.

*

Free Trade Union

of workers

planning

to

install

a

statue

Chea Vichea

on

May

03

,

2013 :
The Free Trade Union of Workers of Cambodia will hold a traditional ceremony (Krong Pealy) Sunday to construct the supports for the statue of slayed union leader Chea Vichea.
Man Seng Hak, advisor to the Free Trade Union of Workers, told Cambodia Express News (CEN), an affiliate of The Cambodia Herald, Saturday that the ceremony involving union leaders and workers will be held in front of Wat Langka, west of Independence Monument.
He said, they will set up the two-ton statue of Chea Vichea turning west, on its supports  May 3rd.
Phnom Penh City Hall contributed $5,000 to the construction.
Chea Vichea, who was succeeded by his younger brother Chea Mony, was shot to death in January 2004 by unidentified gunmen at a newspaper kiosk near Wat Langka while he was reading newspaper.
to read. &  read more. (Khmer)-(new on google translate: Khmer / Cambodian🙂

* Boost for Kingdom's threatened silk industry:
A project to boost Cambodia's embattled silk industry has been salvaged by government backing, organisers say.
Funding into research at the Bantey Dek Silk Station in Kadal, which has been used to investigate different silkworms that could revitalise Cambodia's silk industry, ended in February.
Kalyan Mey, director of the Cambodian silk program of the United Nations Food and Agriculture Organisation (FAO), said Prime Minister Hun Sen has promised to support the project financially.
Dating back to the first century, silk weaving in Cambodia has a long history, but under the Khmer Rouge regime, traditional weaving practices were forgotten.
Today, several issues have contributed to the industry's slow demise, including a lack of modernisation, and environmental factors such as a disease that affects over 50 per cent of silkworms in the country.
The new funding for the FAO project, $1,200 per month, will be used to help bridge finances until next year when Mey hopes the Ministry of Agriculture will introduce the silk industry into the government budget.  read more.

08

:

39

:

04

local time MALAYSIA
* Dr Subra: Special meeting to discuss minimum wage policy next month:
MIC deputy president Datuk Seri Dr S. Subramaniam said a special meeting will be held next month to look into matters related to the minimum wage policy.
He said the special lab coordinated by Pemandu will involve the government and all the stakeholders affected by the issue.
"The stakeholders who will be invited for this lab include those from the Small and Medium Enterprise (SME), the manufacturing and agricultural sector, petrol station associations and related agencies," said Dr Subra, the Human Resources Minister before parliament dissolved.  read more.

08

:

39

:

04

local time INDONESIA
* Indonesia bets on textile sector for AEC competition:
Indonesia is betting on its textile industry for withstanding competition in the Asean Economic Community (AEC), to be formed in 2015, Industry Ministry MS Hidayat said.
Speaking on the sidelines of a national meeting of the Indonesian Textile Association (API), the Minister said if Indonesian textile makers fail to compete, they would only remain local players, hence it is important for them to boost their competitiveness to enhance their exportability to other countries.
Mr. Hidayat said his Ministry has already discussed the need for framing an outline for the sector's future growth with local textile entrepreneurs, who presently lack on the machinery front, and depend on imports for machinery components.
He said presently about 2,900 textiles mills operate in Indonesia, and 500 of these mills are in need of revamping their machinery. 
read more.

* BetterWork Indonesia Media Update:
1. Rp 5 Trillion a Year Can Help End Child Labor in Indonesia, Labor Group Says. Read the full article here.
2. 75 Percent Female workers in Jakarta experienced sexual violence.
Read the full article here (Article is in Bahasa Indonesia).
Read the Google Translate English Version here.
3. Indonesian Labor Law Fails to Protect Workers From Outsourcing Dilemmas: Researcher. Read the full article here.
4. January 2014, Social Security System handled by BPJS.
Read the full article here (Article is in Bahasa Indonesia).
Read the Google Translate English Version here.
5. News Analysis: Indonesia program. Read the full article here.
6. World Bank Corrects Asia's Economic Growth Projection.
Read the full article here.
Download the full report here.
7. Minimum Wage: Absorp a number of new indicators.
     Read the full article here (Article is in Bahasa Indonesia).
Read the Google Translate English Version here.
BetterWork Indonesia Overview.

* Sports Brand Nike Keen on Indonesia as Its Big Base:
Jeff Perkins, president director of Nike Indonesia, met with Industry Minister M.S. Hidayat on Friday to discuss the possibilities of making Indonesia the biggest manufacturing base for the company.
"Basically, Jeff Perkins was pretty happy with [Nike's] investment here," said Hidayat, former chairman of the Indonesian Chambers of Commerce and Industry (Kadin), adding Nike is committed to invest more in Southeast Asia's largest economy.
According to Hidayat, Nike Indonesia has cooperated with 38 contract factories that employ around 175,000 workers, making Indonesia among the largest manufacturing base for Nike products, apart from China and Vietnam.
(…)
In Jakarta, minimum wage was raised by 44 percent to Rp 2.2 million ($227) per month.
Eddy Widjanarko, chairman at The Indonesian Footwear Association, said that several foreign investors suspended their plans to invest in footwear industry, following the minimum wage increase.  read more.

06

:

39

:

04

local time BANGLA DESH
* Letter to PM Sheikh Hasina Regarding the Killing of Aminul Islam :
Dear Prime Minister,
I am writing on behalf of Human Rights Watch to follow-up on our earlier letter to you on April 11, 2012 that raised our grave concerns about the killing of Aminul Islam of the Bangladesh Center for Workers Solidarity (BCWS). Aminul's body showed signs of torture under circumstances that raise concerns of involvement by Bangladeshi security forces.
A year after his death on April 5, 2012, there is little progress in the investigation to identify and prosecute those responsible. While we appreciated the government's agreement to transfer the investigation of the case to the Criminal Investigation Department (CID) in line with the wishes of Aminul's family, this move has apparently done little to advance work on the case. Human Rights Watch strongly urges your government to publicly report on the progress made by investigators to date into the disappearance, torture, and murder of Aminul Islam.
After Aminul Islam went missing on April 4, 2012, BCWS leaders called the Ashulia police station to check if he had been arrested. They made several phone calls to the police, who said they had no information about Islam.  read more.

*  Country's apparel industry hit hard by labour crisis:
Bangladesh's apparel industry has been hit by shortage of labour, particularly skilled and semi-skilled ones, as many of the factories are suffering from the problem, resulting in shifting of export orders to other countries.
The insiders including, among others, some of the owners of the readymade garments (RMG) units, said they have been facing such a situation that has already affected their production and export earnings.
"Many foreign buyers are coming to us for placing orders, but sometimes we are declining them because of our limitations to produce more, owing to shortage of the required manpower," said Abdus Salam Murshedy, a leading garment factory owner.
read more.
* Textile millers eye more investments to meet RMG units' demand:
Local textile millers, who meet 40 per cent of the country's apparel manufacturers' demand for fabrics, look to raise their investments further in the particular sector, sources said.
They have a far greater scope for investment in fabrics manufacturing for the ready-made garment (RMG) producers, who export garments worth about $ 19 billion a year.
On the other hand, China and some developing countries are switching over to hi-tech and other business from spinning and weaving, which also creates a scope for the local textile industry to play a greater role, sources said.
The low wages and the low lead time in the country are the two other main factors that go in favour of the local textile millers. read more.

* Private jute mill owners for facilities similar to those of state-owned ones:
Private jute mill owners have demanded facilities similar to those of state-owned mills as the sector is struggling to survive due to the lack of government policy support, industry people said.
They claim that if the private jute millers get the same facilities as provided to the state-owned ones, both production and export will increase by 25-30 per cent, creating employment opportunities for many.
Bangladesh Jute Mills Association (BJMA) and Bangladesh Jute Spinners Association (BJSA), two platforms of private sector jute mills, alleged that private mills have become the victims of the government's 'dual policy'.  read more.

* BD to finalise answers to USTR's queries for post-hearing brief today:
Bangladesh will finalise answers to the queries for post-hearing brief sought by the United States Trade Representative (USTR) today (Saturday) to retain the Generalised System of Preferences (GSP), a high trade official said.
"We have discussed the matter with the stakeholders. We hope we will be able to finalise our answers to the queries on Saturday (April 20, 2013)," Commerce Secretary Mahbub Ahmed told the FE Thursday.  read more.

* Cabinet set to approve draft of amended Labour Law:
The Cabinet is set to approve the draft containing an amendment to the Labour Law-2006 in principle tomorrow (Monday).
Talking to UNB, Labour and Employment Secretary Mikail Shipar on Sunday said the workers, who have completed their jobs over 15 years, will get more gratuity as per the amendment.
Earlier, workers used to get annul gratuity equivalent to a month's basic salary. Now, they will get annual gratuity equivalent to a month and a half'w basic salary – a 50 percent increase.
Terming the draft amendment "labour and environment-friendly", he said it attached priority to safety.
The amendment made it mandatory to form a safety committee and make it effective for factories with 50 or more workers, he said.
As per the amendment, workers will have to inform the director (labour) if they intend to form or join trade unions at their factories. Earlier, they had to take permission from their owners, said the secretary.  read more. & read more.

* Bangladesh garments may get duty-free access to Indonesia:
Readymade garments manufactured in Bangladesh may get duty-free access to Indonesian market, as the Southeast Asian country is preparing to consider extending a Duty-Free, Quota-Free (DFQF) facility to nations that are counted among the Least Developed Countries (LDCs) and are members of the World Trade Organization (WTO).
The present list of LDCs includes 33 countries from Africa, Haiti from the Americas, and 14 countries from the Asia-Pacific region, including apparel exporting countries of Bangladesh, Cambodia and Myanmar.
Cambodia and Myanmar would form part of Asean Economic Community (AEC), scheduled to come into effect in 2015, and hence, they would not get any additional benefit if Indonesia decides to give DFQF access to LDCs. But, Bangladesh being a leading clothing manufacturer and exporter, and a LDC country, would benefit from the decision, once it is implemented.  read more. & read more.


                      ASHULIA TAZREEN GARMENT FACTORY FIRE:
* European retailer compensates families of Tazreen victims:
European retailer C&A Sourcing yesterday paid compensations to 67 families of the 112 garment workers killed in the November 24 blaze at Tazreen Fashions in Ashulia.
Each family received Tk 1 lakh.
Labour and Employment Minister Rajiuddin Ahmed Raju handed over cheques to the families of the victims, at a programme organised by Bangladesh Garment Manufactures and Exporters Association at its office in Dhaka.
After the fire, logos of different brands of C&A were found in the heap of ashes. The government has taken several steps to ensure safe working environment at every garment factory, the minister said.
The government will develop a 550-acre "garment village" in Munshiganj to ensure maximum safety with modern facilities for the workers, he said. "It is our responsibility to give compensations to the victims," said Dinesh Perera, general manager of C&A Sourcing.
read more. & read more. & read more.

* Bangladeshi Activists Bring Fight to Wal-Mart's Doorstep: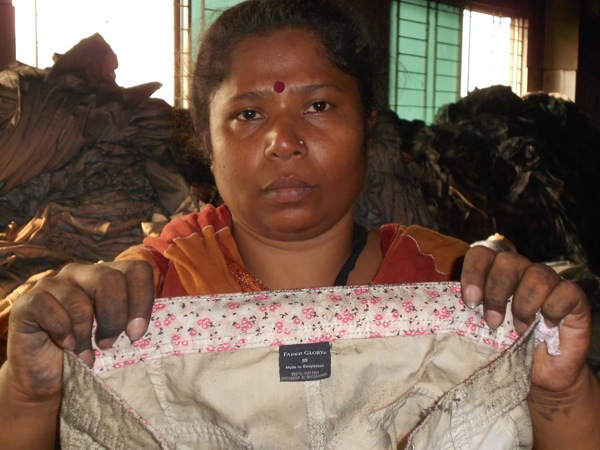 At the site of an enormous factory fire in Bangladesh, a worker holds up a garment bearing Wal-Mart's brand, "Faded Glory." (Corporate Action Network)  
Wal-Mart's business model runs on the art of delusion. Clean aisles and bright decor insulate customers from the unseemly factories that produce the brand's sought-after bargains. But when Wal-Mart's label was found plastered all over the charred remains of a massive factory fire in Bangladesh last fall, the ugliness at the root of the retail giant's supply chain was exposed.
The company, however, continues to ignore victims' demands for compensation, so Bangladeshi activists and their allies have brought their grievances to Wal-Mart's doorstep in a 10-city U.S. tour.
In New York on Thursday, activists from the U.S. and Bangladesh rallied to demand compensation from Wal-Mart, Sears and other multinational companies that contracted with the Tazreen factory that burned down in November, killing 117 people. The stop was part of the multi-city tour coordinated by anti-sweatshop and labor groups to call on corporations to "End Death Traps."  read more.

06

:

09

:

04

local time INDIA
* Discussions on minimum wages to continue:
The committee constituted by the State Government to suggest minimum wages to textile mill workers has completed discussions with trade union and management representatives in Coimbatore and Tirupur districts and many of the southern districts. It will have similar meetings in Salem on May 10.
Deputy Commissioner of Labour R. Balachandran told The Hindu on Friday that the committee members would visit mills in Erode, Salem, Tiruchengode areas on May 9 and 10 and have a meeting at Salem on May 10. With this the committee would have visited textile mills in almost all the textile mill clusters in the State.
The members had met the workers in several mills and taken their views too. More meetings could be organised depending on the demand of the management and trade union representatives.  read more.

* Mazdoor union to discuss labour laws on May Day:
A meeting of executive committee of Pragatisheel Bidi Mazdoor Union (PBMU)) was held on Friday where speakers called upon the working class to raise the banner of revolt against rising contractualisation of labour employment, non-enforcement of labour laws including minimum wages and failure to protect women in work places on May Day.
This is the 127th year of martyrdom of dozens of Chicago workers fighting for implementation of eight-hour working day which made this demand and red flag popular, said the general secretary, Feroze Ahmad.
He said that PBMU shall organise a massive rally on May 1 in Ghoorpur to raise the demand for implementation of government notified minimum wages and social securities for 'bidi' rollers and packers who are being paid half the rate.
PBMU has raised the demand for registration of masonry workers at block-level in order to implement the labour department's " Panjikrit Nirman Shramik Kalyan Yojana" under which registered construction workers are given social aid and accident benefits.  read more.

* Trade unions want Centre to release funds textile mills:
A joint meeting of leaders of various trade unions of workers of the three textile mills in the union territory has called upon the Centre to release funds to tone up the mills which had good potential for offer of jobs and enhancing economy.
Leaders of trade union of Sri Bharathi Mills, Swadeshi Cotton Mills and the AFT mill at meeting held yesterday adopted a resolution called upon the territorial administration to make out a strong case with the Centre and procure as much as Rs 500 crores needed for modernization of the mills.  read more.

* Puducherry textile mill workers seek Central grant:
Representatives of three Puducherry-based textile mill workers have urged the Central Government to provide funds for upgradation of the mills, which according to them have huge potential for employment generation and to aid economic growth.
Puducherry, formerly Pondicherry, is located on the eastern coast of India.
During a recent joint meeting, trade union leaders of Swadeshi Cotton Mills, the AFT Mill and Sri Bharathi Mills moved a resolution and urged the Puducherry government to strongly plead to the Centre for releasing about Rs. 5 billion for upgradation of the mills. 
read more.

* Basic wages question haunts EPFO again:
The Employees Provident Fund Organisation (EPFO) is all set to revive a circular issued in 2011 to curb the flexibility exercised by employers and PF authorities in the definition of basic wages.
The move had been put on hold by the Labour Ministry after adverse reports in sections of the media.
However a committee set up by the ministry, and comprising employers and employees organisations has given its approval to the circular which also seeks to curb the powers of the EPFO officials and inspectors in demanding scrutiny of PF accounts beyond seven years.
This was criticized as a move that helped employers. However Central Provident Fund Commissioner Anil Swarup speaking at a seminar on EPFO programmes organized by the PHD Chamber here said that the media distorted the notification and the revival of the circular is being considered by the Labour Ministry .
read more.

* Union ministry bats for GM crops in Western Ghats:
In contrast to the stand of the Kerala and Karnataka governments, the Union agriculture ministry bats for genetically-modified (GM) crops in the Western Ghats area in its report submitted to the Kasturirangan committee. Both Kerala and Karnataka have already called for a 'GM-free state'.
The department of agriculture & cooperation under the Union agriculture ministry says in its report that there is no reason to enforce a restriction on cultivation of Bt Cotton in the Western Ghats region as there is no perceived threat to any form of biodiversity of tetraploid species present in the region.
A blanket ban on Bt Cotton in Western Ghats, with an unreasonable pretext of 'threat to biodiversity', is not backed by scientific principles or research and is thus inappropriate, it says.
While Karnataka seeks to make the Western Ghats free of GM crops and aims at awareness building to promote organic farming, Kerala has clarified that it promotes organic farming besides seeking central subsidies to go for organic cultivation from the existing conventional farming that uses chemical fertilisers and pesticides.
read more.

* Yarn exports likely to go up:
Coimbatore's textile mills are reviving with higher demand for cotton yarn in the domestic and foreign markets.
Majority of the textile mills in the country are in Tamil Nadu and these units are seeing a revival of demand in other countries and by the yarn consuming industries in the country.
Cotton yarn exports from the country are on the rise and the recently held Cotton Yarn Advisory Board has estimated that the yarn exported during the last 12 months would be 1,067 million kg. This is expected to go up to 1,150 million kg this year.
D.K. Nair, secretary general of the Confederation of Indian Textile Industry, told The Hindu on Friday that exports by the textile mills in the country was more than 110 million kg a month in January and February. Though it fell to less than 100 million kg in March, this may not be a trend.  read more.

* Technical textiles to grow by around 20 per cent in 12th plan:
Technical textiles sector in the country is expected to clock a 20 per cent year-on-year growth in the 12th plan period (2012-17), a top textile ministry official said here today.
With a market size of Rs 60,000 crore, the sector has recorded 11 to 12 per cent growth in the last five years and with domestic demand growing at a robust pace, it should touch 18 to 20 per cent in the 12th plan period, said Sujit Gulati, Joint Secretary, Textile Ministry, on the sidelines of opening of the regional office of the Indian Technical Textile Association (ITTA) here.  read more.

* Official apathy mars handloom scheme beneficiaries:
To provide a secured life for women in Naxal infested areas, the Handloom and Textile Department of the State government had opened a handloom unit under Suvarna Vastra yojana. However, the beneficiaries are in distress, allegedly due to the non cooperation of the officials.
The scheme was initiated to train women in Kollur, Chithur, Hallihole, Kamalashile in Kundapur taluk. About 100 beneficiaries were trained under the scheme. However, owing to the non cooperation by the officials, weaving did not bring hope into their lives. read more.

* Fresh weaves:

Creative hand-holding:Sally Holkar works with a young weaver.
Having worked with three generations of weavers, Sally Holkar has witnessed their transition from a bunkar (weaver) to a fashion worker. This metamorphosis from an unassuming weaver to a more poised creator who knows fashion and the art of selling has neither been easy nor swift.
Ms. Holkar, who established the Women's Weave Charitable Trust — an enterprise to support income earning opportunities for rural women, is happy that women and the younger generation of weavers are becoming financially self-reliant, but she's also worried that the young are not keen to carry on the tradition.
"They are aware of the downside," she says. "We now have a trend where only one brother wants to be a weaver in the family; the others would rather become drivers or construction workers now."  read more.

06

:

09

:

04

local time SRI LANKA
*
Sri Lanka trade union demands Rs. 15,000 salary hike for workers:
A trade union in Sri Lanka affiliated with the Marxist party Janatha Vimukthi Peramuna JVP affiliated says that the salaries of the working masses should be increased by Rs. 15,000 to be on par with the rising cost of living.
The National Trade Union Center (NTUC) states that the salaries of the public and private sector workers should be increased as the increase in electricity tariffs would have a direct impact on the overall increase in the cost of living. read more.

* The first automated labour inspection system in South Asia:
The Department of Labour launched its computerized system for labour inspection called 'Labour Inspection System application (LISA)' recently at an event held in Colombo under the auspices of the Minister of Labour and Labour Relations, Gamini Lokuge and US Ambassador in Sri Lanka Michele J. Sison.
The computerized labour system is powerful tool for improving coordination between labour administration institutions spread across the country in 56 Labour Department offices. The system creates a 'virtual workspace' where staff can coordinate their activities, exchange information and collaborate with one another, in ways not possible before, due to separation by geography and organizational silos.
This is the first of such an automated labour inspection system in South Asia and it will further enhance the Department of Labour's service delivery and strengthen the implementation of International Labour Organization (ILO) convention 81 on labour inspection in meeting national obligations.
The labour inspection software has fully automated the on-site inspection process, improving the collection and analysis of labour market and inspection data, so strengthening the basis for policy development, programming evaluation at the department.  read more.

05

:

39

:

04

local time PAKISTAN
* Textile industry braces for criticism at today's (20th) meeting:
 Textile industrialists may come under scathing attack at a high-level meeting called in Lahore on Saturday (today) to discuss the captive power scam being investigated by the National Accountability Bureau (NAB).
Caretaker Petroleum Minister Suhail Wajahat Siddiqui will chair the meeting, which will be attended by all stakeholders, sources say.
In recent days, NAB has lashed out at government officials for supplying gas to inefficient captive power plants of textile manufacturing units at subsidised rates, which in turn sold electricity to the government at higher rates.  read more.

* APTMA concerned over energy woes:
Spokesman of All Pakistan Textile Mills Association (APTMA) has lamented over the poor response of the government towards unprecedented energy shortage for the textile industry.
He said the energy supplies are totally non-existent for the textile industry in Punjab due to the lowest level of electricity generation and attacks on energy installations including gas pipelines and electricity generation plants in different parts of the country.
It may be noted that the APTMA leadership including group leader Gohar Ejaz, central chairman APTMA, Ahsan Bashir and other office-bearers have been holding press conferences again and again to highlight the alarming energy situation in textile industry but all in vain, as nobody from the government is available to respond.
read more. & read more.

* Sethi directs ministers to resolve industrial energy crisis by today(21th):
Caretaker Chief Minister Punjab, Najam Sethi has asked the Federal Minister for Petroleum & Natural Resources as well as the Minister for Water & Power to resolve energy supply issue of textile industry in Punjab by Sunday morning.
He has constituted a committee of both the ministries and APTMA members to discuss the matter in detail and come up with a workable solution by Sunday morning.
He was holding a meeting with APTMA delegation led by central Chairman APTMA, Ahsan Bahsir and Group Leader Gohar Ejaz on Saturday evening. After listening to the problems of textile industry in Punjab due to energy crisis, the Chief Minister invited both the ministers of energy-relating ministries at his office and asked them to resolve the energy crisis of textile industry in Punjab by Sunday morning.
read more. & read more. & read more.

* Minister apprised of textile's plight:
A delegation of the All Pakistan Textile Mills Association (Aptma) on Sunday apprised Caretaker Minister for Water and Power Dr Musadik Malik of the plight of the textile industry in the wake of unprecedented gas and electricity loadshedding.
Comprising central leaders of Aptma, the delegation informed the minister that the textile industry had been fighting for its survival due to inequitable supply of energy.
A spokesman said the delegation members informed the minister that in spite of having capacity to produce 13,500MW electricity, some 9,500MW were being produced.
The textile industry was being subjected to 12 to 14 hours loadshedding and getting gas for only three days a week. "Gas shortages look unjustifiable in current high temperatures."
Disconnection of electricity supply to independent industry-specific feeders had added to the woes of the textile industry that has been left with no option but to suffer production losses to the tune of millions of rupees daily as it has no alternate option to run its operation, the delegation informed the minister who was accompanied by the federal secretary for water and power besides senior officers of Pepco and Lesco.  read more.

* Imposition of safeguard duties: textile exports to Turkey nosedive:
Pakistan"s textile exports to Turkey have nose-dived after the latter imposed safeguard duties to protect its domestic industry, well informed sources told Business Recorder. The Government of Pakistan, sources said, had raised that issue at the highest level with the Turkish officials but there had been no developments.
The sources said, Pakistan"s bilateral trade with Turkey grew at good pace and crossed one billion dollar mark in 2010-11, but it started to decline after the imposition of safeguard duties in August 2011. Bilateral trade decreased from $1.082 billion in 2010-11 to $630.467 million in 2011-12, a 42 percent decrease from last year. Pakistan"s exports decreased from $906.58 million in 2010-11 to $455.83 million in 2011-12, which is a 50 percent decrease from last year. read more.

* Textile exports surge by 7pc, food's 11.4pc:
Pakistan's textile exports showed growth of over 7 per cent in July to March period of the ongoing financial year over the corresponding period of last year despite unending power shortage in the country and global economic situation.
Pakistan has exported textile made commodities worth of $9.630 billion in first nine months (July-March) of the ongoing financial year 2012-2013 as against $8.993 billion of the same period of the preceding year, registering an increase of 7.09 per cent in one year.   read more.

* Textile, clothing export rebounds:

A textile worker at a factory in Gujrat. – File photo by AFP
Pakistan's export of textile and clothing rebounded in March 2013 as it witnessed a growth of over 13 per cent from a year ago.
The export proceeds from these sectors fell by over 4pc in February 2013 from a year ago after successive growth in the past five months.
Export of textile and clothing surged to $1.167 billion in March 2013 from $1.030bn during the corresponding month of last year, showed data of Pakistan Bureau of Statistics here on Friday.
Textile and clothing products, which witnessed a negative growth are raw cotton, and cotton carded in March 2013 over the same month last year.  read more.

* Domestic expansion: Textile millers find saviour in fashion industry:
The summer season is nearly here, and businesses associated with hot weather are gearing up to take advantage of a seasonal uptick in demand. Most prominent among these are the various textile businesses that cater to demand for lighter fabrics during the summer period.
Over the past few years, the textile sector has witnessed a strengthening nexus between fashion designers and local textile mills. The summer fabrics business, especially, is so lucrative, and the competition so intense, that many companies are already advertising summer-wear products in the middle of spring to gain an early-bird advantage.
Pakistan's rising middle class and its propensity to consume more and more is powering the textile industry to historic highs. Improving lifestyles mean there is a share for everyone in the profit pie, and the cutthroat competition has provided greater choices to the increasingly fashion-savvy customer.
According to one source, around 150 different brands are currently operating in the domestic market, and this number does not include scores of counterfeiters and other low-quality producers. In times when textile millers' export earnings have been hit severely due to a nationwide energy crisis, local demand – powered by new tastes in fashion – has become a saviour for those producers who have lost foreign markets.
The Express Tribune asked our industry sources if the fashion industry was formally becoming an ancillary to the textile sector.  read more.