09

:

31

:

27

local time MONGOLIA
20130331
* Government to spent MNT 95 Billion for cashmere sector:
The Cabinet meeting of Mongolian government held on Saturday, March 30,  
discussed a number of critical issues related to the Cashmere industry,  
which leading the creation, development and launch of the Mongolian brand.
The Cabinet agreed to spend MNT 95 Billion from Chinggis Bond for advance
payment equals to triens of required funding of the project aimed "to renew
cashmere processing industry equipment and machinery project" and the
Minister of Economic Development was allowed by the government to do the
financing MNT 95 Billions to project participants, which had planned to
renew the processing machinery in 2013.
They aimed to process initial   stages of technological flow production, dehair and comb in 2013 and to  spin next year.   According to the project proposal once implemented the  initiative will restrain export of cashmere raw materials, increase export  of value-added product and generate 20,000 new jobs and result in the over
200 knitting and textile small and medium sized factories to be created in  provinces.
read more.

09

:

31

:

27

local time  CHINA
20130329
* Statues made of 550,000 needles call for boycott of fur clothing:

A visitor watches the exhibits made of needles in a shopping center in Shenyang on March 28, 2013. The exhibition "Thousand Needles, Million Pains" is aimed to call on people to boycott fur clothing and protect animals. (Xinhua Photo/ Tian Weitao)
Eye-catching exhibits made of needles are presented in a shopping center in Shenyang on March 28, 2013. 550,000 needles were used to make creations in the shape of rabbit, fox and marten, which are symbols of the pain that animals suffer.
Thus, the exhibition is called "Thousand Needles, Million Pains" aiming to call on people to boycott fur clothing and protect animals. It took Xie Yong and his 36 students more than 100 days to finish all the twelve creations.  see more.

20130331
* China to increase state cotton sales in April:
China, the world's top cotton consumer, will increase sales from state reserves of the fibre from April, in a bid to boost dwindling domestic supply, a government official said in a speech published on Wednesday.
To help meet demand from textile mills, Beijing will step up sales from its bulging reserves, particularly of high-quality cotton, beginning in April, Li Yan of the country's top economic planner, the National Development and Reform Commission, told a meeting on Tuesday, but gave no further details.
Cotton supplies have been under pressure as a result of China's controversial state stockpiling policy, which has seen the government buy nearly 10 million tonnes, or about 60 percent of global cotton stocks, since 2011. Plans for sales by China and India, the world's largest producers of cotton, put New York prices under pressure last week. A four-day slide in prices ended on Tuesday, as reports of new import quotas in China helped buoy the market. read more.

* When high-tech meets high fashion:
When we go shopping, we rarely give a thought to the technology that goes into making our favorite garments.
But most of us would surely be surprised to learn about how the "lightest" walking shoes are made; how down feathers jackets "breathe" and repel oil and water; or the common secret contained in high-end perfumes.
Yet fashion has always walked in step with technological development – think of the impact the invention of nylon in the 1940s had on women's stockings.
And while names such as Tyvek, Teflon, Corian, Surlyn may be unfamiliar to many people – at least in a fashion sense – chances are we've all worn garments or used beauty products incorporating their technology, quietly changing our life as well as our concept on shopping.
So here are some trendy products that you wear or use in your daily life that hide away some fantastic high-technology elements.  read more.

20130402
* Manufacturing index points to growing recovery: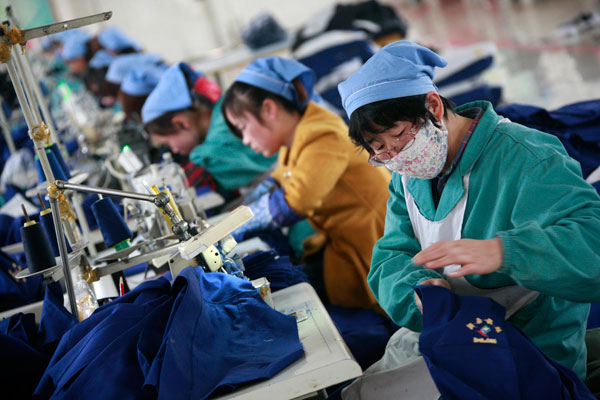 A bustling textile factory in Huaibei, Anhui province, reflects the growing momentum of China's manufacturing sector. Xie Zhengyi / For China Daily
Improved production bodes well for overall economy, analysts say
Industrial activity maintained a moderate recovery in March, with economic indicators reflecting positive growth.
"The economic environment in Europe seems to have improved, but it has not brought us the sharp increase in orders we had expected for the first quarter," said Zhang Wenhua, owner of a company in Nanjing, Jiangsu province, that exports machinery to Europe.
"We just hope there will be more growth in the next three months," Zhang said.
read more.


09

:

31

:

27

local time  PHILIPPINES
* 50% traders in Negros Oriental violate wage law:
Fifty percent of the businessmen in Negros Oriental have violated the minimum wage law, according to the Department of Labor and Employment.
Labor employment inspector Kendrick Villaluz, in a Kapihan forum of the Philippine Information Agency held at Bethel Guest House Tuesday morning, revealed only 50 percent have complied the minimum wage law.
Based on current wage law, workers in the non-agriculture and sugar mill industry should be receiving P275 for the first eight hours while workers in the agriculture industry should be receiving P255 a day.
In an interview, Villaluz told Sun.Star that majority of the violators are those who engage in retail and wholesale businesses and sugar farmers.
Villaluz, however, refused to name names for investigation.  read more.

08

:

31

:

27

local time  VIET NAM
20130330
* Vietnamese high-end fashion brands target the world market:
Developing high-end fashion brands is the target of all Vietnamese textile and garment companies which have been following different ways to reach that end.
The franchisees
An Phuoc Company once caught the special attention from the public 15 years ago when it became the franchisee of Pierre Cardin after a contract signed in 1997.
An Phuoc's Pierre Cardin brand products, right after hitting the market, became salient among domestic products, while it was in no way inferior to foreign products available on the market.
The brand Pierre Cardin then was "hot" enough to convince consumers to use An Phuoc's products. Nguyen Thi Dien, General Director of An Phuoc decided that the company's products should target the businessmen aged 35-40 who are very choosy about the fashion, but don't change their liking regularly.
However, Dien has realized that the she now has to compete with many redoubtable rivals, and she needs to find a new way out to become stronger. Dien said An Phuoc has been trying some more fabric materials to make the products suitable to Vietnamese conditions. The company is also conducting negotiations with Pierre Cardin on a more flexible design transfer.  read more.

20130401
* TPP may benefit Vietnamese textile & garment sector:

Workers are pictured at the Garmex Saigon Company in Ho Chi Minh City March 31, 2013 Tuoi Tre
Participation in the Trans-Pacific Partnership (TPP) could help Vietnamese enterprises, including textile and garment businesses, to gain entry in other markets and can even bring large-scale investments in the country, as it happened at the time when the country gained WTO membership, a Ministry of Industry and Trade (MoIT) official said.
Addressing a conference in Ha Noi, Ngo Chung Khanh, Deputy Director of MoIT's Multilateral Trade Policy Department said besides gaining entry into new markets, TPP would also help Vietnamese enterprises to enhance their exports to existing markets, particularly to the US, and better exploit the opportunities arising out of process of streamlining and  regional economic integration.
read more.
&
read more.

08

:

31

:

27

local time  CAMBODIA
20130329
* Labour orders issued by PM:

Workers from the Yung Wah Industrial (Cambodia) factories block a road in Kandal province earlier this year. Photograph: Vireak Mai/Phnom Penh Post

Prime Minister Hun Sen yesterday issued extensive orders to unions, factories, workers and authorities to rid the garment industry of violent strikes, roadblocks and rights violations he says are threatening public order.
"There have been many strikes and demonstrations at factories recently, and, in some cases, it's led to violence and public and private property being destroyed," Hun Sen said in a statement.
"The national police, military police and relevant officials have to take strong measures to stop all violence, the roadblocks . . . and people being detained and injured."
Unions, the prime minister added, must stop forcing workers to strike; factories need to improve working conditions and respect ILO conventions protecting workers' rights; and government ministries should provide better mediation and policy to prevent strikes.
The prime minister also became publicly involved in labour issues last week when he insisted an extra $2 be added to a proposed $12 hike in the $61 monthly minimum wage.  read more.

* Labor committee announces minimum wage:
The Labor Advisory Committee issued a joint statement on the decision to raise wages from $61 to $80 per month for garment and footwear workers.
The statement was announced Friday, after a meeting between factory employers, union leaders and Labor Minister, Vong Soth.
The statement said, after a full discussion on the adoption of wage increases and government involvement, the committee has agreed to the following:
1. $5 for health care to be included in minimum wage for textile, garment and footwear workers.
2. $75 per month during a probational period for the first three months for new employees and $80 per month after they have passed.
3. Bonuses are offered on top of the minimum salary for those who exceed quota. But if the workers don't hit quota, employers have to provide them at least $75 per month for those who are on probation and $80 for those who are hired full-time.
4. The wage provision of $80 a month has to be adopted on May 1st.
In the meeting, seven main workers unions, mostly pro-government unions, agreed to accept the wage increase of $80 a month.
read more.

20130331
* Living Wage – a Matter of Justice and Human Dignity:
Cambodian workers in South Korea say it all: "we left Cambodia because there is no work and even with employment, the pay is so low".
Living wage
The recent pay increase authorized by the government-seen as intervention by the prime minister for upcoming elections – is far from living wage which (1)should limit the working hours to eight hours per day; should (2)guarantee adequate housing; (3)provide for healthy diet; (4) include social integration. In addition to their own living, workers should be able to care for their dependents and make savings.
Human Dignity
It is the core issue for workers. Defined by the Universal Declaration of Human Rights: "everyone who works has the right to just and favorable remuneration ensuring for him/heself and his/her family an existence worth of human dignity.

What Cambodian workers in South Korea says?
"We would rather be working back home. But there is no decent work with decent pay".  read more.

20130401
* Strikers warned off:
Authorities will be strict in the way they handle garment workers who block roads while striking, Minister of Labour Vong Sauth said Friday.
In response to Prime Minister Hun Sen's directive to industry actors last week to rid the garment sector of violent strikes that spill onto the streets, Sauth said strikers must find more peaceful ways to get their point across.
"To sit and talk in peace is the best way to find a resolution," he said.
"Recently, workers have not been following the law. If we allow them to do whatever they want, our society would have no law. So we have to follow [Hun Sen's] order."
Sauth's comments came as the Labour Advisory Committee signed off on a minimum wage hike, from $61 per month to $75, in the garment and footwear industries. The wage hike is effective from May 1.
A worker at the now-closed Yung Wah Industrial garment factories in Kandal province's Takhmao town, who declined to be named, said yesterday that workers did not want to block roads during strikes, but often found it an effective way of getting their message across.  read more.

20130402
* Wages will increase following economic growth:
Hun Sen said, salaries for civil servants and garment workers will increase yearly coinciding with the growth in the economy.
Speaking at a graduation ceremony for the Royal University of Phnom Penh (RUPP) at the Koh Pich center on Tuesday, he said during the  general assembly of the Cambodian People's Party (CPP) last month, it was agreed that wages will not be raised by 20 percent every year, but depending on economic growth.
There will be annual meetings between factory employers, union leaders, and government representatives to discuss pay increases for workers.
The wages for footwear and garment workers have to increase incrementally every year, however large or small the amount may be.  read more.

09

:

31

:

27

local time  MALYSIA
20130329
* Implications of minimum wage:
Dramatic rise in wages poses upside risk to inflation
Recent news suggests that Prime Minister Najib is likely to announce setting a minimum wage on Labour Day (May 1). This is authorised under the National Wages Consultative Council Act of 2011 passed by parliament in July last year.
Because of the looming general elections, the announcement is likely to be construed as politically motivated, but there are also important economic consequences of a legislated minimum wage requirement.
The minimum wage is likely to be set anywhere between RM800 to RM1,000 per month. If we assume RM1,000, this would imply a significant 17% rise in the wages of unskilled workers, which according to Malaysia's Employers Federation 2010 Salary Survey, are earning an average RM852 a month.  read more.


09

:

31

:

27

local time INDONESIA
20130330
* Growth Must Be Coupled With Equity: Dems, Golkar:
Indonesia is set to experience higher economic growth, more foreign investment, better infrastructure, improved labor policies and fairer trade practices in the coming years, representatives from the Democratic Party and the Golkar Party, both part of the ruling coalition, said on Thursday.
Speaking at a forum organized by the Singapore Chamber of Commerce Indonesia and the Jakarta Globe, Democratic faction chairwoman Nurhayati Ali Assegaf and Golkar's top legislator at the House of Representatives, Airlangga Hartarto, canvassed a variety of issues before an audience of businesspeople, diplomats and Singaporeans in Jakarta.
Nurhayati said her party believed in economic growth with equity.  read more.

08

:

01

:

27

local time BURMA/MYANMAR
20130329
* Garment exports to surpass $1 billion as Myanmar's makeover gains speed:

The workplace of a Myanmar garment factory which exports to Japan (Photo – EMG)
Garment exports are on track to exceed US$1 billion for the fiscal year ending this month as the industry prepares for a makeover to gain access to western markets, officials from the Myanmar Garment Manufacturers Association said.
Freight-on-board textile exports reached $848 million as of the December, while CMP – cutting, manufacture and packaging – textile exports were $98 million, association members said.
"Prices are up this year and foreign investors are looking to invest in the textile industry," an association spokesperson said.
Khin Maung Aye, managing director of Lat War garment factory said growth will begin surging when the European Union's generalised system of preferences, which gives duty-free access to exports from least developed countries, is reinstated for Myanmar in June.
"We expect that there will be about 2,000 garment factories soon and these factories will create about 1.2 million jobs," Khin Maung Aye said, adding that more investments and orders would be announced in three or four months time.
read more.

 20130331
* Myanmar workers pay $300 each to Jordan garment factory owner to come home :
Myanmar workers return from Jordan garment factory. (Photo-EMG)

Ninety-one Myanmar workers have returned home from Jordan after paying compensation to the boss of their garment factory for the breach of job contracts, the returnees say.
They arrived back in Myanmar on Friday after paying $300 each to the factory employer.
More than 1300 Myanmar workers at a garment factory owned by Jordan's Century Miracle Apparel had been protesting from February 14 to March 25 against unhealthy and exploitative working conditions, including poor salary and racial oppression.
One returnee, Thet Nwe Soe Kyaw, said: "The employer first asked for $400 from each employee. We got $400 each for security welfare and bonus. But we came home with only a hundred dollars in hand because we had to pay him $300 in compensation."
According to her, some Myanmar workers still remain in Jordan as they have difficulty with their financial problems while some others are waiting for their contract periods to complete.  read more.

20130401
* UK Chamber to back revival of Burmese garment sector:
Following recent democratic elections in Burma, which have transformed the country into a democracy from an authoritarian State, UK's Sheffield Chamber of Commerce has joined an international pact aimed at reviving the Burmese textile industry, Yorkshire Post reports.
The project, the first international economic alliance with Burma after several years, is expected to help the textile and garment enterprises of Burma to go global through exports.
Sheffield Chamber is the only UK agency, which has joined the two million pounds Switch Asia scheme forming part of project funded by the European Union. Under the scheme, the Sheffield Chamber would extend support to the Chamber of Commerce in Burma and would also directly help Burmese enterprises.
read more.

07

:

31

:

27

local time  BANGLA DESH
20130329
* Prospects of boosting cotton yield bright in Rajshahi region:
Prospect of boosting cotton production in the region is bright as its topography and climatic condition suitable for the cash crop.
By dint of the positive scenario, the cotton farming has been gaining popularity among farmers as they are getting more money from the cultivation than any other crop.  read more.

* Final GSP review in May or June, says US ambassador:
The final review by the United States Trade Representative on Generalised System of Preferences facilities for Bangladesh will be held in the middle of May or early June, said US ambassador Dan W Mozena in Dhaka on Thursday.

If Bangladesh loses its GSP facilities in the US, it would give a negative signal around the world as a trade partner, the ambassador said while speaking with the reporters at American Centre in the capital.
read more. & read more. & read more.

* US likely to continue GSP for Bangladesh:
Bangladesh is expecting that the United States (US) will not withdraw the GSP facility for Bangladesh as it has successfully convinced the authorities concerned in the USTR hearing held in Washington on Thursday.
"I think our answers to their questions were satisfactory and we've satisfied them in the fourth round of hearing.I hope that GSP would not be withdrawn or suspended," Shafiul Islam Mohiuddin, one of the members of 13-member Bangladesh delegation, told BSS by phone from Washington.
Mohiuddin said may be the US authorities will allow continuation of GSP facility either for indefinite period or two to three years.
read more. & read more.

20130330
* Dhaka presents its case at GSP hearing:
The hearing on the petition to revoke the Generalized System of Preferences (GSP) facilities that Bangladesh enjoys for US market access was held at the Office of the US Trade Representative on Thursday morning local time.
The Bangladesh delegation argued why the facilities that allow duty-free market access for some of its products should be retained.
The representatives of the American Federation of Labour-Congress of Industrial Organizations (AFL-CIO) presented the case for revoking the facilities.
Commerce Secretary Mahbub Ahmed led the Bangladesh delegation at the half-hour-long hearing.
The hearing over, delegation member and Jatiya Sramik League General Secretary Mohammad Sirajul Islam told bdnews24.com: "We presented the government measures taken to address the issues that were raised."
"The USTR officials did not say anything specific after the hearing, but I think they were kind of assured by the measures taken by Bangladesh."
"We are hopeful that the decision will go in our favour," Islam said.
read more. & read more. & read more.

20130331
* Bangladesh pledges steps to fix troubled RMG sector:
Bangladesh Garment Manufacturers and Exporters Association will train 34,000 workers and mid-level officials in the apparel sector on fire safety by June, said Commerce Secretary Mahbub Ahmed.
Ahmed spoke at the United States Trade Representative (USTR) hearing in Washington on Thursday. A total of 3,500 workers and mid-level managers of different garment factories have already been trained after a deadly fire incident at Tazreen Fashions in Ashulia on November 24 last year.
BGMEA, a platform of garment owners, in collaboration with Bangladesh Fire Service and Civil Defence conducted the training.
The secretary said a new national action plan on fire safety and a fresh labour law will be passed in three months to make rules time-befitting.  read more.

* Angry workers clash with police, block highway:
At least 12 people, including a policeman, were injured in a clash between police and a group of agitating garment workers at Member Bari Baniar Chala under Sadar upazila of Gazipur district on Saturday.
Workers of Kaberi Sweaters Limited, a concern of the Prity Group, became enraged as the management on Saturday morning started to relocate the factory from its rented building at Member Bari Baniar Chala to a building owned by the group in Salna without notifying them in advance.
A labour leader said, 'The authorities decided to shift the factory without informing us, which is a violation of the Labour Law.'
The workers protested the unilateral move of the factory authorities first by stopping their work and then, at around 9.00am, they took position beside the Dhaka-Mymensingh highway and ransacked some vehicles, said Md Aminul Islam, assistant superintendent of police in charge of Gazipur Industrial Police Zone 2.
read more.

* RMG exports to India face serious setback:
Bangladesh's clothing exports to India is facing a serious setback as about two dozens local garment factories have failed to secure payment of nearly $5.0 million from an Indian buyer Liliput Kidswear Ltd, exporters in Dhaka said, according to a report — Bangladesh RMG Export to India Facing Setback — posted on the website YNFX.com.
They feared they would default on bank loans and would not be able to pay workers' wages, which might trigger labour unrest in their factories only because of the non-payment by the Indian company, the report on the website of Yarns and Fabrics Exchange, based in India, said.  read more.

20130401
* The role of CSR in disaster risk transfer:
Disaster and disaster management have multifaceted dimensions. It is not possible to make any substantial achievement in disaster management by a single entity or working in isolation.
Disaster management is, in fact, everybody's business and therefore public, private and corporate sectors have their roles to play at every stage of its management, particularly in disaster risk reduction in relation to risk transfer under the programme of Corporate Social Responsibility (CSR). CSR is a concept whereby private initiatives carry out certain responsibilities towards social and economic development of the society within their business concerns.
Although the activities the corporate sectors undertake concerning CSR apparently are not associated with their business. But there is an indirect impact on the business which however brings a positive influence regardless of their products, clients, consumers, employees and other groups. Disasters triggered mainly by natural hazards are the major threats to balanced and sustainable development. As investors, corporate entities are important actors in national growth and development. So, certainly the corporate sector has an important role to play in disaster risk reduction, especially risk transfer.  read more.

* Earnings from jute sacks, bags rise by 35pc in 8 months:
The country's earnings from export of jute goods increased significantly in the first eight months of the current fiscal year (FY) 2012-13, following a rising demand for the items in some newly-explored markets across the globe, industry people said.
According to the Export Promotion Bureau (EPB) data, the country earned US$ 159.89 million and $329.06 million from export of jute sacks and bags and jute yarn and twine respectively during the period under review.  read more.

* Proposes extension of tax rebate facility:
20130402 The Bangladesh Jute Spinners Association (BJSA) has proposed the government to extend tax rebate facility on the profit from jute goods until 2016.
The Association also proposed the government to withdraw 5.0 per cent tax on export subsidy following the reduction in number of export destinations. read more.

* Mozena fears flight of foreign investment out of Bangladesh:
Dan W Mozena, US ambassador to Bangladesh, yesterday urged the political parties to shun the politics of hartals and violence for the sake of the economy.
Bangladesh has great potential, but foreign investments may get diverted to Vietnam and Cambodia in the face of continued political uncertainty, he said.
He spoke on a visit to the Ha-Meem Group factory in Ashulia near Dhaka.
The political parties need to sit together for meaningful dialogue to resolve their issues and find a way to hold free and fair national elections in the future, he said.
read more. & read more. & read more.

* Comment-questions: Do they really supports the rights of the workers:
There was once a time that ambassadors were modest diplomats ….
They were representatives of their governments,  a kind postman between governments. In this diplomatic circles they were very modest and cautious with the other country's internal affairs.
They respected the other country's autonomy.
Much has changed. (…since Bush..). Many (US & EU) ambassadors have begun to interfere with the other country's internal affairs.
They propagandize their (western) morals. Often influenced/determined by their trade and capital interests.
Ambassadors, diplomats enjoy an immunity.
(Maybe it's because of this that many journalists/media places their professional critical approach on a background….)
But the immunity does not mean an ambassador-diplomat can act like a new king or a wise god, a judge.
(in this blog you can find several examples for this  of Dan Mozena- US Ambassador to Bangla Desh)
And also the USA ambassador Todd in Cambodia exceeded the former borders of diplomacy to propaganda:
"The business of America is business." read more here.
& about "The Importance of Balance in Labor Relations", read more here.
(Maybe Mozena & Todd should just look first at home America: for example how Walmart deals with workers and their rights.)
The ambassadors represent their governments, are diplomats….
What they do now is, they put workers from different countries against each other, so that US companies have to pay less for labour.
With all their "beautiful" (moralistic) words,  do they really supports the rights of the workers: real good working conditions and a living wage?
Mozena & Todd should look and act against the real perpetrators of exploitation and poor labor conditions: Walmart, GAP, H&M, etc.
The western "free market mechanism" is responsible for the exploitation of workers.
If these men-ambassadors are really concerned about the exploitation of workers…
Dan and William, what is your comment on/to Walmart, which threatens to leave BD due to higher labor- and safety costs?
What is your comment on/to US companies that do not want to pay a minimum -living- wage?
What is your comment to US (western) companies that maintain exploitation?
Western morality is (mostly) dictated on the first place by money, profit, and not the well-being of people.
Gentlemen on which side are you (& your goverments!) realy on?

20130402
* Ctg BGMEA leaders vow to work together to help garment sector flourish:
The newly elected first vice-president of Bangladesh Garment Manufacturers and Exporters Association Nasiruddin Ahmed Chowdhury yesterday said the association is keen on cooperating with all BGMEA leaders to help ensure growth in the readymade garments sector.
He urged the government to provide special services at Chittagong Port and Chittagong Customs to ease trade for the apparel sector that has been made vulnerable by recent political volatility.
He also insisted on establishing an industrial zone in the Chittagong region to attract more local and foreign investment, which would play a bolder role in the growth of the apparel sector in Bangladesh.
He was speaking at the reception accorded to newly elected directors of BGMEA Chittagong at its port city office. read more.

* Garment makers call for alternative to shutdown:
Garment and textile manufacturers have yet again urged political parties to find alternatives to shutdowns in the greater interest of the economy.
They expressed concerns over the negative effects of hartals on the export-oriented readymade garment industry, which has already been suffering from different internal and external shocks.
Bangladesh Garment Manufacturers and Exporters Association and Bangladesh Knitwear Manufacturers and Exporters Association in a joint statement said these shutdowns hold back economic growth, limit exports and discourage investment. Almost $500 million worth of export orders were lost to the neighbouring country due to the volatile political situation at home, the trade bodies said.
Many regular buyers of Bangladeshi buyers are expressing reluctance over sending representatives to negotiate orders for this summer, due to the inherent violence of the hartals.
A team of Russian buyers went back home from Shahjalal International Airport in Dhaka during the Wednesday-Thursday hartals last week.
read more.  & read more. & read more. & read more. & read more. & read more.

* $500m export orders shifted to India due to political unrest:
Country's readymade garment (RMG) makers have urged political parties to find out an alternative way to press home realization of their demands rather than going for shutdown programme.
Bangladesh Garment Manufacturers and Exporters Association (BGMEA) and Bangladesh Knitwear Manufacturers & Exporters Association (BKMEA) in a joint statement said that the frequent hartal (shutdown) is destroying country's image and disrupting shipment schedule of the sector.
"It is not possible to clear the shipment of imported raw materials from the ports eventually affecting our production," the statement said.  read more.

* BGMEA, BKMEA and Insurance Association stand against hartal:
The Bangladesh Garment Manufacturers and Exporters Association (BGMEA) and Bangladesh Knitwear Manufacturers and Exporters Association (BKMEA) jointly voiced deep concern over today's hartal, called by the 18 party alliances.
In a joint statement, BGMEA and BKMEA leaders said the country's business community does not support vandalising public properties in the name of hartal. "We urge to call-off the hartal," the statement said.
It said frequent unexpected political programmes and hartals are putting the country's economy at risk and it will ultimately discourage both domestic and foreign investments. Already the foreign buyers cancelled their business trips to Bangladesh due to security reasons. read more.

* The logic of hartal:
Hartal presents an interesting, though difficult and controversial, topic for analysis by social scientists. If what the news people and the 'media experts' say are any guide then we must agree that hartal is a very bad thing which imposes great inconvenience on the people and also harm the economy.
Indeed, this might be found to be the view of the majority of the people if a quick survey were done. However, what people say and do need not always be consistent, and I suspect hartal is a case in point.
Hartal has been used as a political weapon against the government ever since M K Gandhi invented it to intensify the Indian independence movement. It has gradually evolved in Bangladesh into a potent political weapon in the repertoire of the opposition to embarrass and unseat the incumbent government.
While hartal has been used sporadically by various political parties to advance their demands since liberation, it became more frequent and virulent since the latter part of the Ershad regime and the restoration of the system of freely elected government in 1991.  read more.

* Danish minister praises model RMG factory:
The garment sector got a boost yesterday after a Danish minister said Bangladesh can continue to produce apparel for western buyers by ensuring a world-class working environment for workers.

On a visit to GMS Composite Knitting Ind Ltd, a composite garment factory in Kashimpur in Gazipur, Danish Minister for Development Cooperation Christian Friis Bach said: "The working conditions are good. There is a lot of air in the well-lit rooms." read more.

* BGMEA to send delegation to Canada to resolve GPT issue:
Bangladesh Garment Manufacturers and Exporters Association (BGMEA) is likely to send a delegation to Canada for persuasion and discussion to neutralise or counterbalance the impact of GPT (General Preferential Tariff) review on the LDCs' (Least Developed Countries') duty-free apparel exports to the country.
For the first time in 39 years, Canada is updating its preferential tariff regime, increasing tariffs on more than 1,000 items imported from some 72 countries from which Bangladeshi RMG (ready-made garment) might be seriously affected.
read more.

* The Hall-Mark harakiri:

A unit of Hall-Mark Group looks empty. The garment company is accused of swindling money from Sonali Bank. Photo: Star
Handicapped by shutdowns, strapped by sensitivities, forced into silence by fate, we go on living our regular lives in this country.
While one watches the huge processions and gatherings of a political party, hand fans soothing the crowd in heat, one wonders what it is that affects us the most: religiosity, commerce or simply politics.
Frankly, one does not know at this point. With the strain of the withdrawal of GSP hanging on top of our heads, threats of a negative image being thrust upon us, export trucks being hijacked or burnt, one would like to think the best respite would be in watching a science fiction movie where our earth is restored and finally free from alien aggression.  read more. & read more.

07

:

01

:

27

local time INDIA
20130329
* Textile traders call off strike:
Textile traders, who had been agitating for 20 days against imposition of Value Added Tax on textiles, called off their stir on Thursday following an assurance from the government.
They announced that their decision after an assurance was given by Ministers Botcha Satyanarayana, T.G.Venkatesh and G.Prasad Kumar here on Wednesday.
The A.P. Federation of Textile Associations president Ammanabolu Prakash told The Hindu that the demand of the textile traders came up for discussion in the meeting and the Chief Minister was convinced to withdraw the VAT on textiles. "The three Ministers assured us that an official announcement would follow shortly," he said.
The decision to withdraw the agitation was not unanimous, going by the differences that cropped up among the textile traders at the State-level textile traders meeting held at Rajahmundry. Traders from three out of 23 districts insisted that the agitation should continue till a GO was issued. But the decision of the majority prevailed.
to read.

* Yarns of woe:

Weaving a living:Livelihoods under threat.
In the absence of reforms, handloom weavers are fast losing out to technological progress in the textile sector
Recent widespread protests of handloom weavers across several parts of the country have emphasised that while several new threats have emerged for handloom-based livelihoods, government policy makers have not done much to help the weavers cope with the changing situation. Even the policy framework that already exists for the protection and promotion of handlooms is not being implemented sincerely. As a result the livelihood of lakhs of handloom weavers stares at an uncertain future.
The Handlooms ( Reservation of Articles for Production) Act , 1985 was enacted in 1986 as an important means of protecting the handloom sector by reserving certain products for the handloom sector. Poorly implemented in the first place, amendments and reforms that were needed in this law or its rules after the rapid spread of screen printing and technologies like the computers aided Embroidery Design System were also not made.
Mohan Rao, founder president of Rashtra Chenetha Jana Samakhya (RCJS), a leading federation of handloom weavers in Andhra Pradesh, says, "The spread of these new technologies is ruining the handloom sector by fraudulently duplicating the patterns of handloom products. This is threatening the livelihood of lakhs of hand-embroiders and block-printers."  read more.

* CITU takes out rally, stages protest:
Cadre of the Centre for Indian Trade Unions (CITU) staged a rally and held a demonstration to highlight their charter of demands here on Thursday.
The rally started from the Kamarajar statue near KVR Hotel and ended with a demonstration in front of the Labour Welfare office near Thinnappa Complex.
Demands
The demands included implementation of Rs. 10, 000 as minimum wages per month, removal of irregularities in labour welfare boards, ending contract method of employment, protecting labour union rights, enforcement of labour welfare laws strictly and grant of monthly pension to women workers in the unorganised sector from the age of 50 years.  read more.

* Weaver ends life:
Though the indefinite strike launched by the powerloom owners of Sircilla against the fuel surcharge adjustment (FSA) for about three weeks ended recently without any assurance from the government, it reportedly claimed the life of a powerloom weaver on Thursday reportedly due to unemployment and increasing debts.
Reports reaching here said that the powerloom weaver G. Vishwanatham (65), a resident of B.Y. Nagar reportedly committed suicide by hanging from the ceiling of his house, due to unemployment and being unable to eke out his livelihood. The ailing weaver was unable to get employment since last three weeks and incurred debts and was unable to mobilise money for his treatment and resorted to the extreme step, it is reported.
He lost his wife three years ago and was living with his relatives. AITUC leader S. Mallesham termed the incident as "sad and unfortunate".  read more.

20130330
* Case registered against power loom unit owners:
The police on Thursday registered cases against owners of two power loom units at Karuvelankad and Kunniyur that were found producing handloom products categorised under the 'reserved items' list.
The cases were registered based on complaints given by the officials of the Enforcement Wing of the State Handlooms Department based in Tirupur after they reportedly unearthed the activity of producing 'cotton saris with border designs', which was among the 11 'reserved items'.
A Shanmugam, Assistant Enforcement Officer of Handlooms, told reporters that one of the powerloom units caught was using 12 looms and another five looms to produce handloom items.  to read.

20130331
* Weavers clash with forces in Assam, 7 injured:
Violence erupted in Assam's silk hub Sualkuchi, about 35km from here, on Saturday when weavers and producers of muga silk clashed with security forces while staging a protest against import of low-priced silk in the state. At least seven people were injured when police resorted to firing and wielded batons to quell the protest.
Kamrup (rural) additional SP Hemanta Das and another policeman were also injured in the clash. Three of the injured were rushed to Guwahati Hospital with one person sustaining a bullet injury.
Famed for producing muga silk, Sualkuchi residents are up in arms against traders who procure low-priced silk garments from outside the state and sell them as muga silk. The protesters alleged that large-scale import of low-priced silk has not only hampered their livelihood but has also brought a bad name to muga silk, which has a geographical indication (GI) tag. About 70% of Sualkuchi's 52,000-odd people are engaged in weaving muga products. Even Mahatma Gandhi was impressed by the handloom products when he visited Sualkuchi in January, 1946.
The protests actually started on Friday when angry residents forcibly burnt imported silk garments and staged a demonstration in Sualkuchi town. On Saturday, the demonstration took a violent turn when the protesters started pelting stones at security forces. In retaliation, police resorted to firing to control the mob.  read more.

* Did you know pant 'loom' is here?  :

If you go to buy a trouser from S Kumars or Raymond outlets anywhere in the country, 90% chances are that the material will be from Rajasthan. That pretty much explains the dominance Rajasthan enjoys in the textile sector in the country. Industry experts estimate that the state's textile sector is the third largest in the country both in exports and domestic market segment.
"The easy availability of raw material provides boost giving fillip to various segments of the textile industry. Jaipur's has created a space for itself in the exporting destinations in product categories like home furnishing and high value carpets," said S G Vyas, a citybased exporter of fabrics and yarn. Bed covers, quilts and table clothes from the Pink City enjoy a special status and the demand for these products has been increasing every year.
The textile industry in Rajasthan is pegged at Rs 16,000 crore, second biggest sector after agriculture. The government has already prepared a final draft of a new textile policy to give it a further push as the sector remains as one of the largest generator of jobs.  read more.

* Maha energy deficit falls to 3%, daily shortfall to mere 500 MW:
Maharashtra, whose power deficit has fallen to a paltry 500 MW from a record level of 3,100 MW five years ago excluding Mumbai, was in surprise by the desire expressed by Coimbatore textile mills to shift to the state for being   load shedding free especially industrial consumers.
These mills currently reeling under acute power shortage in Tamil Nadu have conveyed that they are quite impressed by the fact that all industrial feeders are supplied electricity 24X7 by the state-run Maharashtra Electricity Distribution Company (MahaVitaran).
This is notwithstanding closure of Dabhol power project and few MahaGenco projects for want of fuel. Whatever very meager gap is there, that is not because of non-availability of power but because of the non-paying culture of the consumers. 
read more.

* Kannur: CITU's All India Conference from April 4:
CPI(M)-affiliated CITU will hold its 14th All India Conference in Kerala from April 4 during which delegates will finalise a strategy to strengthen united trade union struggles in the country and discuss challenges regarding employment profiles.
The five-day conference in Kannur will be attended by 2,000 delegates from across the country and see the election of the office bearers, working committee and general council to lead the CITU for the next three years. The last conference was held in March 2010 in Chandigarh.
"This period of three years has been of utmost importance to the working class in India. Along with massive struggles and campaigns conducted by unions affiliated to CITU, there were huge countrywide united actions organised jointly by all the central trade unions and independent national federations.
"The conference will also discuss about further strengthening the United Trade Union struggles in the country. read more. & read more.


20130402
* Trade unions seek PM's intervention on working class plight:
Trade unions have sought a meeting with the prime minister to discuss the ten-point demands for which they had called a two-day nationwide strike in February.
In a letter to Prime Minister Manmohan Singh, the trade unions wrote, "We firmly opine that the government in power should always remain sensitive towards the gravely distressing problem of the working people."
The ten-point demands include measures to check price rise and universalisation of PDS, more employment opportunities for workers, universal social security cover for organized and unorganized workers, stopping disinvestment in central and state PSUs, no contractorisation of work of permanent and perennial nature and amendment of Minimum Wages Act and statutory minimum wage of Rs 10,000.
read more.

* China's huge yarn demand cheers local spinning mills:
China has turned to India for huge purchases of yarn to make towels, T-shirts, jeans and stockings, while production in Pakistan, a key supplier for Beijing, is down 30%, bringing good news for Indian businessmen from unexpected quarters.
Beijing is now focussing on high-value products instead of spinning yarn, opening up a huge window for Indian suppliers of the raw material, and raising hopes of even the apparel industry in India, industry officials say.
"Yarn imports by China in January this year increased substantially. The year 2013-14 will be good for spinning mills as China is going to depend more on India for yarn supply. Nearly 75-80% of yarn produced in India is now going to China," said K Thirunavukkarasu, managing partner, Sri Choleeswarar Spinning Mills. Cotton spinners in Tamil Nadu, Andhra Pradesh, Punjab and Gujarat are flooded with orders for yarn from China.  read more.

* Entrepreneurs discuss ways to improve productivity:
Entrepreneurs from different segments of textile production chain in Tirupur knitwear cluster came together under a single roof here recently to take a holistic introspection on the bottlenecks faced and also to formulate ways for improving productivity as well as market share abroad.
Project
The deliberation was organised by NIFT-TEA College of Knitwear Fashion promoted by Tirupur Exporters Association under its 'Resilient Tirupur' project, a novel initiative into its second edition to improve apparel productivity and profitability.
Topics
Leading industrialists representing almost 30 textile associations turned up to discuss topics like 'Human Resource Management and Capacity Planning', 'Energy Conservation Techniques', 'Converting Problems into Opportunities', 'Green Initiative and Eco Energy' and 'Management techniques- Overcome generation gap and success in family business'.  read more.

* Sualkuchi stir hits silk business in Guwahati:
Bihu is just two weeks away and city traders involved in selling traditional Assamese silk garments are complaining that their business has been hit due to the trouble in the silk hub of Sualkuchi over sale of low-priced imported silk by a section of traders there which is eating into the authentic Assamese silk market.
On Friday and Saturday last, protesting traders burnt down stocks of low-priced silk garments in Sualkuchi followed by a clash between silk producers and security forces on Saturday, which left seven injured.
With production of local silk in Sualkuchi getting a huge blow due to the disturbed state of affairs, prices are expected to soar, which would hit Bihu shoppers, city traders said. Weavers and others involved in silk production in Sualkuchi have ceased work for the last two days in support of their protests against the sale of cheap imported silk being sold as the real thing there. read more.

* Judicial probe into Sualkuchi violence:
The Assam government on Monday decided to institute a judicial probe into the Sualkuchi violence in which eight persons were injured in police firing.
After violence on Friday and Saturday following burning of bundles of traditional Assamese dresses made from low-priced silk imported from Varanasi and Mysore worth crores, the situation in this small town located on the northern banks of the Brahmaputra returned to normal.
There are no reports of fresh violence in the last 48 hours following which the Kamrup (rural) district administration lifted the curfew that was clamped on Saturday.
The government announced the decision to go for judicial probe in the house after which chief minister Tarun Gogoi said he also does not support duplication of Assam silk, but warned that law-breakers will be dealt with firmly.
"The incident in Sualkuchi was unfortunate. We can't allow anyone to take law into their hands. We also cannot allow anyone to sell silk brought from other places to be sold here as Assam silk," added Gogoi.
The government also announced that it would set up enforcement squads in all districts and sub-divisions to keep an eye on any violation of The Handlooms (Reservation of Articles for production) Act, 1985. The Act was enacted to protect the livelihood of millions of handloom-weavers and rich cultural heritage of the Indian handloom industry from encroachment of the power loom and mill sector. The Act reserves 11 textile articles under handloom reservation, which includes the gamoocha and the mekhala chadar.  read more.

07

:

01

:

27

local time SRI LANKA
* Garments: What happened and didn't happen:
There have been recent media reports on numerous difficulties and challenges faced by Sri Lankan garment industry. These difficulties were attributed to different reasons.
Some hold the industry responsible for its failure to put the house in order and to improve the competitiveness. Others point fingers at the Government for its failure to retain the GSP plus facility. I wish to share some of my recollections and thoughts on this. My thoughts are erratic and my exposition is incomplete.
When the late President Ranasinghe Premadasa launched the Garment Factory Programme some 20 years ago we cursed. That was for two reasons. First was that the very same regime of which President Premadasa was very much a part was responsible for the demise of the then thriving hand-loom and power-loom textile industry through its overnight import liberalization policy.
That industry provided low cost livelihood opportunities to hundreds of thousands of rural women across the country. The import content and thereby the foreign exchange drain of that industry was minimal. It catered to domestic market needs. The garment factory programme generated many employment opportunities (some say slavery) to rural women throughout the country. Import content and the foreign exchange drain were high. It catered to global market needs. Some cynics say it produces underwear to oversized ladies and gentlemen in the West.  read more.

* RULE OF LAW AND TOLERANCE :
UNP MP Laxman Kiriella speaks to the Daily Mirror on Sri Lanka's failing relationship with Tamil Nadu, the economic fallout from the UNHRC resolution and provides his simple answer to the Halal issue.
(….)

Q. The government and the Economic Development Ministry give the justification that the reduction in revenue from the garment sector is due to the economic crisis that hit Europe and the States and the reduction in their purchasing power. The Ministry further claims that the economic downturn in the area of garments is due to the fact that workers are no longer interested in working in these factories.
After we lost the GSP+ it is a well-known fact that factories relocated in countries that have the GSP+, for example Bangladesh and Vietnam. Therefore since companies are incurring losses, they have started paying the workers less—that is the real story.
We are not even observing the ILO laws with regards to workers in garment factories; we have violated those laws and we are not paying them according to those minimum wages.  read more.

* Poorly paid FTZ garment factory workers face sweat shop conditions:
The wages Board deliberations of 1992, 2000 and 2010 recommended changes in the wages structure of garment factory workers. Salary increases were recommended for a period of five years.
At the cessation of this timeframe, such salary structures were expected to be reviewed and enhanced salaries recommended and implemented. However, there were complaints against at least six garments factories that had not adhered to the wage recommendations and the workers continued to draw low salaries as a result, Leon Joseph, Acting Secretary, The Progress Union, complained last week.
He said their demand was that salaries be increased to Rs. 18,000 per month, and that over time work be curtailed and be one of personal choice and not enforced to augment salary anomalies.
Speaking at a media conference entitled, 'Living wages as fundamental rights of Sri Lanka garments factory workers', he said that a section of the garment industry did not adhere to salary increases recommended under Act 56 of 1989.
"Workers continue to work for low wages with no redress in sight", he said. The Board of Investment (BOI) also came in for criticism.
Joseph's complaint was that garment factories did not adhere to the legal regulations under the Act and acted mala fide violating agreements reached. read more.

06

:

31

:

27

local time PAKISTAN
20130329

* Garment factory blaze doused:
Karachi—A major fire that broke out in a factory located in SITE area of the metropolis in the wee hours of Friday has been tamed by the firefighters after four hours.
According to the fire brigade official, eighteen fire brigades, two fire bowsers and one water snorkel along with dozens of firefighters took part in extinguishing the fire. Fire tenders from across the city were called in due to high-intensity fire. Fire fighting officials declared the fire as third-degree inferno while its cause has not yet been ascertained.
All the workers present in the three-storey garment factory were successfully evacuated. to read. & to read. & read more.


20130331
* Changing markets, changing tastes: The case of the Gakkhar durree industry:

Many traditional crafts in the country are on the verge of dying out. ILLUSTRATION: JAMAL KHURSHID

Durree is a traditional rug weaved on handlooms in different parts of India and Pakistan. Gakkhar Mandi, a market town in Gujranwala district, has for decades been associated with quality durree manufacturing. There was a time when one could not find a house, mosque or tent services business which did not have colourful durrees of all types (for beds and floors), which had been manufactured on handlooms in Gakkhar Mandi.
This traditional cottage industry has been on a sliding slope for many ye ars. Due to numerous crises, many families have left the industry, and those still in business find it difficult to retain master artisans whose younger generations are shifting to more lucrative and 'better-respected' professions.
There are a number of factors that have contributed to the fall of durree manufacturing in Gakkhar. These reasons are similar to the decline of other traditional craft businesses like khes (a patterned and bound double weave cloth, woven in certain areas of the Punjab and Sindh and used as bedcovers, curtains and floor covering) and loi (a traditional woollen shawl) in different provinces.  read more.

 20130402
* PTEA concerned over cut in gas supply to industries:
Additional cut in gas supply to industries in Faisalabad would further aggravate the problems of industrial set-ups and would lead to great financial loss, said Asghar Ali, chairman Pakistan Textile Exporters Association (PTEA).
Talking to newsmen, he expressed grave concern over additional gas suspension as gas supply to industries in Faisalabad region could not be restored on Monday and industrial production process remained suspended on fifth consecutive day.
Sui gas authorities had announced gas supply schedule to Faisalabad industrial units from Monday 6am to Thursday 6am, but gas supply could not be restored as a result all the major industrial units remained closed. Industrialists have to face severe financial loss as they have already schedduled their productions plans Gas suspension has badly affected industrial production resulting increase in miseries of daily wages workers, he added.  read more.

* Textile units stay closed for 5th day in absence of gas:

According to the schedule put in place by Sui gas authorities, the industries were to be given gas from 6am Monday to 6am Thursday. PHOTO: FILE
Gas supply to Faisalabad industries could not be resumed on Monday after a four-day weekly break, prompting protests from industrialists who said suspension for long periods would exacerbate their problems and cause heavy financial losses.
In a statement, Pakistan Textile Exporters Association (PTEA) Chairman Asghar Ali expressed concern over failure of the gas distributing company to restore supply to industries in the Faisalabad region as industrial production remained suspended for the fifth consecutive day. read more.

* Amnesty for textile defaulters extended:
Giving a further relaxation to textile companies, the Federal Board of Revenue (FBR) decided on Monday to extend the tax amnesty scheme by another 15 days, sources said.
They added that the defaulting textile companies can now pay two percent of total outstanding tax liabilities without facing any legal action. While the decision has been taken, a notification will be issued today in this regard, they added.  read more.