ASIA
* Asian Fashion Industry Retail Sales To Reach S$10.5 Trillion In 2015:
The Asian fashion industry is a rapidly growing industry, with its retail sales expected to reach some S$10.5 trillion in 2015, says Minister of State for Trade and Industry, and National Development, Lee Yi Shyan.
"Strategically situated, Singapore has the potential to serve as a leading fashion hub. In recent years, we have witnessed the launch of many international and local fashion brands right here in Singapore.
"To grow our fashion industry further, design talents are the key. The Asia Fashion Exchange (or AFX) initiatives have for three years helped develop design capabilities in our designers, and profile Singapore and Asia's fashion talent on international stage," he said in his address at the Audi Red Carpet Night here Tuesday night. read more.
20

:

16

:

01

local time MONGOLIA
* FOREIGN INVESTMENT LAW BECOMES AN INCREASING THREAT FOLLOWING JOB LOSSES:
Mongolian citizens have become the first victims of the proposed foreign investment law as investors begin to scale back their operations in the country.
Foreign investors and resource companies are currently reviewing their budgets for Mongolia in response to an anti-business draft law that was proposed to Parliament in early May.
Although the initial draft has been diluted, the latest draft still seeks to impose weighty restrictions on foreign investors who have been critical to Mongolia's growth. Investor confidence in the country's current stability is diminishing as result. read more.
20

:

16

:

01

local time CHINA
*  There's more to life than money:
Whenever a survey of the world's happiest country is released, European welfare states usually top the list. (..)  China doesn't even make the top 100, which should come as no surprise when we consider the measurements used to judge the quality of life in a country: health, education, housing, the environment, jobs, community, work-life balance and incomes.  read more. & Happiness not at odds with economic growth  read more.
20

:

16

:

01

local time PHILIPPINES
* PH Is Pressed For Time In Passing The Garments Bill:
The government has given itself until September this year to get its proposed "Save Our Industries Act" bill passed in the US Congress and bring the domestic garment and textile industry back to its $3-billion export level. Trade and Industry Undersecretary for Trade and Investments Promotions Cristino L. Panlilio said the bill has a good chance of passing this time because of the strong support from Congress and the Senate. read more.
* Raps filed vs Butuan garment store owners:
A probe team yesterday filed charges of reckless imprudence resulting in multiple homicide and multiple injuries before the city prosecutor's office against the owners of a garment store whose 17 stay-in female workers were killed in a fire here last May 9.
Lawyer Galeon Macasinag, chief of the investigation and intelligence division of the Bureau of Fire Protection central office and head of the five-man probe team, told The STAR that they met the deadline set by Interior and Local Government Secretary Jesse Robredo for the filing of criminal charges against the owners of Novo Jeans and Shirts Enterprises.  read more.
19

:

16

:

01

local time VIET NAM
 * Garment makers sew up profits:
The central province of Thua Thien – Hue earned US$99 million from textile and garment exports in the first four months of this year, up 15.7 per cent against the same period last year with major import markets including the US, Germany and Japan, according to the provincial Department of Industry and Trade.
Some exporters in the province have achieved good results: Thien An Phat Textile and Garment Investment Joint-stock Co bagged about $3 million, and Phu Hoa An Textile and Garment Joint-stock Co made $1 million during the period. to read in BUSINESS IN BRIEF 17/5 . & read more.
19

:

16

:

01

local time THAILAND
* Reebok ups game with new shoes:
The US shoe brand Reebok will step up activity in Thailand after going low profile the past six years.  Vijak Sirising, the chief executive of Thai Top Sport Ltd, said the move is meant to cash in on the market opportunity in Thailand as demand rises for international-brand sport shoes, whose market now stands at 5 billion baht.               Thai Top Sport is the sole authorised distributor of Reebok in Thailand.              Demand continues to grow by a double-digit rate each year compared with single digits five years ago. read more.
19

:

16

:

01

local time CAMBODIA
* Cambodia's manufacturing sector grows 30 pct in 2011:
Output by Cambodia's manufacturing sector grew 30 percent from a year earlier to about $6 billion in 2011, Industry, Mines and Energy Minister Suy Sem said Monday .Speaking at the inauguration of a beverage plant, Suy Sem  said manufacturing provided about 600,000 jobs. He said the food and beverage sector alone was worth about $1 billion a year, of which about $400 million was domestic products.
"The figures show that domestic beverage products are becoming strong and challenging imported products," he said. to read here.
* Cambodian Union leader brings backup:
More than 20 union members and workers at a factory in Kandal province rallied around a union leader yesterday, fearing that he would be arrested after police called him in for questioning.
Lor Sopheak, national secretary-general of the Khmer Workers Power Co-operation Union [KWPCU] and an employee at the Tai Yean factory, said he had been ordered to appear at the Ang Snuol district hall yesterday over his alleged involvement in blocking National Road 4 on Saturday.
Lor Sopheak said police had ordered him to thumbprint an official statement promising not to order workers to block the road again – despite his insistence that he had not led the demonstration.  read more.
 

20

:

16

:

01

local time SINGAPORE
* Fashion sellers trail today's savvy buyers:
Today's average consumer is not only tech-savvy but well-informed, opinionated and not loyal to any particular brand – and the fashion retailer is only now scrambling to keep her interested.
"The consumer has changed drastically and the retailer is still in shock," said Angelia Teo, content director for the Asia-Pacific region at fashion think-tank WGSN.
No longer do most customers walk into a store to browse and buy on impulse. Research has shown that more than 40 per cent of young people do their research online and decide what to buy before even stepping into a physical store, she said.
read more.
20

:

16

:

01

local time INDONESIA
* Pan Brothers sees 30% sales growth:
PT Pan Brothers, one of Indonesia's major garment manufacturers, is targeting a 30 percent increase in sales to Rp 2.82 trillion (US$303.5 million) this year, taking advantage of the burgeoning Asian market to offset the weakening of its main markets in Europe and the United States.
The company also announced its plan to launch its own brand and enter into garment retail in 2013.
"Europe is definitely weakening while Asia is getting stronger," Pan Brothers' vice chief executive officer, Anne Patricia Sutanto, told reporters after the company's shareholders' meeting Tuesday.  read more.
* Indonesia upbeat to see exports improvement next year:
After a correction in its export growth target figure this year, Indonesian government is confident to see improving export growth next year along with recovery in global economies, a senior official said here on Wednesday.
Trade Deputy Minister Bayu Krisnamurti said the lowest global economy downturn point will possibly occur in the first half this year with recovery would commence in the second half. (…)
He said products highly expected to boost up the country's non- oil and gas exports among others were creative products, food and beverages, coffee, footwear, textile and garments, crude palm oil and automotives.  read more.
18

:

16

:

01

local time BANGLA DESH
*Bangladesh government investigation into Aminul's murder fails to identify killer.:
Home ministry probe fails to identify killers.
The committee formed by the home affairs ministry to investigate the murder of garment workers' leader Aminul Islam has failed to identify the persons responsible terming the incident 'mysterious'.
The probe body, however, said that Aminul, an organiser of Bangladesh Centre for Workers' Solidarity, was killed by a 'vested quarter'.
'We could not gather credible evidence to identify the perpetrators, but have identified some areas of suspicion,' head of the committee Moin Uddin Khandoker told New Age after submitting the probe report to the senior secretary of the home affairs ministry on Tuesday.
He said that the probe report had recommended further inquiry into the killing, which remained 'shrouded in mystery', to identify the killers.  read more.
 * 'Country to miss high EU export target':
European Union said Tuesday Bangladesh needs to diversify its export basket and comply environment and labour standards to sustain export growth. It, however, warns that Bangladesh may not see a high export growth in the EU this year. "Although Bangladesh achieved 28 per cent export growth in 2011, but it might not achieve the record export growth to EU this year," William Hanna, head of European Union (EU) delegation, said.
The head of EU delegation made this observation at a programme on occasion of observing 40 years of Bangladesh-EU relationship at Lake Shore Hotel in the city on Tuesday.  read more.
* Dhaka may import 13.5m bales of cotton from Delhi:
The first session of discussion over cotton trade between Bangladesh's Ministry of Commerce officials, Bangladesh Tariff Commission and Trading Corporation Bangladesh (TCB) personnel and other stakeholders of an Indian delegation concluded on Monday, according to Radiff.com, an online news portal. With this, the authorities in Dhaka are rather hopeful that a five-year long agreement for an annual import of 1.5 million bales of cotton from India will be signed between the two countries soon.
* Apparel workers demonstrate:
Over five hundred male and female workers of an apparel factory staged a demonstration, demanding the immediate payment of their monthly wages.
Sources said that workers of Jurgis Knit and Composit Factory at Kashipur under Fatulla thana, brought out the procession starting at their factory. It ended outside an office of the Bangladesh Samajtantrik Dal.  to read.
* REB minimum rate extracts most from rural ultra poor:
People belonging to the "Ultra poor" class are paying most for per unit consumption of power although they are forced to spend many of their evenings without lights due to power cuts.
The Rural Electrification Board (REB) has introduced a special slab—minimum rate—in its tariff chart for "ultra poor" people living in rural areas, who consume only 21 units a month. Their urban cousins enjoy a similar special slab called "life line".  read more.
* Apparel worker killed as bus plunges into ditch at Ashulia:
An apparel worker died and more than 50 became injured as a bus carrying the workers plunged into a roadside ditch at Moragang of Ashulia on the outskirt of the capital on Wednesday morning.
The police said that the deceased was Saiful Islam Babul, 35, a sewing supervisor at Cosmopolitan Industries Private Limited at Khejurbagan in the Ashulia industrial belt. He was from Uchkhali at Hatia in Noakhali.
The injured were admitted to hospital. All the injured are workers of Cosmopolitan Industries Private Limited.  read more.
* Cotton export to Bangladesh may hit 13.5 mn bales:
The first session of discussion over cotton trade between Bangladesh's Ministry of Commerce officials, Bangladesh Tariff Commission and Trading Corporation Bangladesh (TCB) personnel and other stakeholders of an Indian delegation concluded on May 14.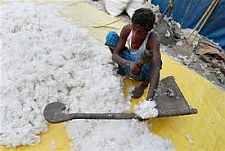 With this, the authorities in Dhaka are rather hopeful that a five-year long agreement for an annual import of 1.5 million bales of cotton from India  will be signed between the two countries soon. read more.
17

:

46

:

01

local time INDIA
* RS adjourned twice amid uproar over UP weavers' plight:
BSP and SP members on Wednesday created ruckus in the Rajya Sabha over the plight of weavers in Uttar Pradesh leading to two quick adjournments during Question Hour.
Trouble started when Salim Ansari (BSP) asked a supplementary question on problems of Banarsi saree weavers in marketing their products and wanted to know if the Centre would consider buying their product directly.
As Textiles Minister Anand Sharma said problems facing weavers were a matter of concern for the House and the Government, Brajesh Pathak (BSP) rose to say that the minister should state facts and not make an election speech. read more.
* Yet another factory fire in Howrah, 7 employees injured:
A massive fire broke out at a plastic zip factory in the Sankrail Industrial Park in West Bengal's Howrah district on Wednesday. Seven employees, including six women, sustained burns, and were admitted to nearby hospitals. The condition of three of them is said to be critical.   Five fire tenders fought the blaze at KCCL Zipal India Pvt Limited for several hours, a district fire official said.  read more.
* Buffer stock of cotton to meet domestic demand

:

Smt. Panabaaka Lakshmi, Minister of State for Textiles has informed that government of India has directed the Cotton Corporation of India to build a buffer stock of 10 lakh bales of cotton in order to meet the lean season requirements of the Textiles Industry.